If you're considering a trip to Los Angeles with your kids, know that there are tons of great activities and hotels to choose from! With over 20 years of experience living in LA, I've compiled some of the best things to do in Los Angeles with kids.
This article will help you plan your trip to Los Angeles with kids or not. I've been exploring LA with my kids for years, and I know all the best places to stay, eat and play. So read on for my insider tips on how to make the most of your time in LA!
Where to stay in LA with kids
I have plenty of neighborhood-by-neighborhood advice on where to stay in LA, but here are some quick picks as you plan the rest of your trip:
Best outdoor activities to do with kids in Los Angeles
Best beaches in Los Angeles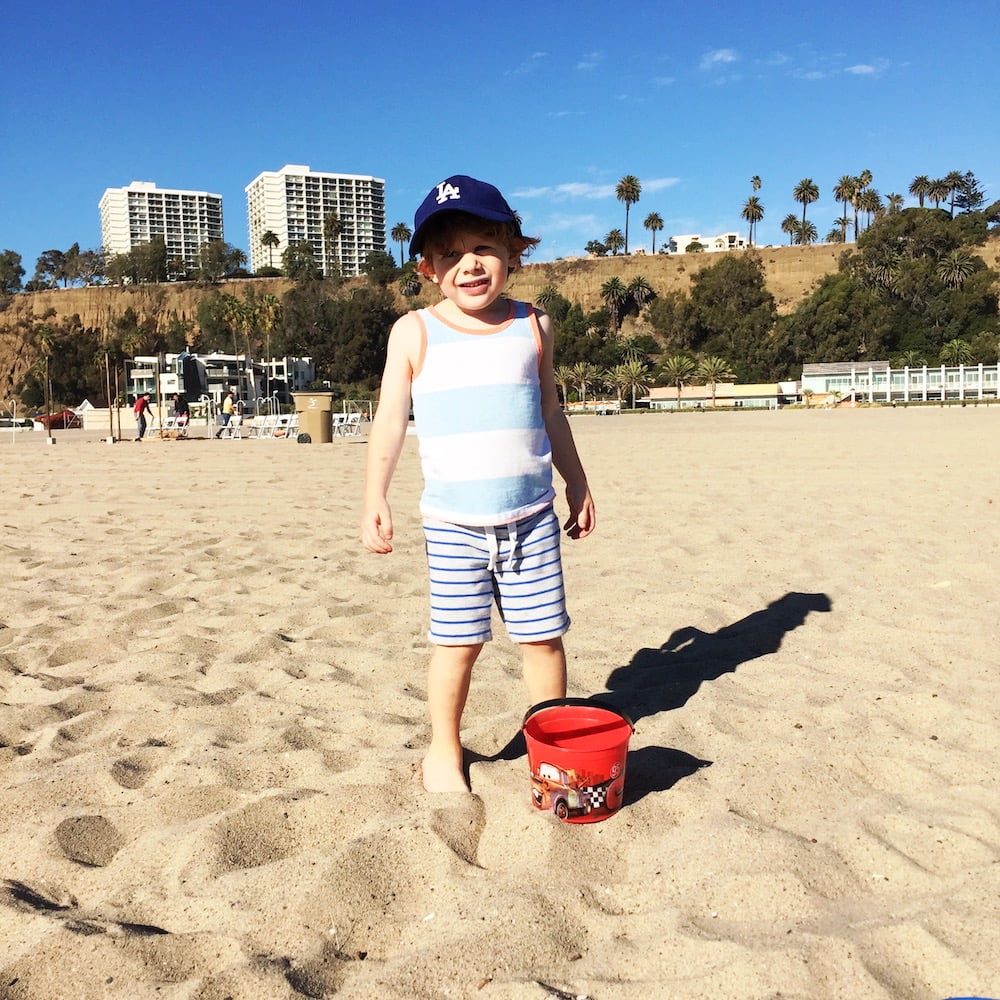 With 25 miles of coastline, it's easy to find the perfect beach for your needs in Los Angeles! A visit to the west coast wouldn't be complete without dipping your toes in the Pacific. But with so many choices, which one should you choose?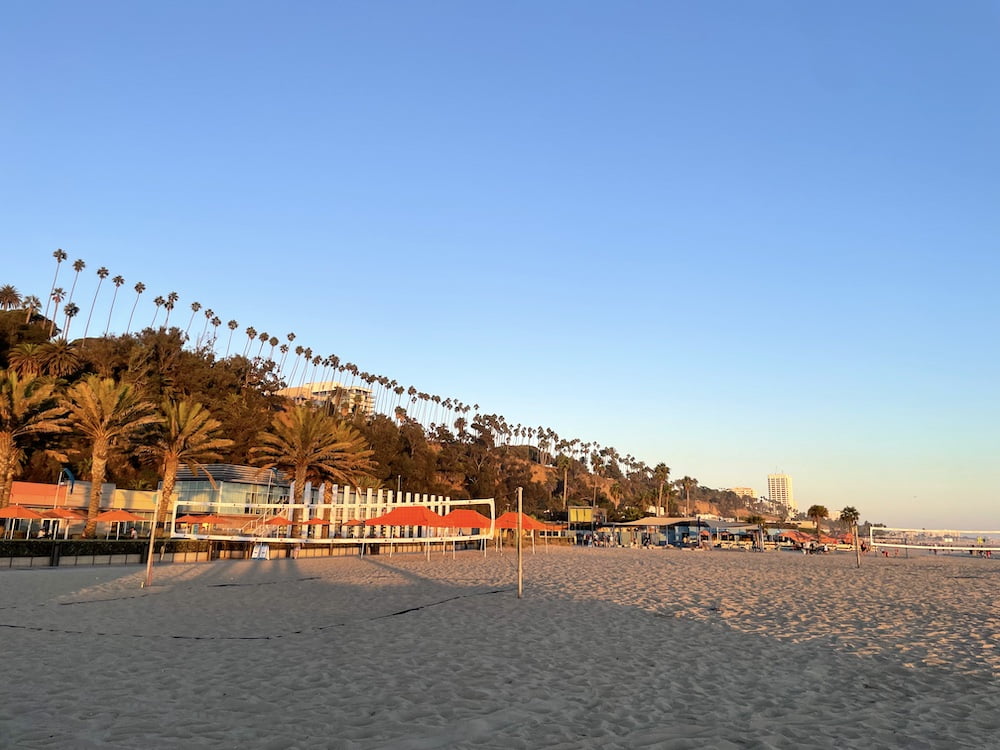 Santa Monica is a bustling city, but the convenience makes its beach worth the visit. You're also in close proximity to excellent hotels, restaurants, and stores when you're here. Our favorite spot is just north of the Santa Monica pier at the Annenberg Community Beach House (pictured above). They offer wonderful amenities like a splash pad for those hot summer days! This is where our family likes to bring our kids when we want to escape the heat or crowds of Los Angeles. However, if you want somewhere even less crowded, Will Rodgers State beach is only a few streets north and boasts equal beauty! While you're in the area, be sure to check out the Santa Monica Pier aquarium and amusement park.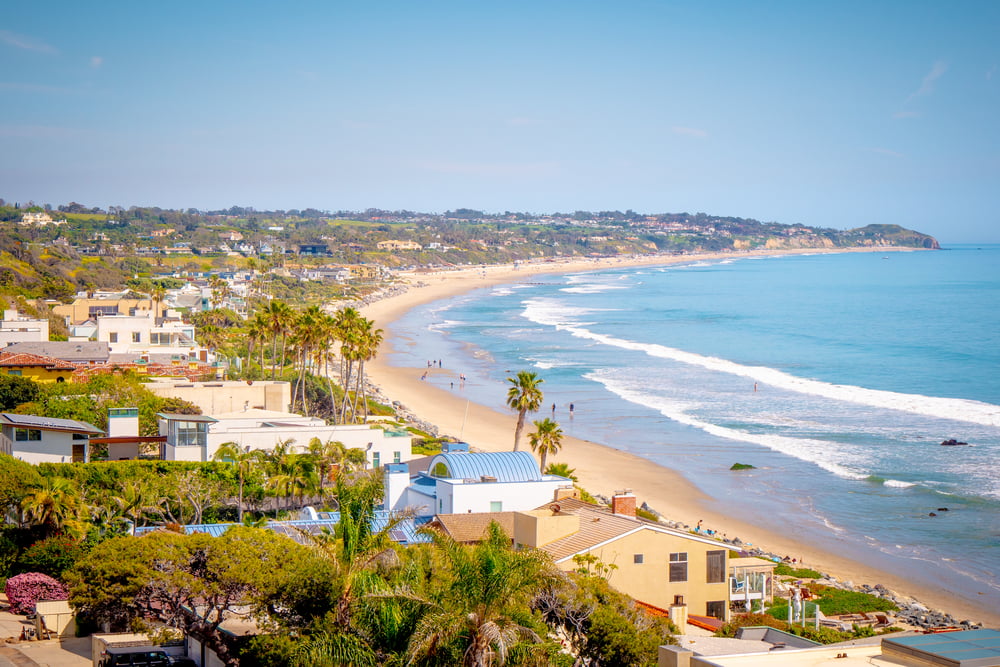 Malibu's beaches can be more charming since it is a less crowded area. In addition to being an excellent place to relax on the beach, you'll find scenic Spring hikes nearby and you have the chance of seeing dolphins from shore. We always treasure the beauty of Zuma, Point Dume, and Westward Beaches–and another benefit is that the water tends to be warmer than at Santa Monica Beach. If you have young kids with you, pay close attention to them as the waves can get intense here at times. On a positive note though, this is also a great spot for older kids who want try boogie boarding; there are several shops in the area where you can buy or rent boards like Surf Shack and Zuma Jay's.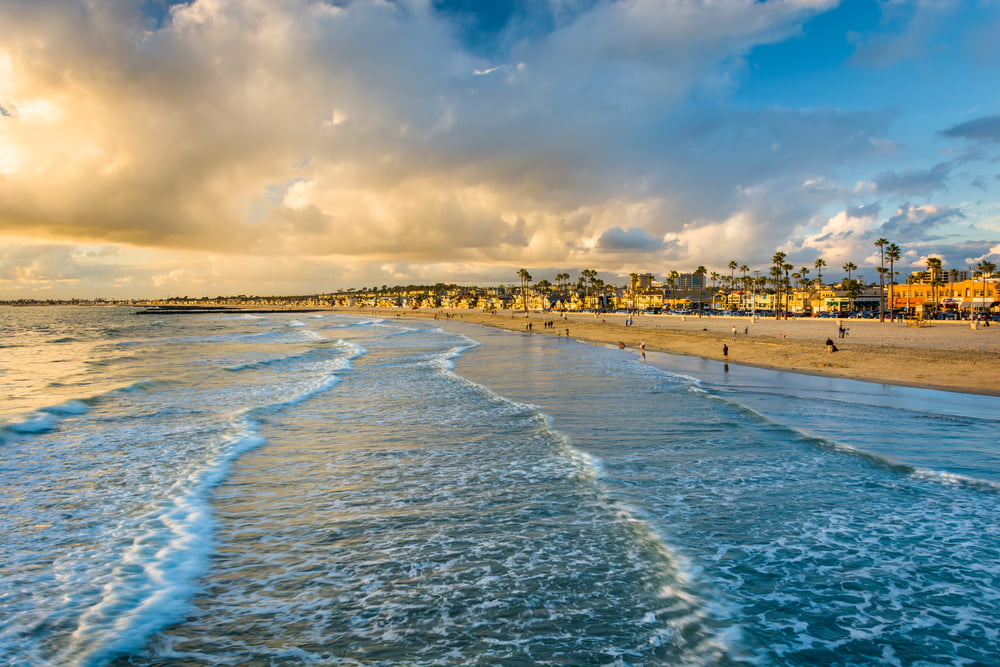 For those craving warm water, Newport Beach in Orange County is the best option. Although it's an hour south of Los Angeles, it makes for a great family outing from LA. And while you're down there, enjoy a chocolate-covered frozen banana and take a leisurely stroll around Balboa Island. If you're ok with moderate temperatures, though, Long Beach might be more your speed – especially since it pairs well with a visit to the Aquarium of the Pacific.
Remember that the water temperatures in Los Angeles are at their warmest during August and September, but it's never really hot – La Jolla in San Diego have much warmer water. However, these kid-friendly beaches in Los Angeles are still great for playing in the sand, splashing in the shallow surf and taking in the endless views.
Bring a packable beach toy set with you when you visit Los Angeles so your kids can play to their heart's content. If you want to catch the sunset while you're there, don't forget to pack some jackets and sweatshirts for everyone. It gets cold in the evening, especially by the water!
Kid-friendly hikes in LA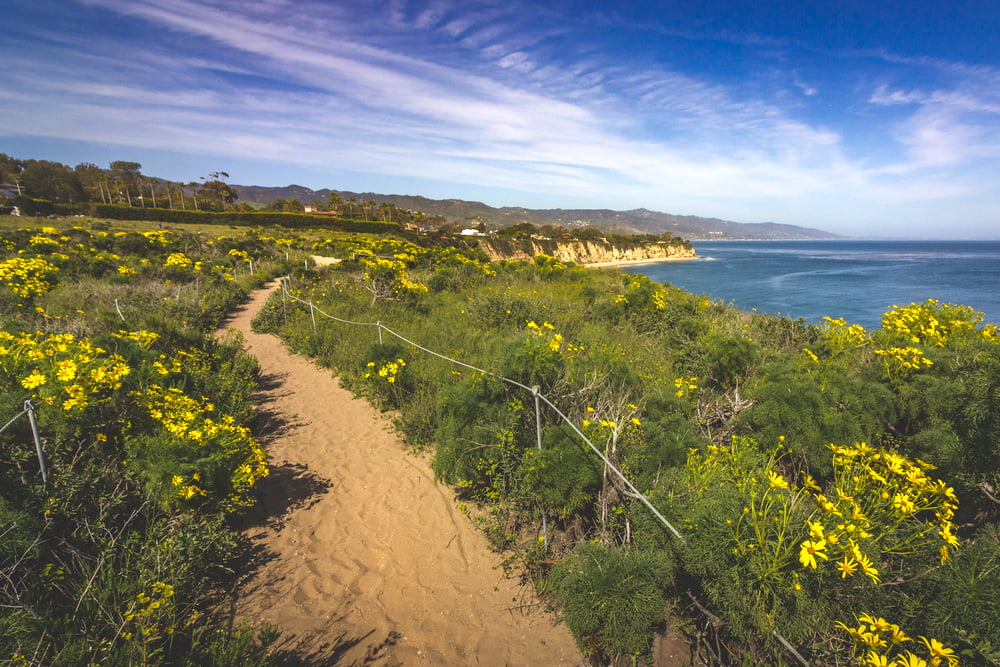 Hiking is one of our favorite family activities to do in Los Angeles because of the great weather year-round and all-important to outdoor space away from the hustle and bustle. Springtime is especially lovely for hiking, but don't let the heat stop you from enjoying a nature walk on all but the hottest days – just be sure to bring plenty of water and watch small children carefully!
Some great family-friendly hikes in Los Angeles include:
Even the tiniest travelers can enjoy the short, flat walk of Ferndell Nature Trail in Griffith Park. At its most basic, this is a half-mile round trip jaunt through a gorgeous, shady glen. If you've got more steam, continue on up hill to The Trails Cafe which brings the whole excursion in at just under 2 miles. This is one of the easiest hikes in Los Angeles that doesn't require a big drive out of the city, and it pairs well with the numerous other Griffith Park activities you'll find as you continue reading this article.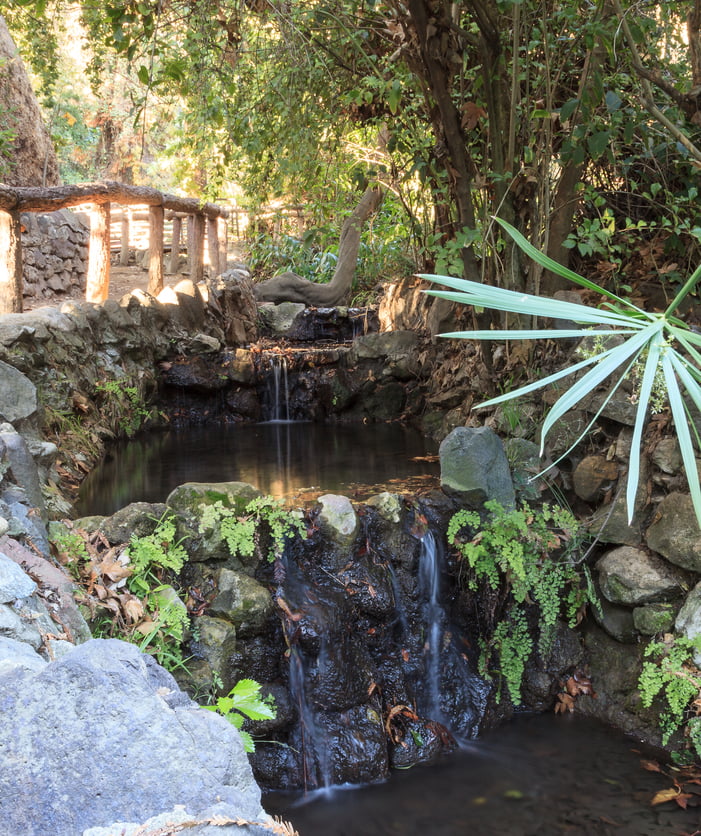 The 1.5 miles of Point Dume in Malibu (pictured at the top of this section) is an easy, hour-long walk for most families that starts and ends at the beach. As you make your way to the top of the bluff, take in sensational views of the coves below–you might even see some sea lions! Don't forget your compact binoculars for birdwatching.
Chesebro Canyon is a lovely, flat 2 mile loop in Agoura Hills that blooms with beautiful wildflowers come April. This easy hike is perfect for kids too!
Eaton Canyon in Pasadena is the perfect moderate hike for kids and adults alike, with a beautiful waterfall waiting at the end as a reward. The 4-mile round trip also has around 500 feet of elevation gain, so it's not too strenuous. After your hike, be sure to visit the nature center before heading into Old Town Pasadena for some good food and fun shopping.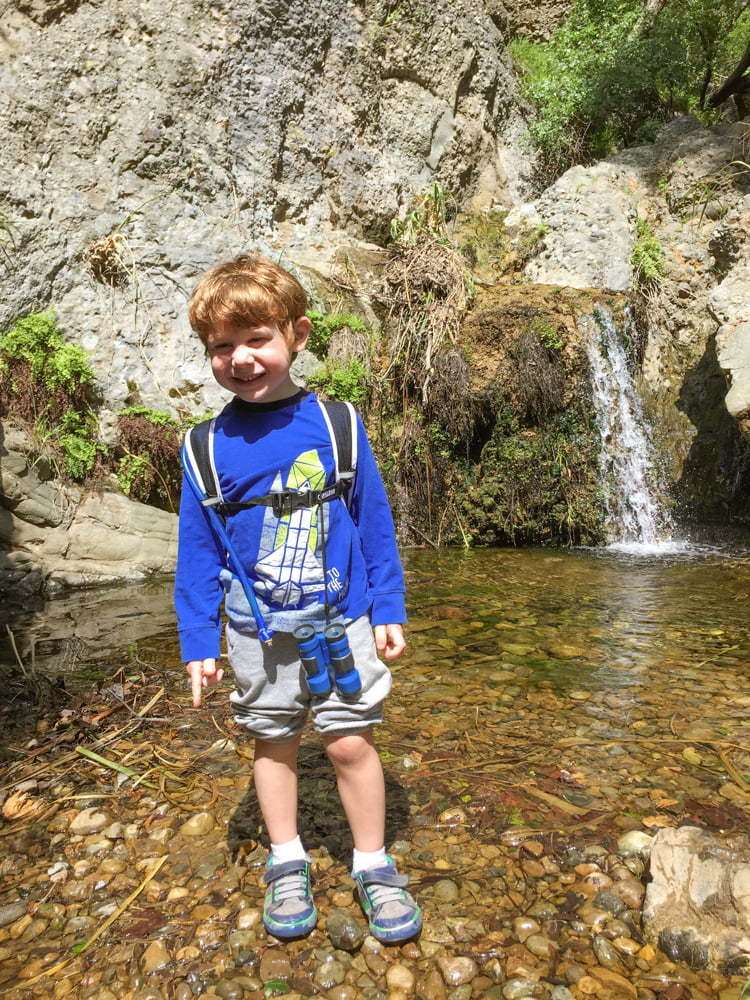 If you're looking for more of a challenge and amazing views, Temescal Gateway Park in the Pacific Palisades is perfect for you. The 4-mile loop has an elevation of 1000 feet, so get ready to work those legs! You'll be rewarded with a waterfall, spring wildflowers, and sweeping views of the coastline. This hike is best from February to April.
Bike along the beach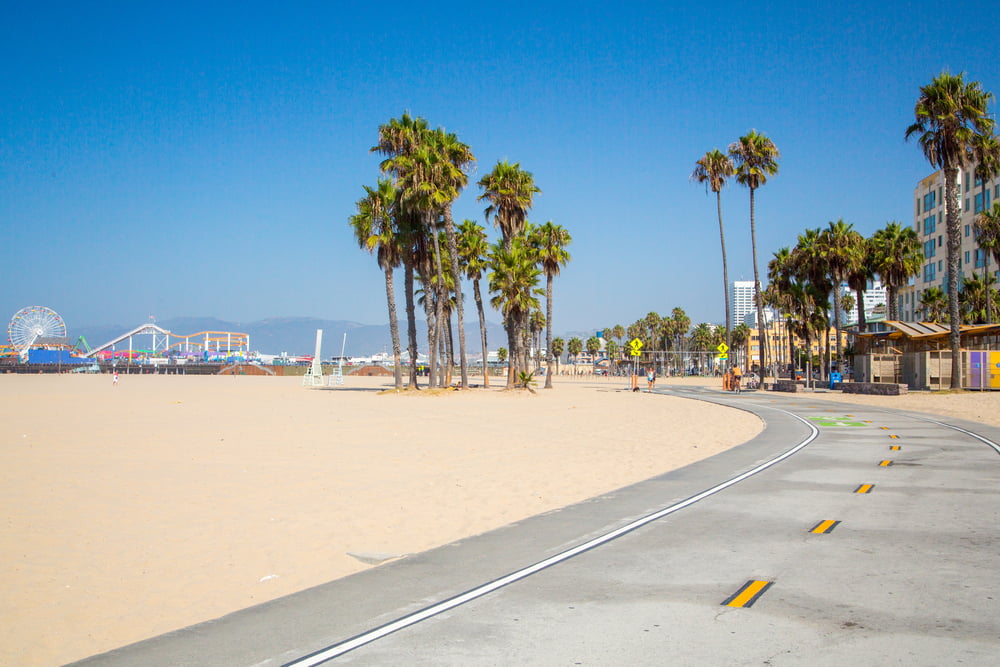 Our family loves riding bikes along the beach in Los Angeles. We've had great rentals from Perry's Beach Cafe. The northernmost location for Perry's 930 CA-1 (PCH) is, just south of the Annenberg Beach House.
From there, you can easily take the Marvin Braude Bike Trail to Marina del Rey or further. Some of coastal Los Angeles's best sights are along the path – including the Venice Beach boardwalk and skate park, impressive graffiti, and opportunities for people watching. You'll want to include time in your itinerary to enjoy it all fully.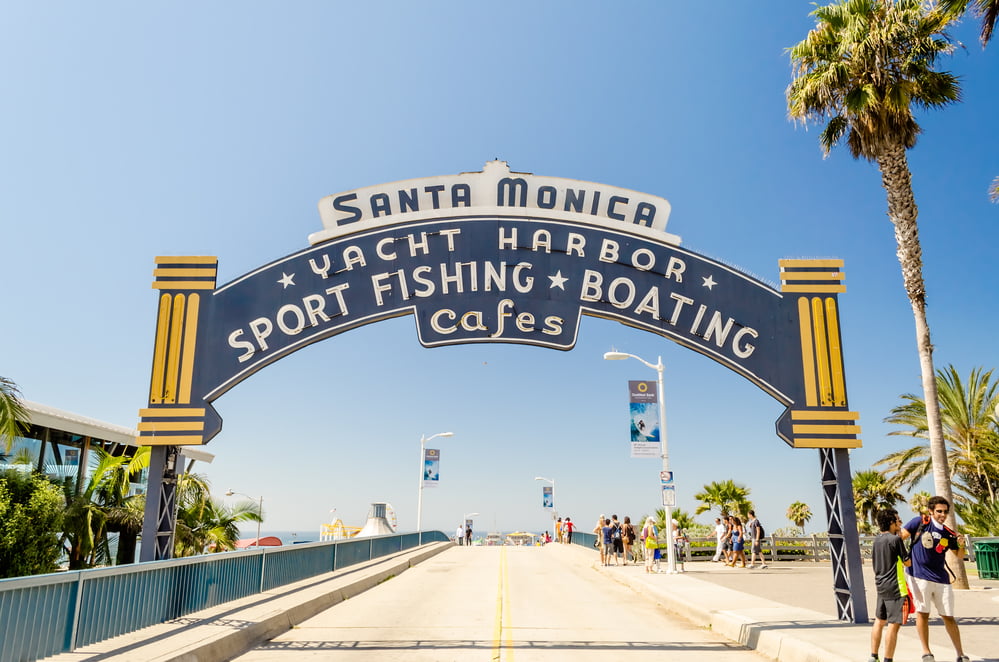 Of course you may want to make time for some rides at Pacific Park at the Santa Monica Pier as well as the Heal the Bay Aquarium, which showcases local marine life. itsAnd don't forget to stop at a couple of playgrounds!
If you don't have a car, you can actually pick up a bike from the Santa Monica Bike Center at 2nd and Colorado or on the Santa Monica pier and start your ride there. Just be aware of your surroundings as you navigate over to the bike path.
It's worth keeping in mind that there are many active cyclists, pedestrians, roller bladers and other people on non-motorized equipment sharing the path. A recent widening project has helped this situation, but kids who are brand new to riding bikes or still on training wheels may not be the ideal candidates to ride solo – we've seen plenty of crashes involving kids here, often because they're going very slowly and make an unpredictable swerve. Fortunately Perry's offers both trailers and tag-a-longs so that the whole family can have a great time and stay safe.
Places to go in Los Angeles with kids who love "the industry"
Money-saving tip: Take a look at the options included in the GoCity Los Angeles attractions pass to see if it's a good fit for your interests. The savings can really add up depending on how long you're staying and what you want to do!
Warner Brothers Studio tour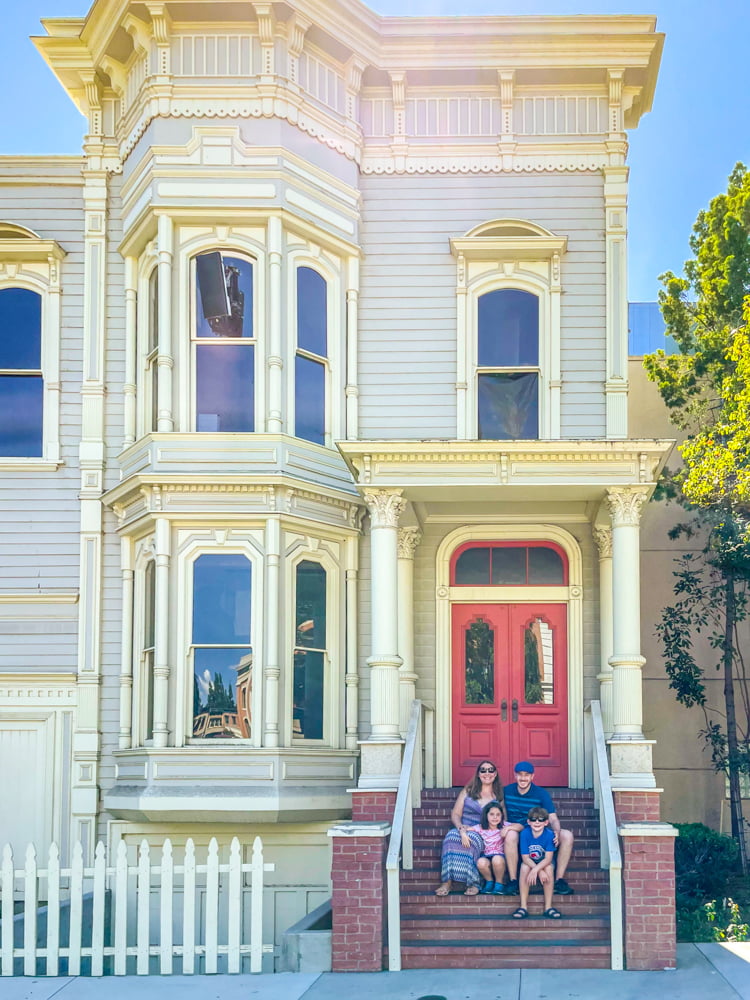 If you're searching for a great activity the whole family can enjoy in Los Angeles, try taking one of the informative behind-the-scenes tours at Warner Brothers Studios. I think it's one of the best things to do in Los Angeles with kids who are a bit older, like tweens or teenagers, as they'll be more interested and understand it better if they've started to watch and appreciate live action movies. A lot of the "WOW!" moments on the tour relate to how realistic TV shows and movies seem and how much work goes into making them that way. Read my full Warner Brother Studio tour review + tips.
The tour has changed a lot in the past 20 years since I first visited. In addition to riding in a cart around the backlot and checking out sound stages, there are now many more interactive elements. For any young Potterheads (or adult Harry Potter fans who are secretly young at heart), the Wizarding World of Harry Potter is an exciting section in this studio. Other fun experiences for kids include the interactive sound stage, a DC super heroes area, and holding an actual Oscar!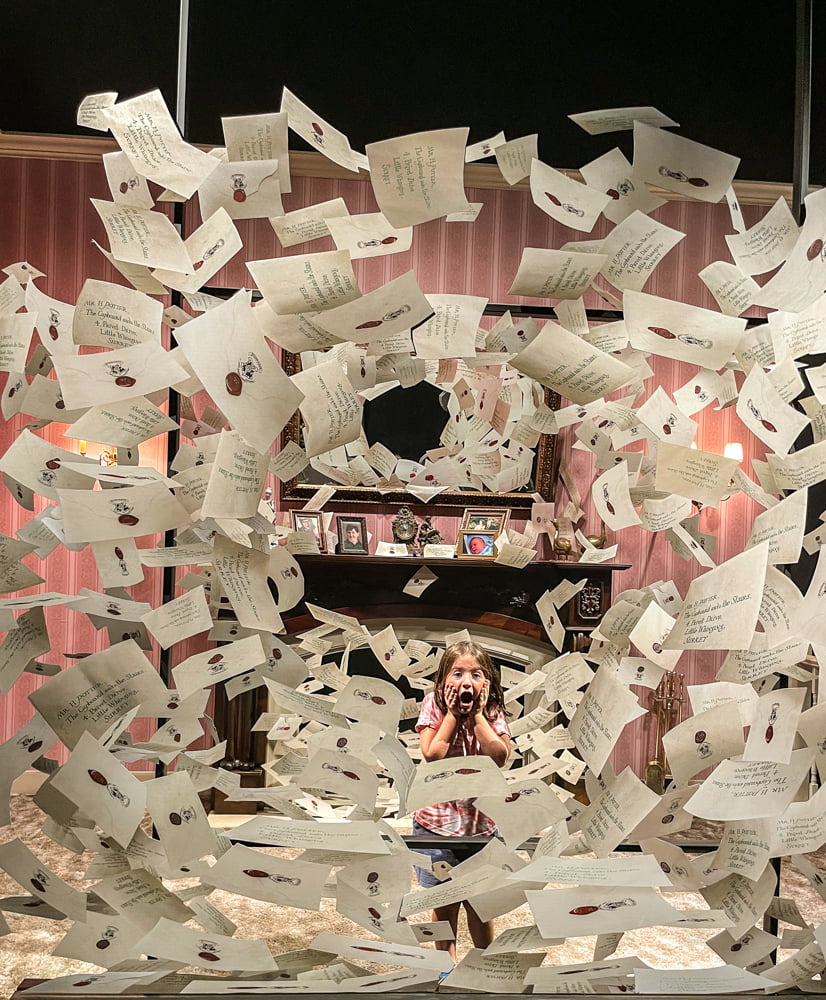 My children, aged 8 and 10, enjoyed the tour more than I anticipated. We spent nearly 3 hours at WB Studios in total.
If you want to see the studio during its busiest days (when your favorite stars are more likely to be working), take the tour on a weekday. You'll love being surrounded by the exciting energy of all the actors and crew members.
A tip for future travelers – you can get your tickets to the Warner Bros Studio Tour much cheaper if purchase them here. I learned this two days too late on our trip. Also, keep in mind that the arrival time of your ticket is not set in stone. Tours leave continuously throughout the day, so we had no problem getting in 30 minutes before our allotted time.
Universal Studios Hollywood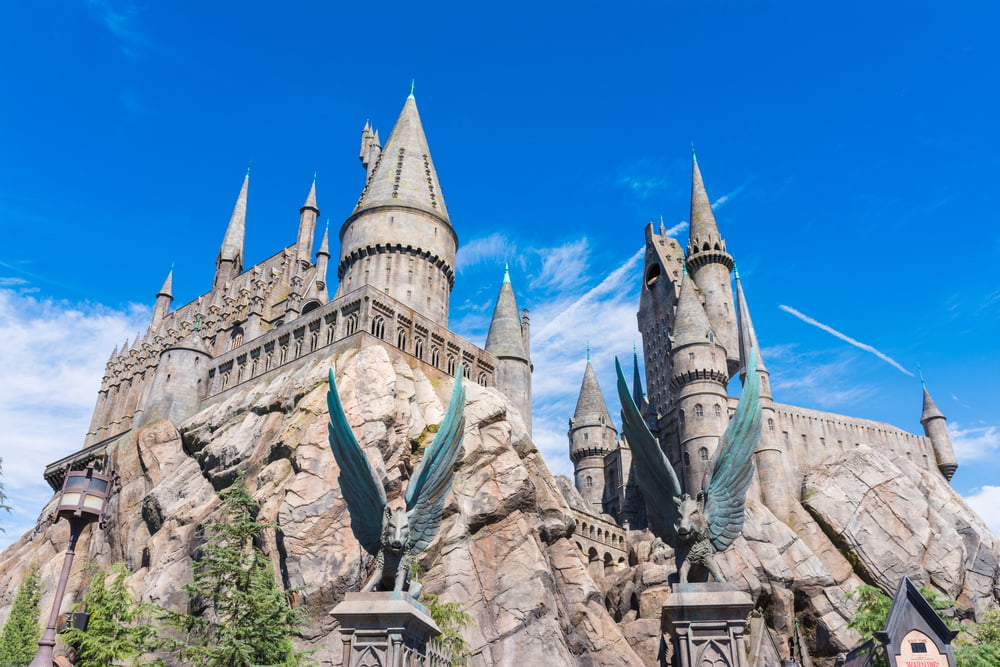 Universal Studios Hollywood is a historic theme park in Los Angeles, California. It first opened as a studio backlot more than 100 years ago and has been operating as a theme park for nearly 60 years. Today, after numerous fires and reconstructions over time, Universal Studios Hollywood is one of the most popular tourist attractions in LA – it's just 10 miles from downtown LA and 20 miles from the beaches.
Take the Studio Tour if you're interested in seeing how movies are made. Even though it is more staged and less "serious business" than the Warner Brothers Studio tour, it will still take you on a narrated tram ride around parts of the backlot and front lot, by some of the theme park's attractions and more. It was a highlight of my own visit to Universal Studios Hollywood 25 years ago!
The main attractions today are the Wizarding World of Harry Potter, which gives you the chance to explore Hogsmeade village (unlike in Orlando where Diagon Alley area is also accessible via the Hogwarts Express), and Super Nintendo World. Unfortunately, you won't be able to take a ride on the Hogwarts Express at Universal Studios Hollywood! Although there are two rides available here ('Forbidden Journey' with a minimum height requirement of 48 inches and 'Flight of the Hippogriff' for those 39 inches and over), you might prefer simply pottering around and casting spells.
The new Super Nintendo World is incredibly immersive. It offers an incredible augmented reality Mario Kart ride, several "mini games" to make you feel like you're in a Mario game and a final boss showdown against Bowser Jr.
The Upper Lot at Universal Studios Hollywood is a great place to take toddlers and young kids. They'll love The Secret Life of Pets (34″ minimum, but dark), Despicable Me Minions Mayhem (40″ minimum and our favorite ride in Orlando), DreamWorks Theater and the oh-so-cute Animal Actors Show.
If you have teenagers or older kids, the Lower Lot is likely a better fit as it contains rides such as Transformers (for those 40″ and taller who don't mind darker attractions), Jurassic World (those 42″ and taller can enjoy this water ride) ,and Revenge of the Mummy(this faster roller coaster has a 48″ height requirement).
Grab discounted tickets here, which will save a lot when packaged with your rental car. Don't miss my best Universal Studios Hollywood tips!
Awesome kid-friendly museums in LA
From art to cars to natural history museums, Los Angeles has something to enrich every visitor!
La Brea Tar Pits + Page Museum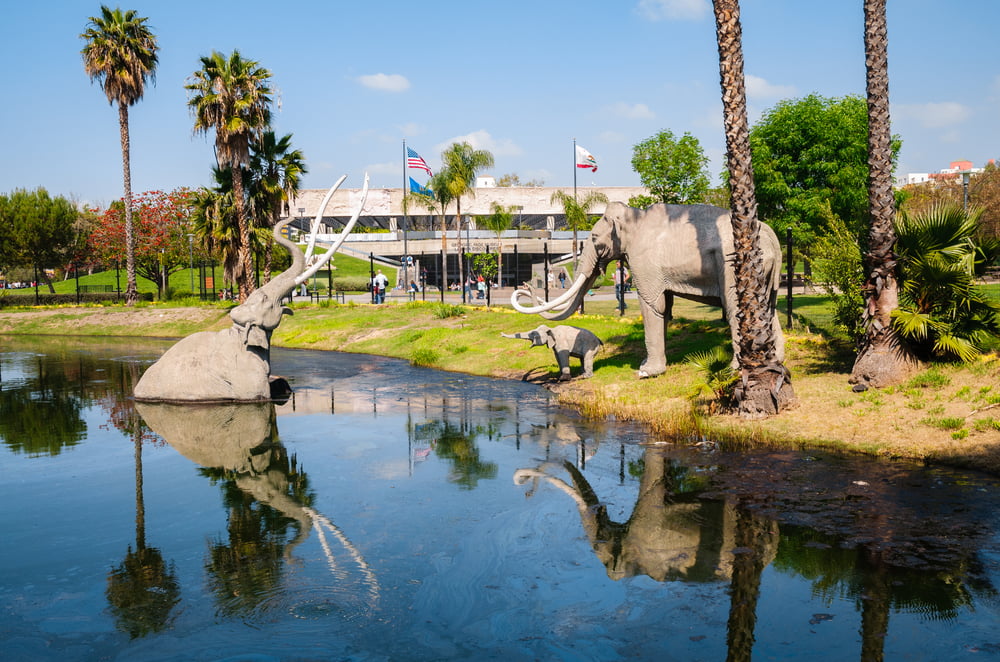 You may not expect it, but in the middle of Los Angeles is an active paleontological research site. At the La Brea Tar Pits, you can see researchers working and also explore what they've found over the last century. Some recent finds include a saber tooth cat, dire wolves, a giant ground sloth and much more.
If you have limited time or are traveling with young children, you can explore the La Brea Tar Pits by simply walking around them. Placards detail the scenes, science and history, making it a perfect learning opportunity for all ages–and it's free!
The Page Museum is an excellent way to gain more depth about prehistoric Los Angeles for families with school-aged kids. They will love seeing the fossils and live Ice Age Encounters show (although some very young children might find it scary). Additionally, there is now a optional 3D movie playing called Titans of the Ice Age that connects history and science with how excavations are conducted at this ice age fossil site.
The La Brea Tar Pits are an unforgettable experience for kids and adults alike – you won't find anything else like it! It's truly one of the most unique things to do in Los Angeles with kids.
Admission is $15 per adult and $7 per child. If you're a member of your local ASTC-affiliated science museum, bring your membership card for free admission!
Griffith Observatory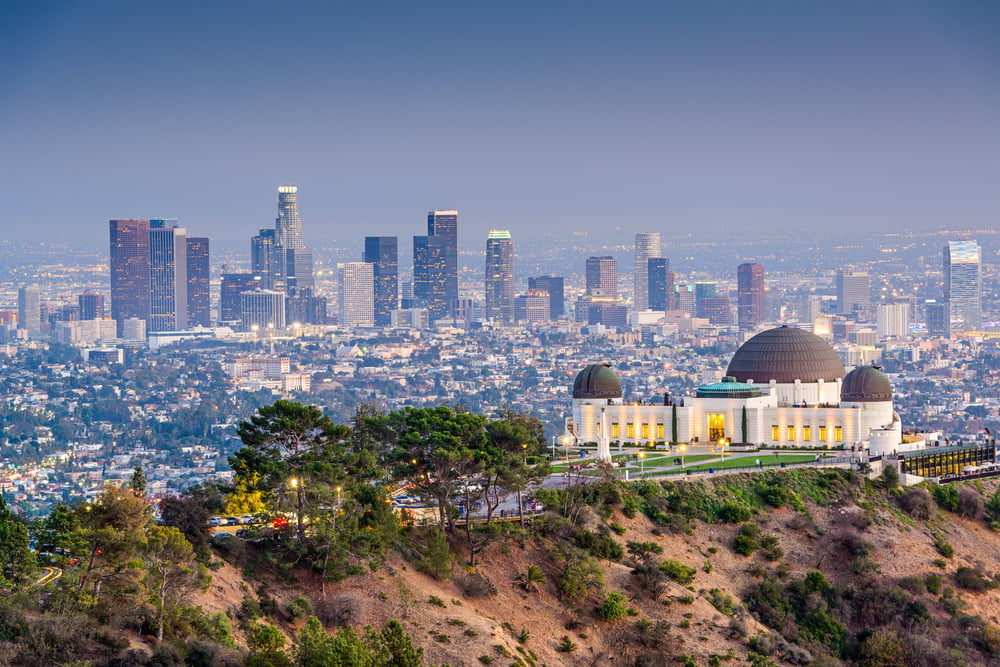 There are some neat displays here, but our family has always visited for two reasons: the amazing city views and the fun planetarium shows. The kids would tell you that the wonderful space-themed gift shop is a big draw too!
Try to visit the Griffith Park Observatory on a weekday, as weekends can be jam-packed. On the busiest days, it can even be a struggle to find a parking spot.
Make sure to spot the Hollywood sign while you're up there, though the hike to the Hollywood sign can be challenging for those with young kids. If you do choose to head to the Observatory, be sure to combine it with other things to do in Griffith Park like the Shane's Inspiration playground or even a pony ride.
California Science Center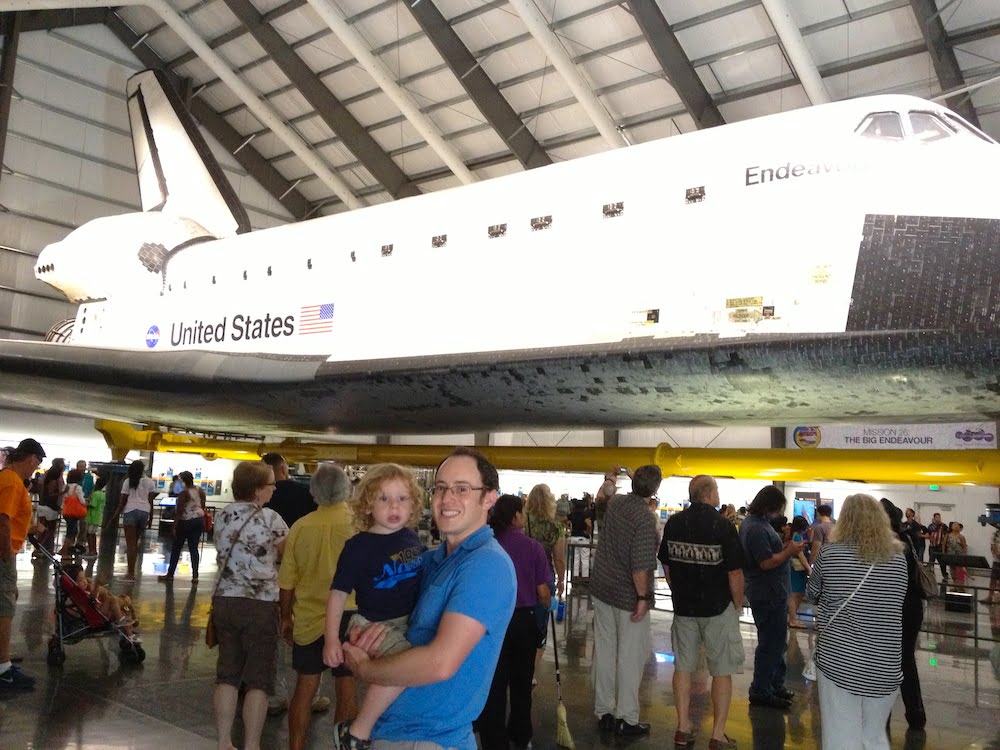 The Space Shuttle Endeavour has found its final home at the California Science Center in Exposition Park, just south of downtown Los Angeles. It's one of just four places in America where you can see a Space Shuttle up close.
The California Science Center has a lot to offer beside the Space Shuttle, such as kids activities focused on different ecosystems and the engineering challenges of building in an earthquake-prone region. They also have an IMAX theater with show times throughout the day.
The best part is that, other than IMAX movies and VR/simulator experiences or special exhibits, the California Science Center is free to the public! You can expect to spend $15 on parking in LA unless you choose to take the metro rail (which is just across the rose garden along Exposition Boulevard). You can also visit The Natural History Museum while you're there, though unfortunately that's not necessarily on the list of free things to do with kids in Los Angeles.
Los Angeles County Museum of Natural History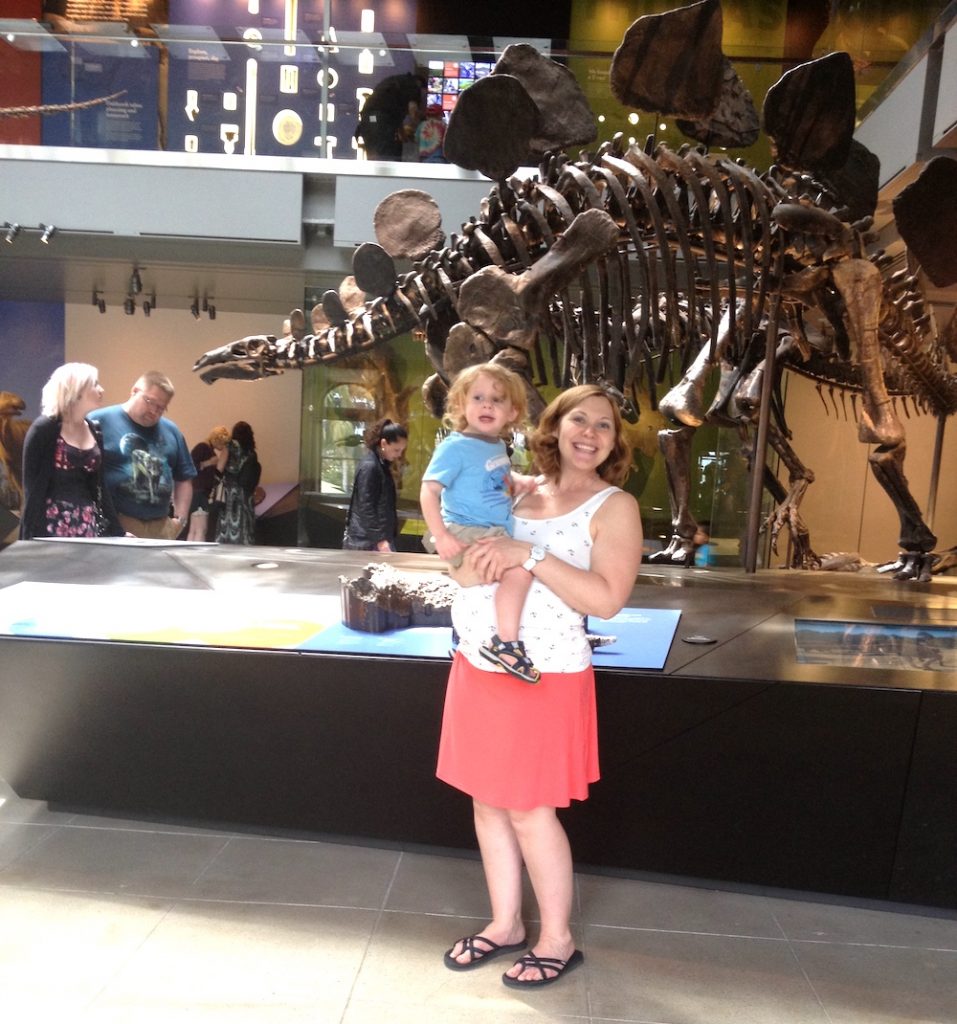 The Los Angeles County Museum of Natural History, also in Exposition Park, is every child's dream come true. It contains some of the largest dinosaur exhibitions in the world, complete with triceratops heads, a stegosaurus skeleton and even T-Rexes through their developmental stages.
The butterfly pavilion is definitely a place you must go in the spring! I really love Nature Lab, located on the lower level next to Natural History Museum Grill. Now that our kids are getting older, it's great because it has lots of information about LA's ecology presented in a way that is appropriate for their age group.
As with the California Science Center, the Natural History Museums entrance is easy to access via public transportation from either downtown Los Angeles or Santa Monica.
Admission to the Natural History Museum is $15 per adult and $7 per child. If you're a member of your local ASTC-affiliated science museum, bring your membership card for free admission!
Getty Center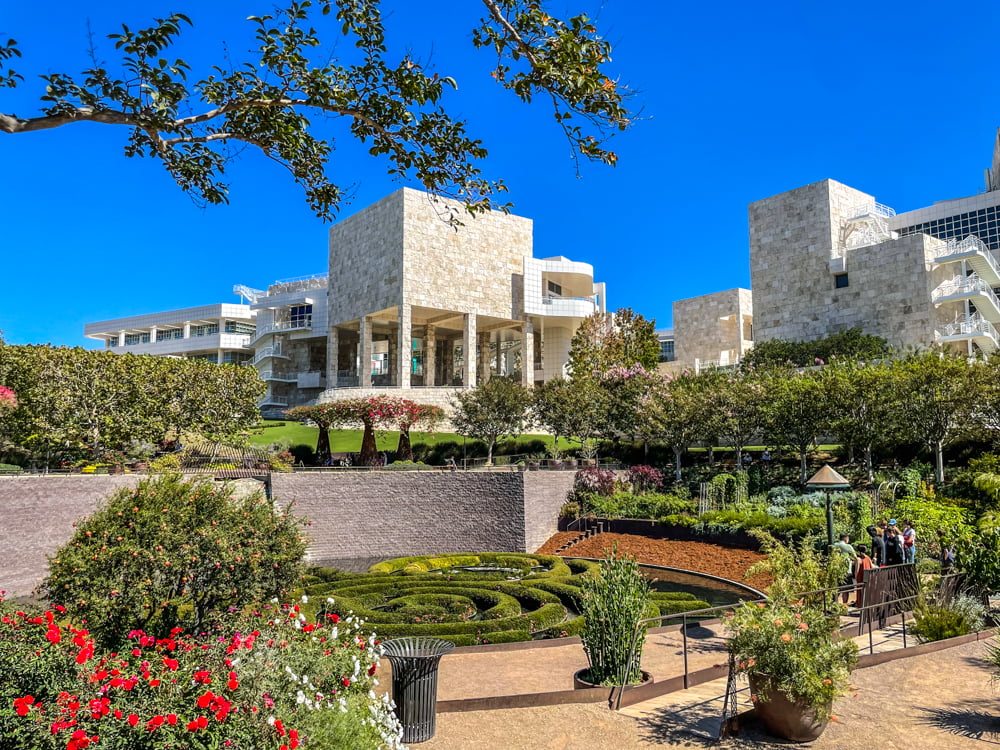 Many parents would never think to drag their kids to an art museum, but mine beg me every time we're in LA to visit the Getty Center. And I don't blame them – it's gorgeous. We visited again recently and as soon as we walked in, I felt the stress of the city melting away.
The Getty is a place where art, architecture, and nature come together. Visitors can see stunning views of the Pacific Ocean, downtown LA, and everything in between as they wander from one beautiful building filled with interesting art to another. Be sure to read my tips for visiting The Getty Center.
The Getty Center is a fun and educational place for kids of all ages! Take the tram up from the parking garage to explore the museum, then wander around the central courtyard and enjoy the different fountains. In the back, down a set of stairs, is an incredible garden with plenty of grass for playing and picnicking as well as an amazing diversity of plant life.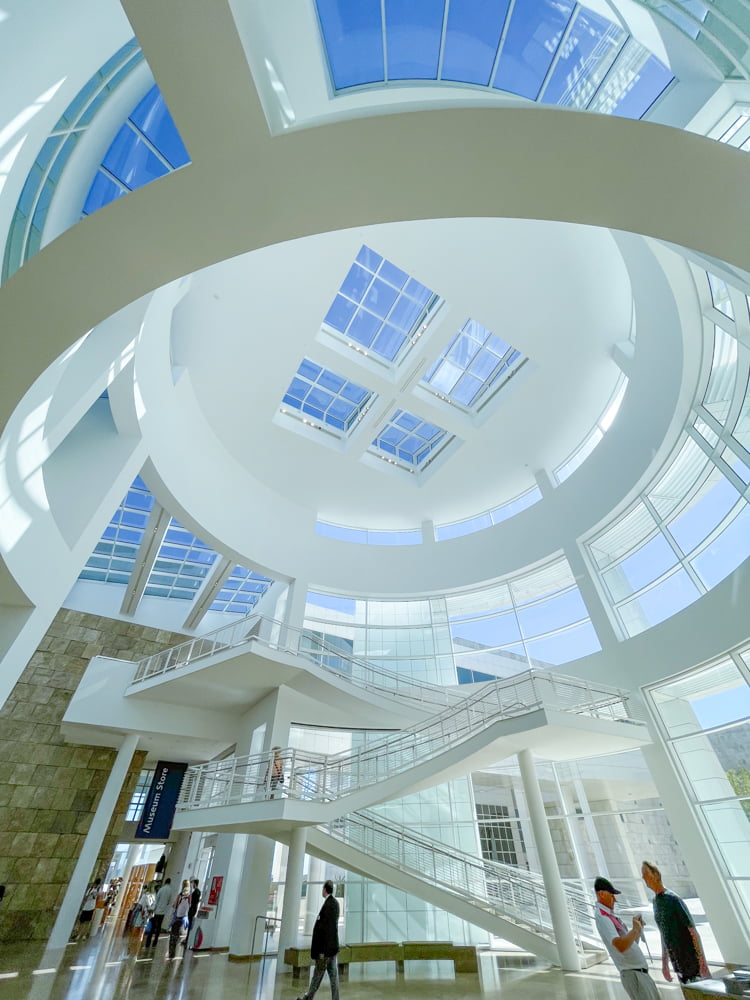 Did I forget to mention this is an art museum? My favorite part is the West Pavilion's 2nd floor because it has gorgeous impressionist art collections. You'll find paintings like Van Gogh's Irises and Monet's Wheatstacks that will engross even kids who are visiting an art museum for the first time. The sculpture garden, located just above the regular garden, has many mobile pieces that will also defy children's conceptions of art. This will give them a more expansive view of their own creativity. You can even pick up "art detective" cards for kids at the entrance which act as sort of a scavenger hunt!
The Getty Center also has an excellent cafe which is perfect for lunch with a view. The restaurant is surrounded by a beautiful glass wall that curves and offers stunning views of the surrounding area. If the cafe is closed, you can still grab snacks and drinks from one of the many coffee carts or the Garden Terrace Cafe. For a more elegant experience, book ahead for afternoon tea on the terrace or a sunset dinner at the Restaurant.
The only cost to visit the Getty Center is $15-20 for parking, but you'll need to reserve an admission time slot for each person.
Getty Villa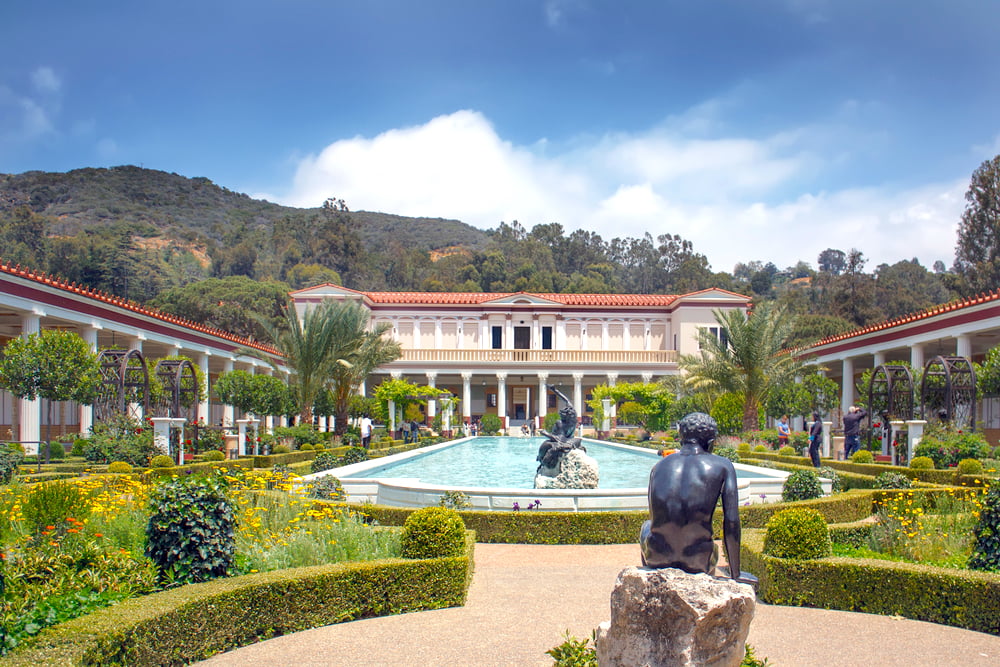 Perched atop a bluff in Malibu is the stately sibling of the Getty Center, the Getty Villa. If you're looking for things to do in Los Angeles with kids who love the Percy Jackson book series or are interested in ancient civilizations, this is a fun option thanks to its focus on antiquities!
Apart from the art galleries, the building itself is a sight to behold. It was designed to mimic the Villa de Papyri in Herculaneum and there's a fascinating video played on-site that explains the history and excavation of the villa and how it inspired the building of the Getty Villa.
Allow time to learn about the history, appreciate the art and also just stroll the lovely building. The traditional collonade surrounding a decorative pool is the epitome of tranquility on a weekday.
The only cost to visit the Getty Villa is $15-20 for parking, but you'll need to reserve an admission time slot for each person.
Petersen Automotive Museum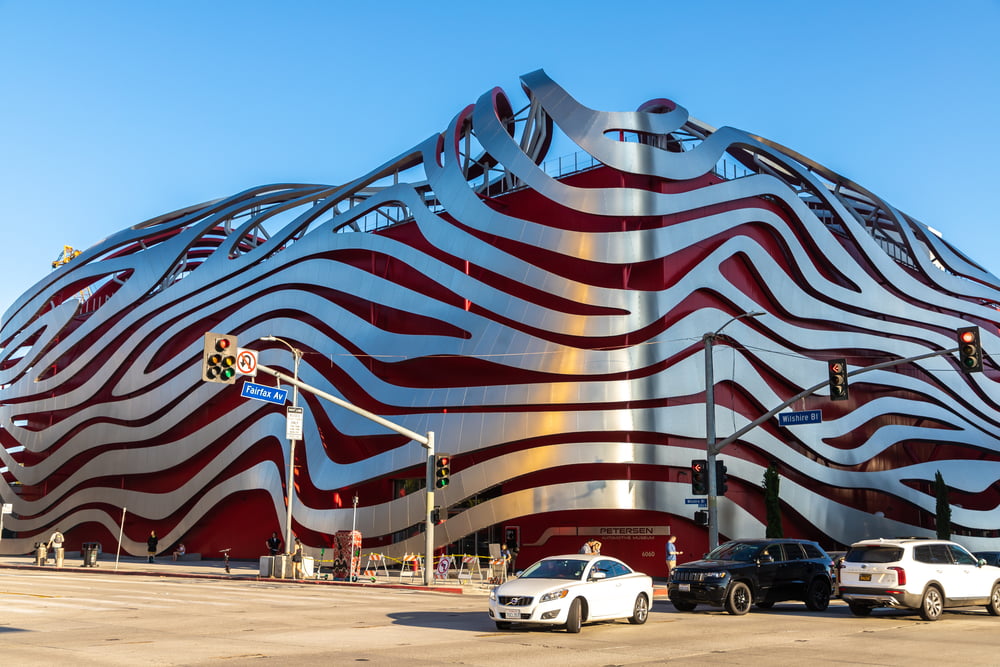 Cars have had a significant impact on the development of Los Angeles, so it makes sense that the Petersen Automotive Museum would be included on this list of the best family-friendly things to do in Los Angeles. The museum is very popular among car enthusiasts young and old.
The exhibits are great, boasting all sorts of cars – from exotics and classics to celebrity vehicles like the Delorean used in Back to the Future. You can learn a lot about car design too if that interests you, with interactive simulations that make it feel as though you're speeding on a track.
The toddler and preschool crowd will enjoy the vehicle-themed play space, while the Pixar/Cars design studio is perfect for teaching older kids principles of car building. Though we visited with youngsters, I believe that this would be a great activity for teenagers, tweens and school-age children to do in Los Angeles.
Side note: As I'm writing this, my 11 year old is looking over my shoulder and asking when we can go to the Petersen because it looks so cool. That's a great vote of confidence!
Grammy Museum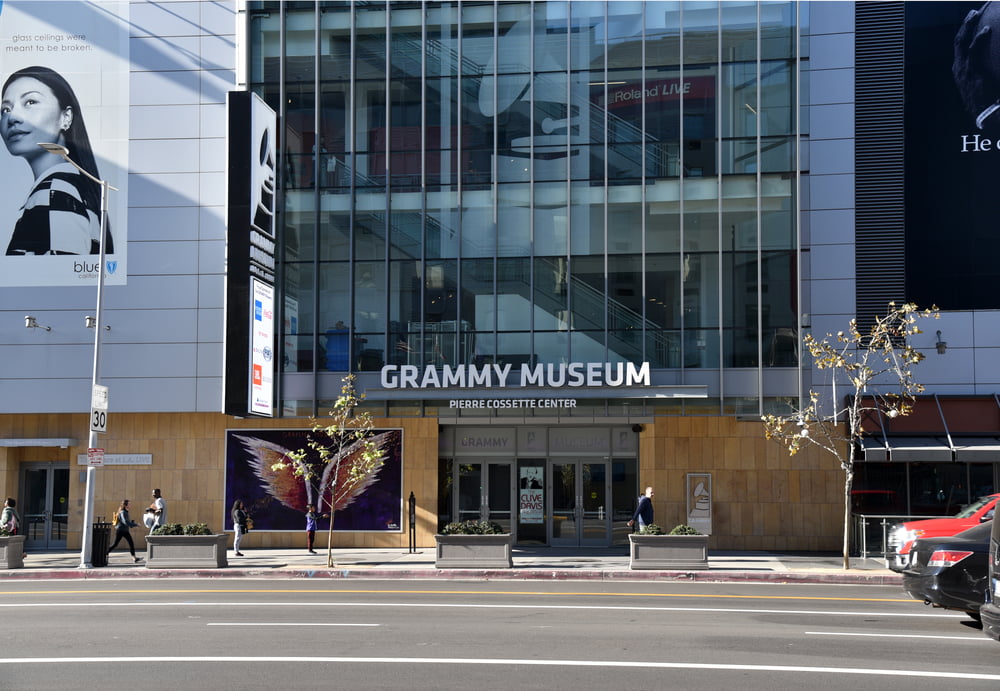 We're excited to visit the Grammy Museum at LA Live (the entertainment district of downtown LA) again now that our kids are older! It is a great interactive museum that not only celebrates the Grammy Awards, but also the artists who win them and perform at the ceremonies. The museum has four floors with tons of different experiences.
There are many listening stations for children to test out, as well as a studio where you can experience your favorite songs with different types of recordings.
The Grammy Museum is geared more towards older kids, say around age 8 and up. However, there are still plenty of buttons to press and screens to touch for toddlers too. If you have teens or tweens who are into music already or are interested in checking out the LA music scene, then this should definitely be on your list of places to go!
While you're there, grab a delicious lunch at Fixins Soul Kitchen and then hop into Lucky Strike for some bowling with an LA swagger (kids welcome until 8pm).
The Broad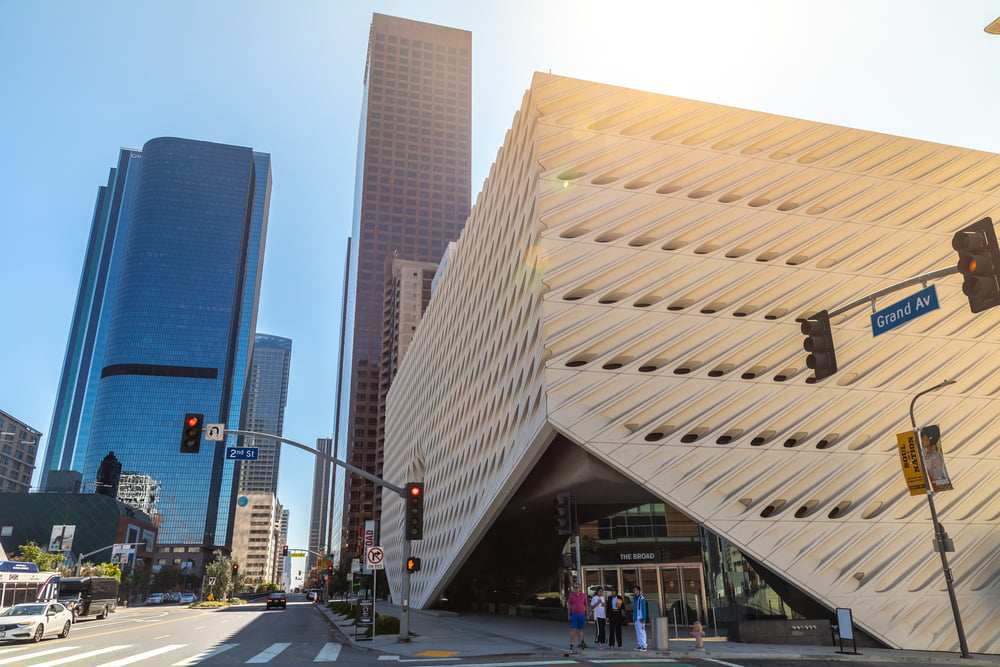 We haven't made it to The Broad but it's at the very top of my list! This museum in downtown Los Angeles is dedicated to contemporary art and has two of the famous infinity mirror rooms.
Be sure to get a timed ticket in advance for the immersive The Souls of Millions of Light Years Away! This is the perfect way to get kids to experience contemporary art galleries without realizing it.
Download the museum's app before you go so that your kids can go on a scavenger hunt with LeVar Burton of Star Trek and Reading Rainbow fame. The Broad has done a lot of work to make the museum engaging to visitors of all ages.
While you're in the neighborhood, hop over to Grand Central Market for lunch and then take a ride up Angels Flight Railway, the 120 year old funicular that will take you up Bunker Hill for $1. If you want to make a day out of it, it's easy to pop over to the Grand Park playground and then take in iconic views of city hall!
The only cost to visit The Broad is $17+ for parking, though it's also easily accessible by public transportation. You'll need to reserve an admission time slot for each person age 2+ to enter the infinity room.
Skirball Cultural Center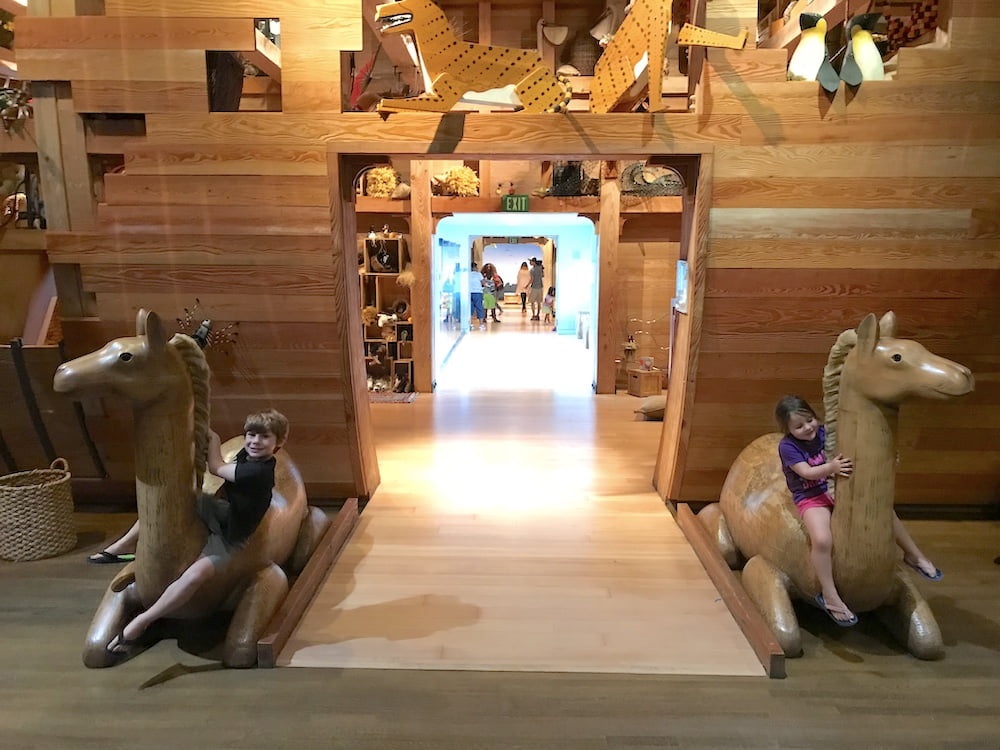 I spent so many afternoons here with my kids! Noah's Ark is an excellent exhibit that lets kids play through the story of Noah. They can make the sounds and wind of the storm, help get animals into the ark before the flood, play "house" within the ark's several levels, and experience story time and art projects with high-quality staff.
The art studio below is open during weekends and in the summer, and the museum often hosts high-quality family concerts in the amphitheater without any extra fees. If you're interested in going on a weekend, make sure to reserve a time slot beforehand. This children's museum definitely stands out from all the others in Los Angeles; if you're accompanied by another adult, take turns exploring the excellent Vision & Values permanent exhibit on Jewish culture or one of the many high-quality temporary exhibits available.
Cayton Children's Museum
I haven't been to this museum since it switched locations and got a new name – it's one of the newest kids activities in Los Angeles – but now it's huge, clean and contemporary. The building is pretty neat too – you can see some pictures of the inside here. There are interactive exhibits to encourage all the senses here.
While there are other children's museums in Los Angeles that are larger, this one might be the most convenient: It's on the top floor of Santa Monica Place mall. Plus, since it's such a short walk from family-friendly hotels, the Santa Monica Pier, the beach and Tongva Park, it would easy to work into your day – or even take one kid to the museum while their younger sibling takes a nap back at the hotel room.
Discovery Cube
If you're looking for a place to ignite your child's natural curiosity, then look no further than Discovery Cube. With two locations in Southern California – one in Los Angeles and the other in Orange County – both Discovery Cube facilities offer an array of interactive exhibits and activities with a focus on STEM disciplines. Your little ones will be entertained for hours on end while they learn about science, technology, engineering and math!
Kidspace Children's Museum
Kidspace Children's Museum has been an establishment in Pasadena since 1979 and was one of the first children's museums in Los Angeles. With many outdoor activities, this is a great place to visit on a nice day. By providing educational experiences that connect kids with nature, Kidspace is perfect for curious minds of all ages!
Best playgrounds in Los Angeles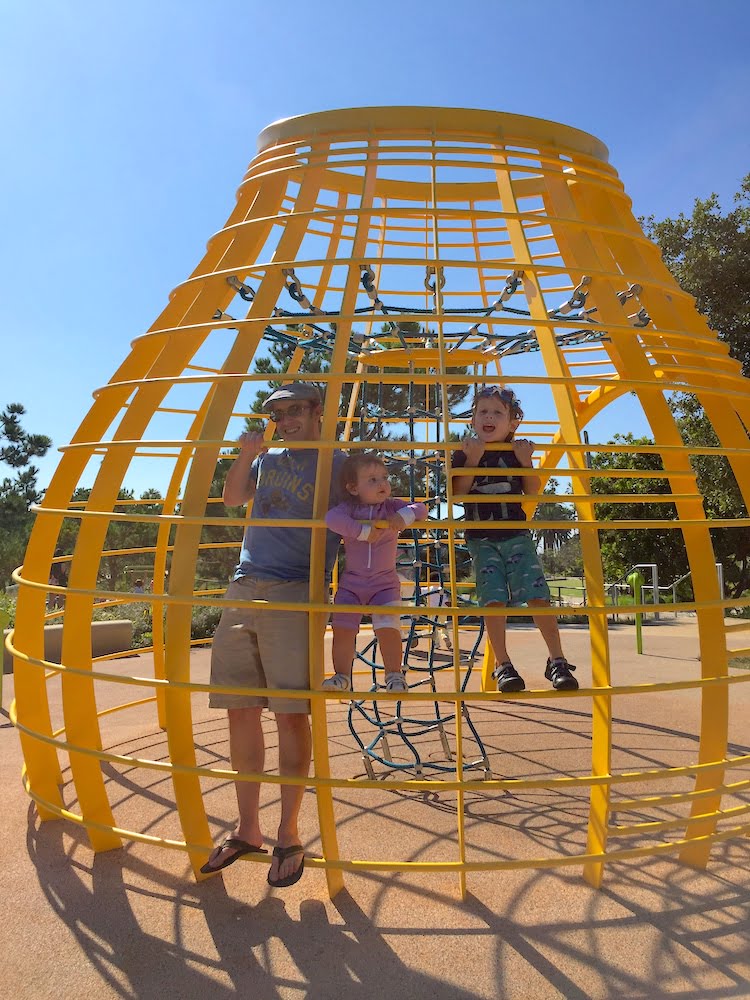 While there are a ton of great playgrounds in LA, a few definitely stand out above the others.
For an inclusive playground experience, Shane's Inspiration at Griffith Park is tough to beat. With recent upgrades to both equipment and shade, this all-abilities playground provides ample opportunities for enjoyment. This is a great stop after a morning at the Los Angeles Zoo or the Griffith Observatory, which are also located in Griffith Park.
If you're looking for a similar experience on the Westside, Inclusion Matters also built Aidan's Place in Westwood. They also installed Renee's Place at Pan Pacific Park in Mid-City, which is another family favorite and has a fun train theme. The Pan Pacific playground recently received some brand new, modern equipment that is perfect for both younger and older kids!
Tongva Park in Santa Monica, pictured above, could possibly be the most unique playground in Los Angeles. Most of its features are part of the landscape and have a thoroughly modern look. There's also a splash pad during warm weather that your kids will love playing around in. And when they're tired out from all the fun, you can enjoy strolling around the park among the native plants and taking in the stunning ocean views.
Douglas Park, located in Santa Monica 2 miles from the beach, offers a variety of activities for all ages. There is a tranquil duck pond with serene walking paths both around and within it. In addition, there is a playground with sand and various equipment to play on as well as a concrete rink that can be used for water play in the summer or skating, scooting, and biking during other seasons.
If you're in Beverly Hills and looking for a place to let your kids run wild, Roxbury Park is a great option. There's plenty of space to spread out, lots of sandboxes and playground equipment to keep everyone entertained. It's not somewhere I'd go out of my way to visit, but if you're nearby it's definitely worth checking out!
Shopping + dining with in Los Angeles with kids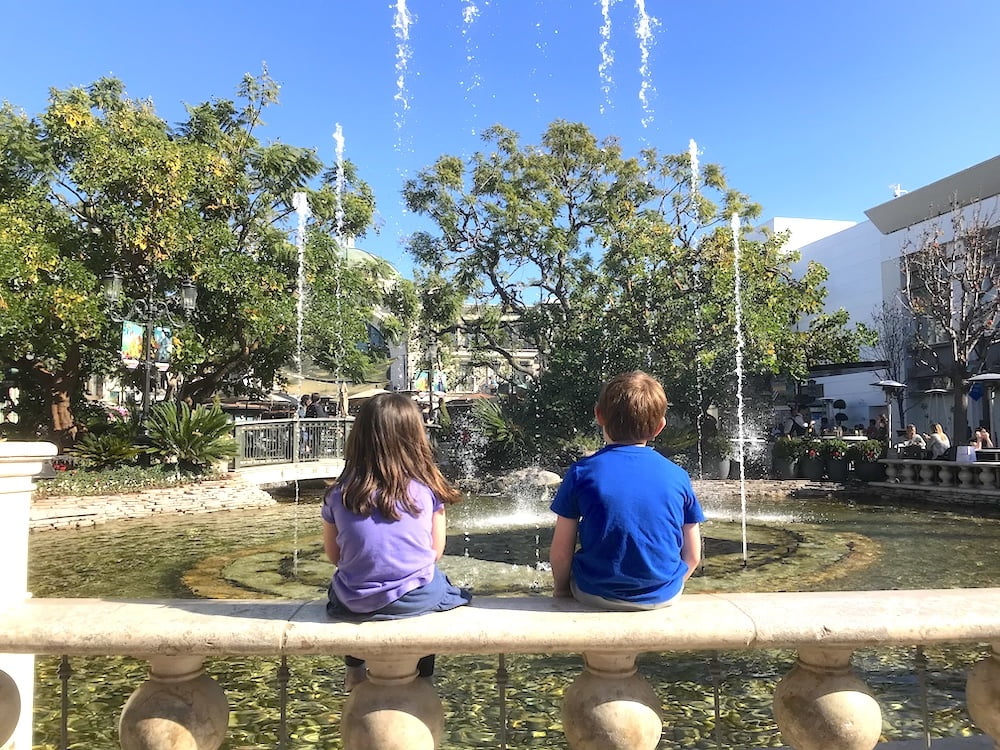 The Grove + Original Farmers Market
The Grove in mid-city is perfect for an afternoon or evening out with the family. The whole family can find something fun to do here, and we did many times. Families looking for things to do in LA with toddlers should definitely plan some time for their kids to be mesmerized by music-synchronized fountains right as you enter The Grove – the show kicks off at the top of every hour. My kids could spend hours there!
Just nearby, there's a green space where lots of parents let their kiddos play while they relax with a coffee or smoothie. From 1pm onwards, don't miss the free trolley rides around the property! You can board near Gap.
The Grove is next to The Original Farmer's Market, which has been providing a variety of foods to Angelenos for almost one hundred years. My kids' favorite, obviously, is the newer Dylan's Candy Bar outpost located where The Grove and The Farmer's Market come together. Be sure not to miss old-school favorites like Kip's Toyland and Sticker Planet!
The Farmer's Market has a plethora of great food options, which is perfect when your kids are hungry and want different things. The market is set up like a food court, so everyone can go to the stall they want. I wouldn't recommend spending an entire day here, but it's only a five minute drive from other attractions such as the La Brea Tar Pits, LACMA and Peterson Automotive Museum.
Century City
The hottest new spot in the LA retail scene is Westfield Century City. It's a haven for families with children of all ages, and after undergoing a $1 billion renovation it's now the place to be. You'll find everything from an American Girl store to Camp – a NY favorite that offers kids classes and experiences led by counselors plus plenty of toys and games to keep your little ones entertained.
There are two family lounges, plus faux-green spaces for kids to play. Century City also offers plenty of dining options for adventurous and picky eaters alike. Eataly is a great choice for the entire family and has many Italian options, while my kids are huge fans of the high-end soup dumplings of Taiwanese restaurant Din Tai Fung.
3rd Street Promenade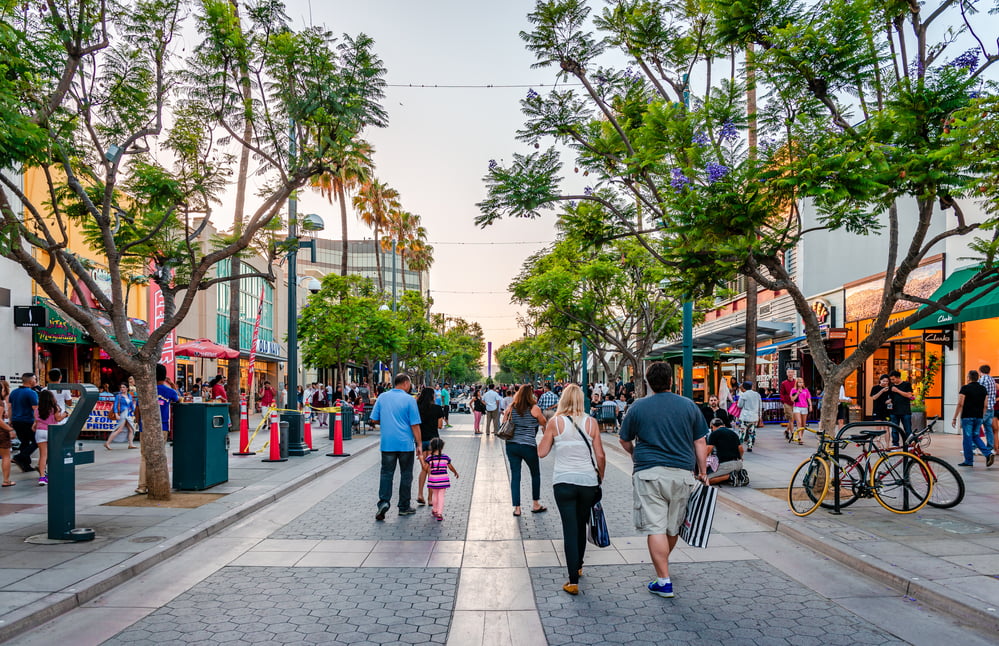 A visit to the 3rd Street Promenade is a must-do for anyone vacationing in Santa Monica with kids. This pedestrian-only zone stretches several blocks and houses popular stores like Old Navy, H&M, and Urban Outfitters. In addition to retail therapy, there are plenty of eateries to choose from including fast casual options and sit-down restaurants. Don't forget to grab a coffee or smoothie while you stroll!
If you and your children are looking for more stores to explore, visit 4th and 5th Streets. You'll find the Acorn Store (with its impressive variety of classic and new toys) as well as REI (which has tents and other camping gear set up at the entrance that kids can "try out").
A highlight of the 3rd Street Promenade for many kids are the street performers. They can see magicians, hip hop dancers, singers and more. Make sure to bring some $1 bills so your kids can tip them at the end of the performance. You're most likely to find performers there on weekend evenings.
Make sure to keep an eye out for the topiary dinosaurs as you're leaving!
Old Pasadena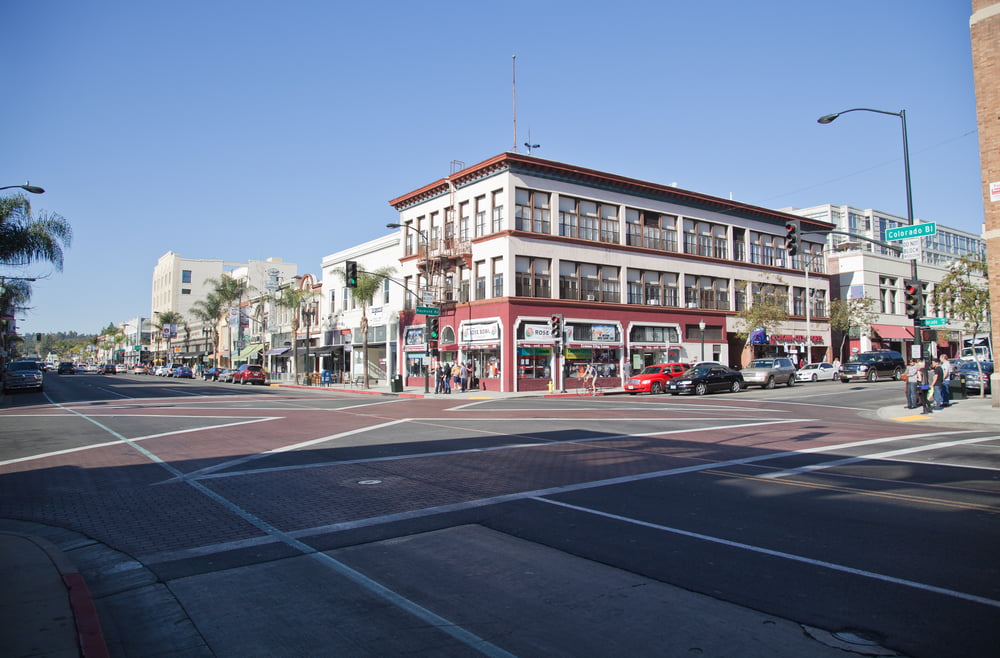 "Old Pas" is a fun place to walk around in the evening and grab a bite to eat if you're staying in Pasadena or even in at a hotel in downtown LA. While it isn't only for pedestrians, it's very pedestrian-friendly and there are plenty of parking structures to ditch your car in and walk around. Check out the diagonal cross walk!
The Paseo (formerly Paseo Colorado) has plenty of shops and restaurants to choose from, and you can always check for open skating times at the Convention Center ice rink across the street.
A word to the wise: I'd try to avoid Pasadena entirely from December 31st to January 2nd unless you plan to attend the Rose Bowl game or the Rose Parade. There are quite a few street closures and traffic is unreal. One year when I lived in Pasadena I couldn't even get to my own apartment!
If your kids are old enough not to touch the incredible Degas statues sitting out in the open, take them to the nearby Norton Simon just beyond Old Pas on Colorado Blvd.
Universal City Walk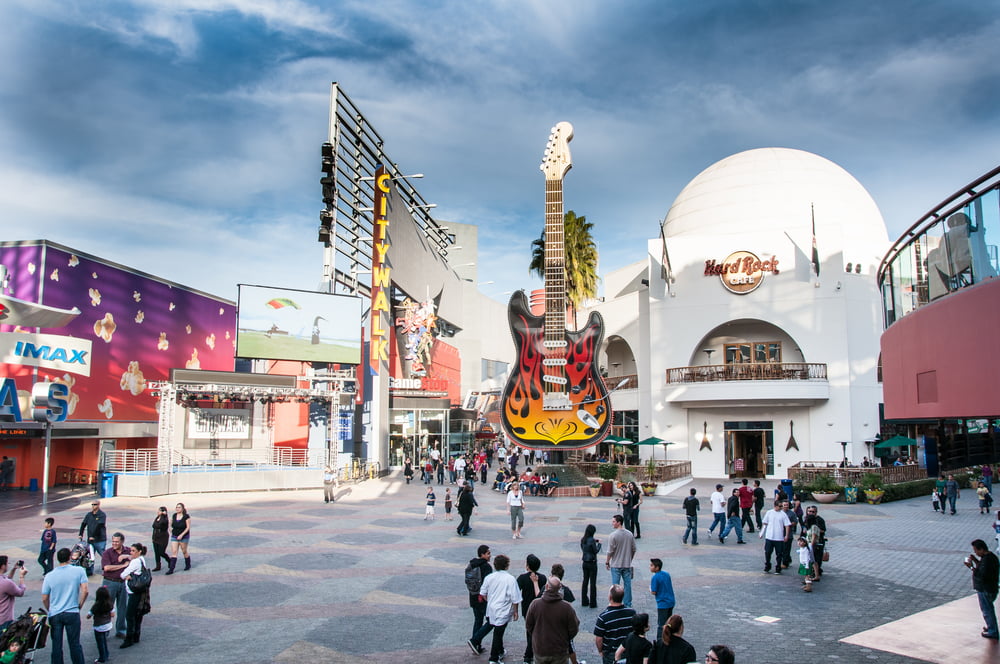 If you're in Los Angeles to go to Universal Studios Hollywood, you'll definitely at least pass through Universal City Walk – that's where the entrance gate for the theme park is. It offers lots of dining options and Universal-themed shopping.
Most of the restaurants are national chains, but there will be fun themed dining at The Toothsome Chocolate Emporium & Savory Feast Kitchen opening in 2023. Its Orlando counterpart has been receiving solid reviews since it opened several years ago.
Take note that parking at Universal City Walk in Hollywood is never free (this is LA, after all). It's cheaper if you arrive after 5pm, but you'll still have to pay just like everywhere else in the city. Spending the evening at Universal City Walk makes the most sense after a day at the theme park or if you can get there by metro rail or hotel trolley.
Americana at Brand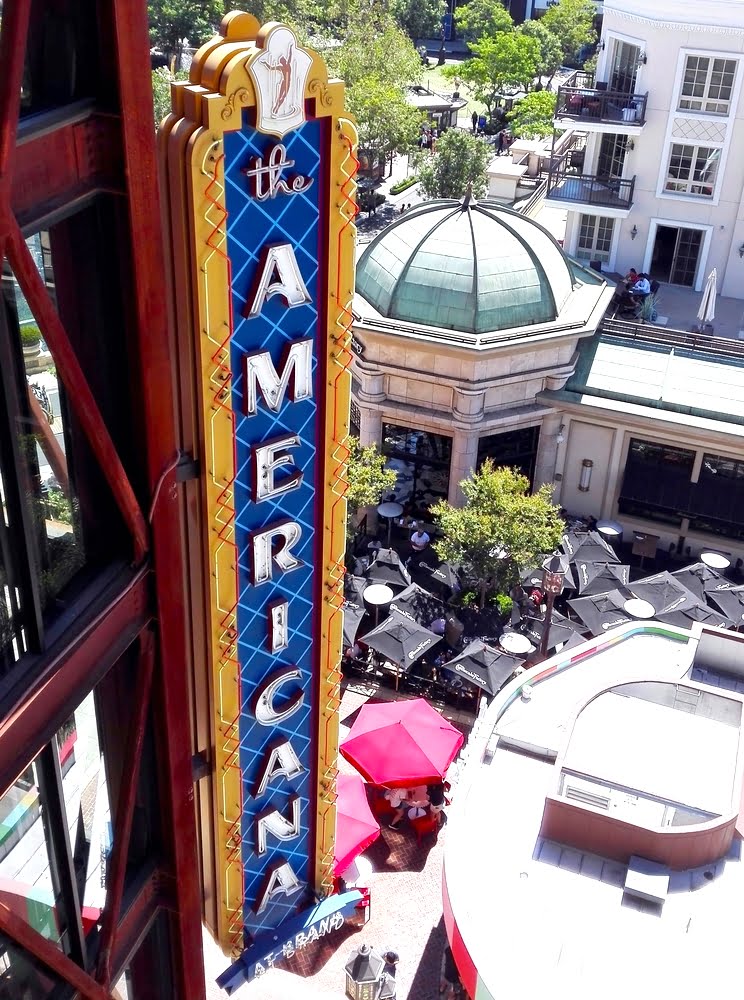 If The Grove sounds awesome but you're staying in Pasadena or near Universal Studios, fear not: it's fraternal twin is right there in Glendale at The Americana at Brand. Though you don't get the benefit of the attached Farmers Market, The Americana is actually larger than The Grove itself.
While the architecture differs the concept is the same, with high end stores and plenty of dining options organized around a "town green" with a seriously impressive fountain in the middle. This makes a great evening out with kids in LA, and while you're there you can always pop across the street to the unique Museum of Neon Art.
Mapping the best things to do with kids in Los Angeles
It would take years to explore all of the awesome things to do with kids in Los Angeles, but after reading this article hopefully you have a good handle on where to start! Use the map below to see how everything fits together to plan your ultimate family trip to Los Angeles.
Want more tips to plan an amazing trip to Los Angeles with kids?