Downtown is a major hub of activity for all of Los Angeles and a great place to plan a visit. With tons of great museums, restaurants, and activities there are countless ways to spend your time during your trip. Whether you are in town for an event at the Crypto.com Arena, Los Angeles Convention Center, or another venue in Downtown, this guide has great accommodation options for you and your group!
The first section of the guide has some fantastic hotels in downtown Los Angeles and the second section has short-term rentals and Airbnbs in downtown Los Angeles options if you are looking to have your own space for your trip. Don't miss these fun things to do in downtown Los Angeles!
You can also use this handy map to find the best places to stay in DTLA by location:
Best Hotels in Downtown Los Angeles
E-Central Hotel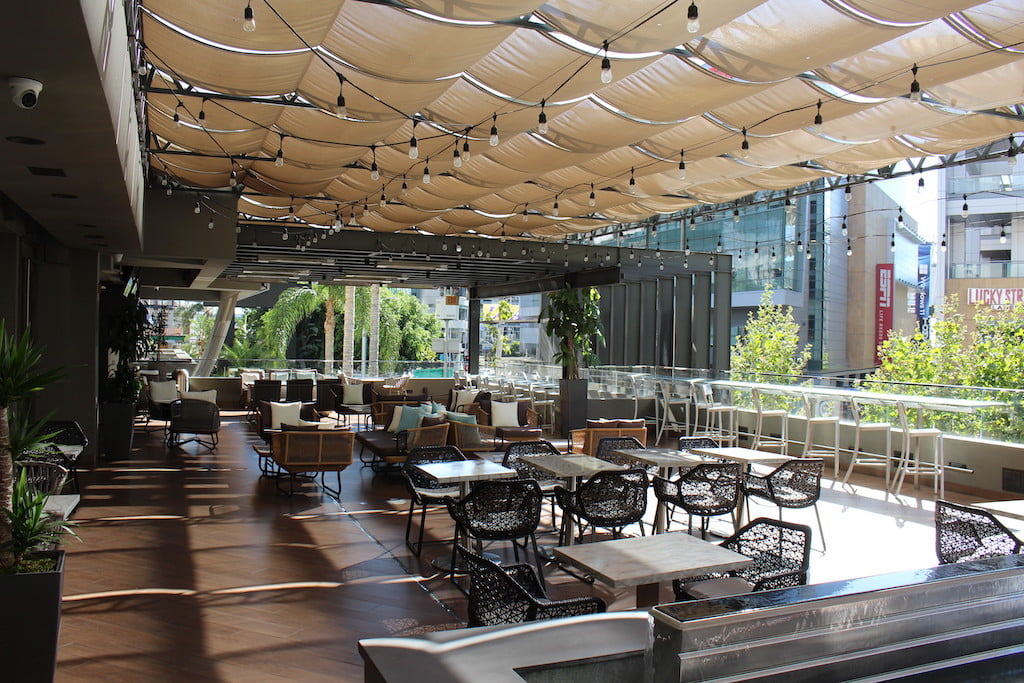 One great option for staying in Downtown Los Angeles is the E-Central Hotel located right in the heart of LA Live. The major draw to this property is how centrally located and convenient the hotel is. This hotel is a short walk to the convention center and Crypto.com arena which makes it an extremely convenient place to stay if visiting for an event at one of these venues.
It is also directly across the street from the Grammy Museum and walking distance to all the great restaurants in LA Live. The hotel has a fun outdoor patio and bar called the Nixo Patio Lounge which is a great place to wrap up a busy day in Downtown. This is one of the best places to stay in DTLA if your activities are focused on the southern part of the area!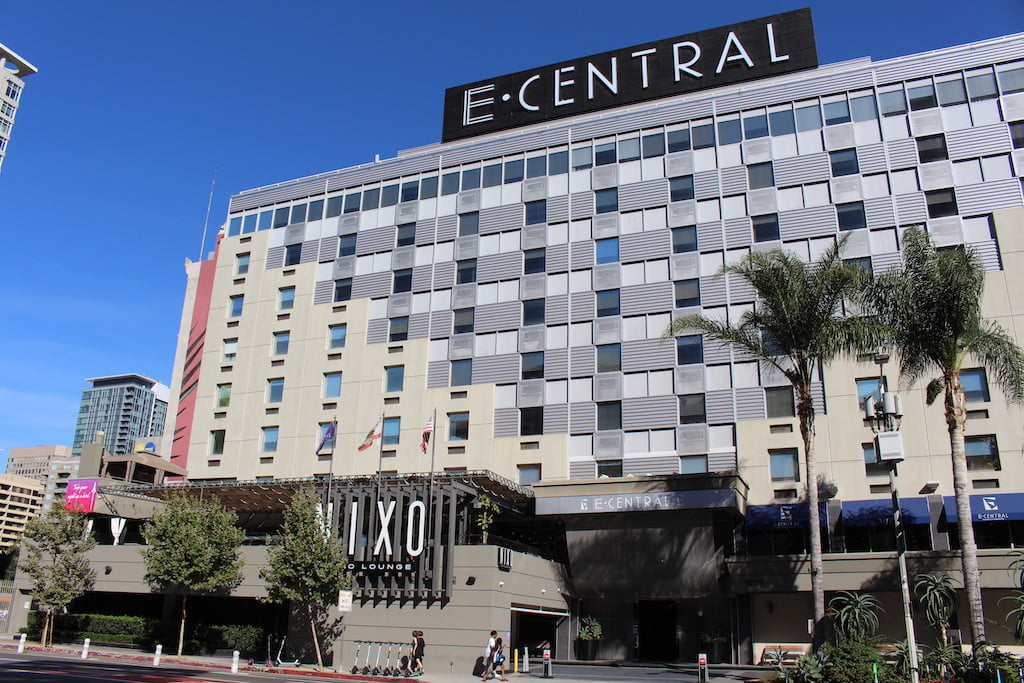 JW Marriot L.A. Live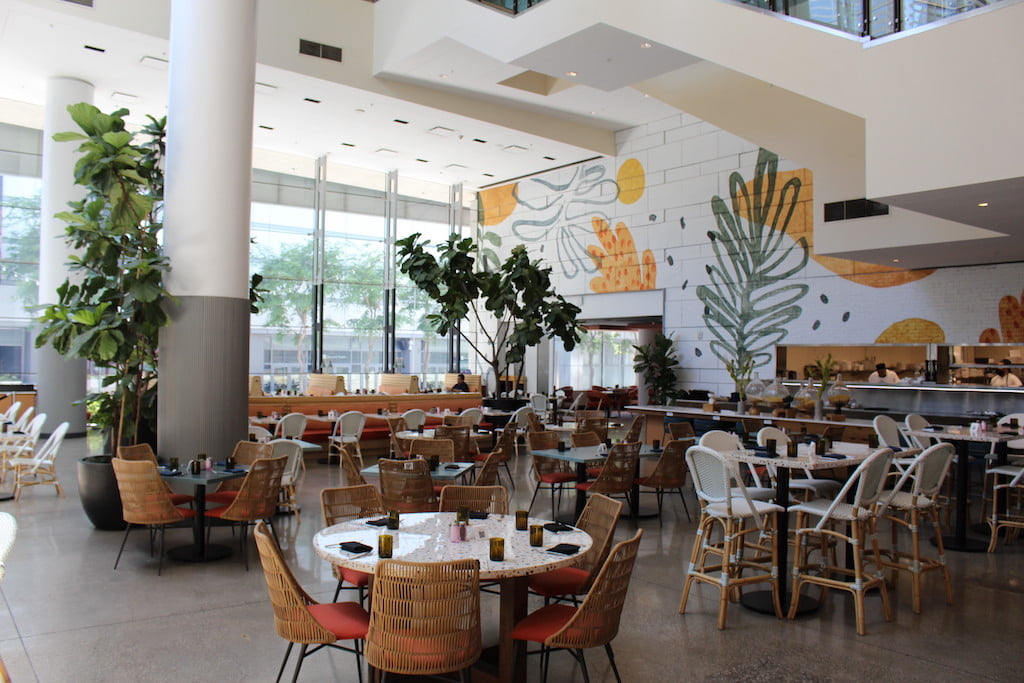 Another great option in the heart of Downtown is the JW Marriott at L.A. Live. This hotel is also located walking distance from LA Live – it's convenient for concerts, events, sports games and anything else you could want to do in Downtown.
Unlike the E-Central however, the Marriott has a great pool and a wider array of dining options which can make it a better choice for families looking to stay in the area. The Marriott's rooms are also very modern and extremely clean which is a great plus to the hotel. Overall, if you are looking for a great hotel in LA Live and one of the best places to stay near the Crypto.com Arena, the Marriott is a great option for most groups.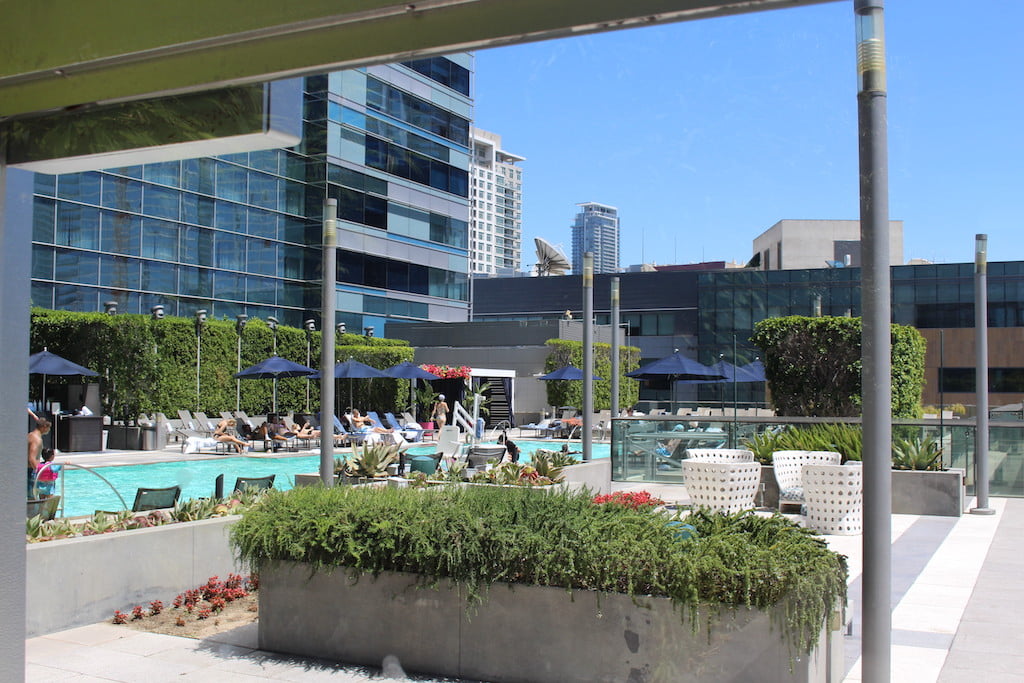 Omni Hotel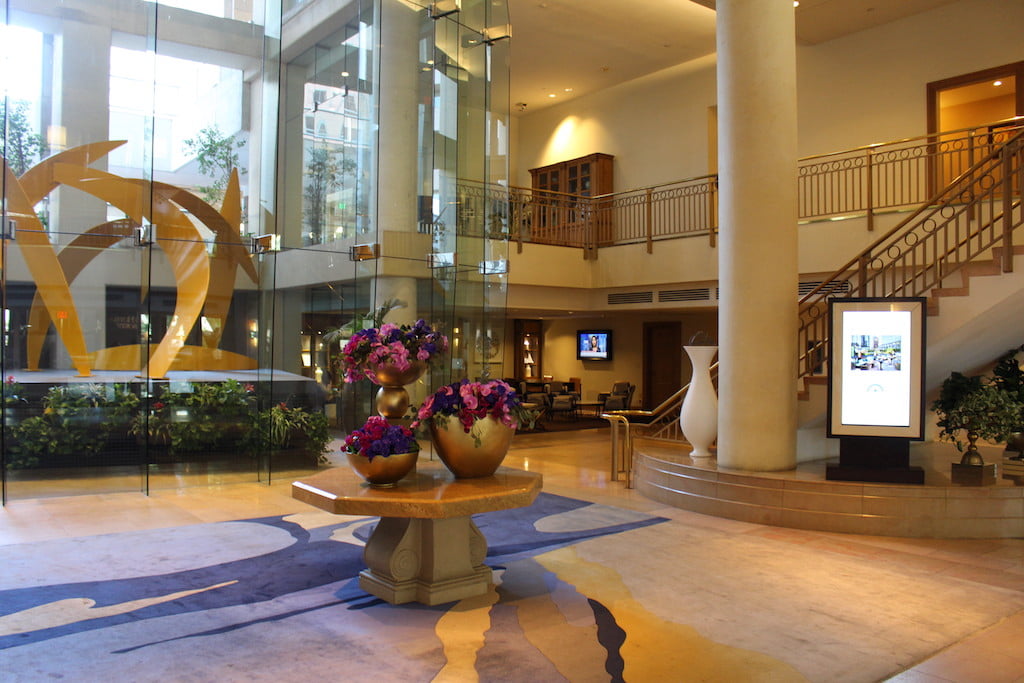 A great Downtown option outside of LA Live is the Omni Hotel located on top of historic Bunker Hill in the heart of Los Angeles. It's a classic!
While this hotel is a little further away from the Crypto.com Arena and convention center, it is much closer to many of DTLA's other attractions like museums and restaurants. The hotel is directly next to the Museum of Contemporary Art, across the street from The Broad, and very close to Grand Central Market which makes it easy to do these great activities.
During the summer Bunker Hill also puts on a variety of free musical performances which are a can't miss activity if you are staying at the Omni Hotel. The hotel's restaurant, Noe, is also very good and a good option if you are staying in the hotel or nearby. The Omni has a lot to offer and is a great choice for your trip to Downtown.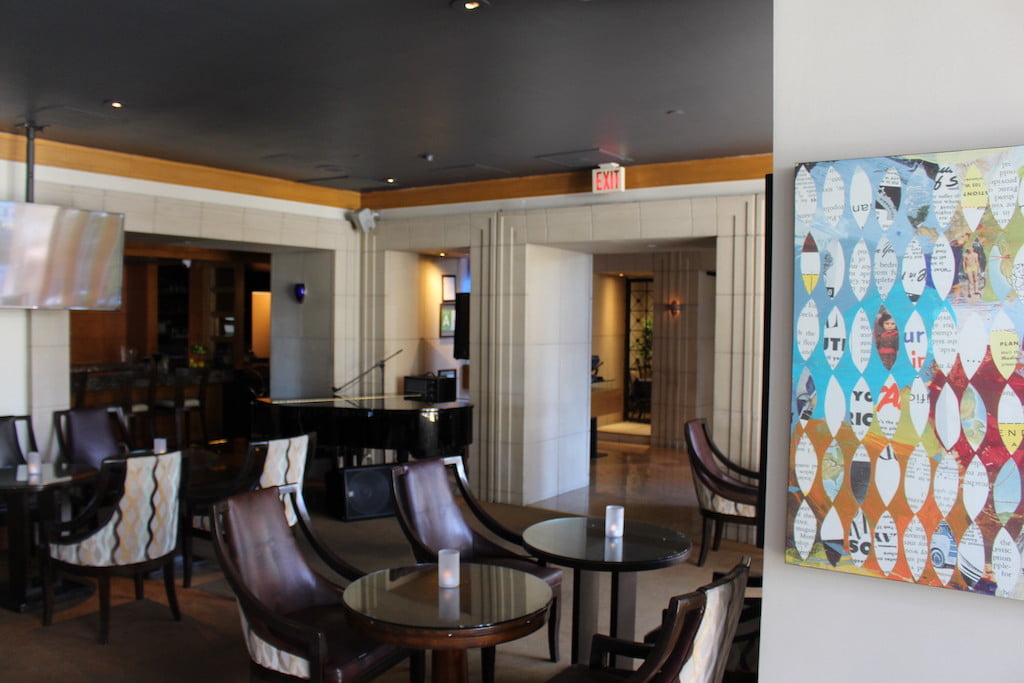 Short Term Rentals and Airbnbs in Downtown Los Angeles
Walkable Condo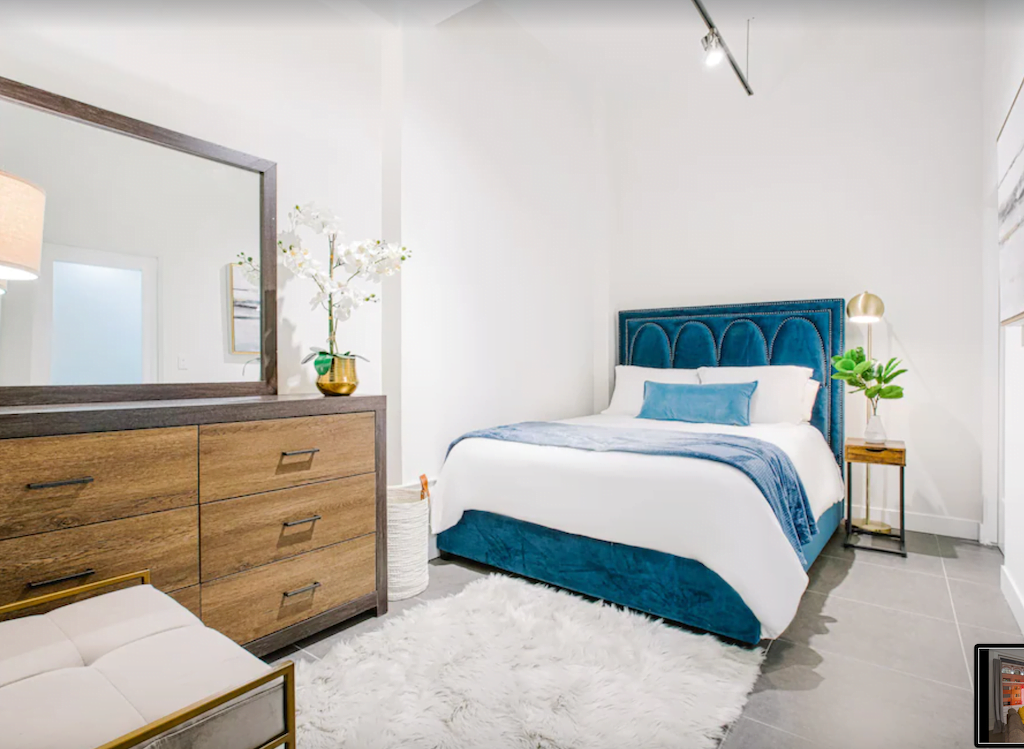 A great short term rental option in Downtown Los Angeles is this gorgeous condo located centrally to everything that Downtown has to offer. This condo is best suited for a smaller group or couple as it has one bedroom and a pull out but the highlight is how easy it is to get to anything you might want to do. The rental is close to LA Live and a great place to stay for a Lakers, Clippers, Sparks, or Kings game. Nearby is also Pershing square and Los Angeles' legendary fashion and flower districts. If you are looking for a conveniently located and well taken care of rental for your trip, this is the one for you!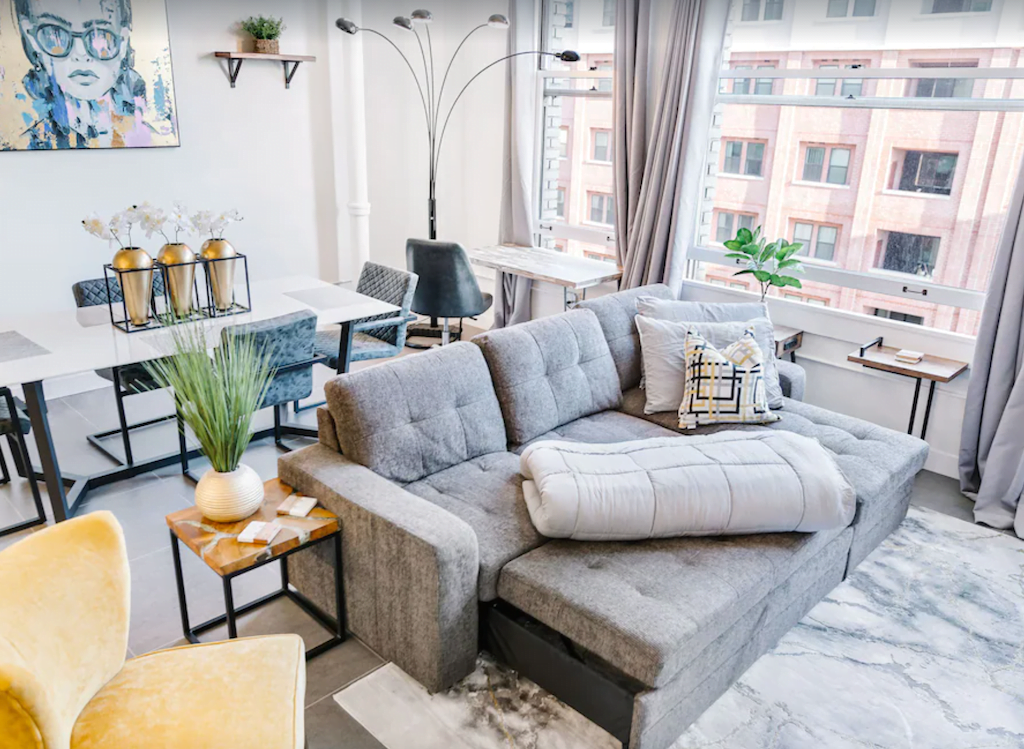 Large Family Townhome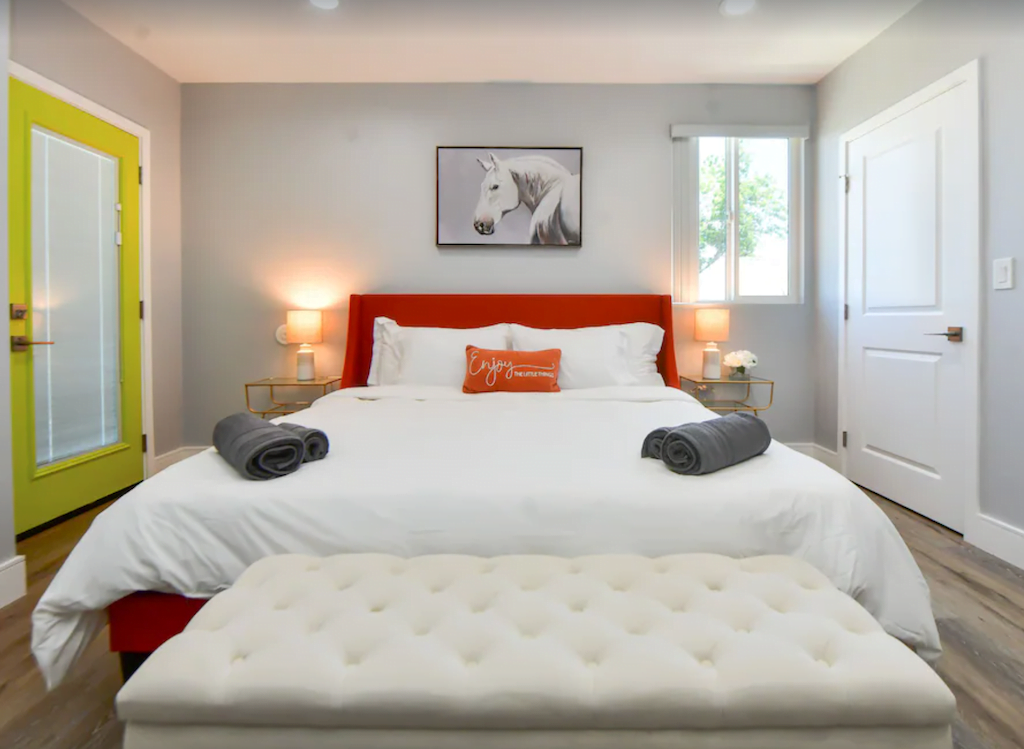 If you are traveling with a larger group to Downtown and looking for a place to stay the options are a bit limited. However, if you look just a bit south of Downtown you can see this new and large family townhome. Spaces like this are difficult to find in the area which makes this property even more of a gem. The home is newly constructed and has 4 bedrooms and 5 bathrooms which is bound to be enough room for your group! This home is also closer to USC than most other options on the list which makes it a great choice if you are visiting for a football game or USC graduation.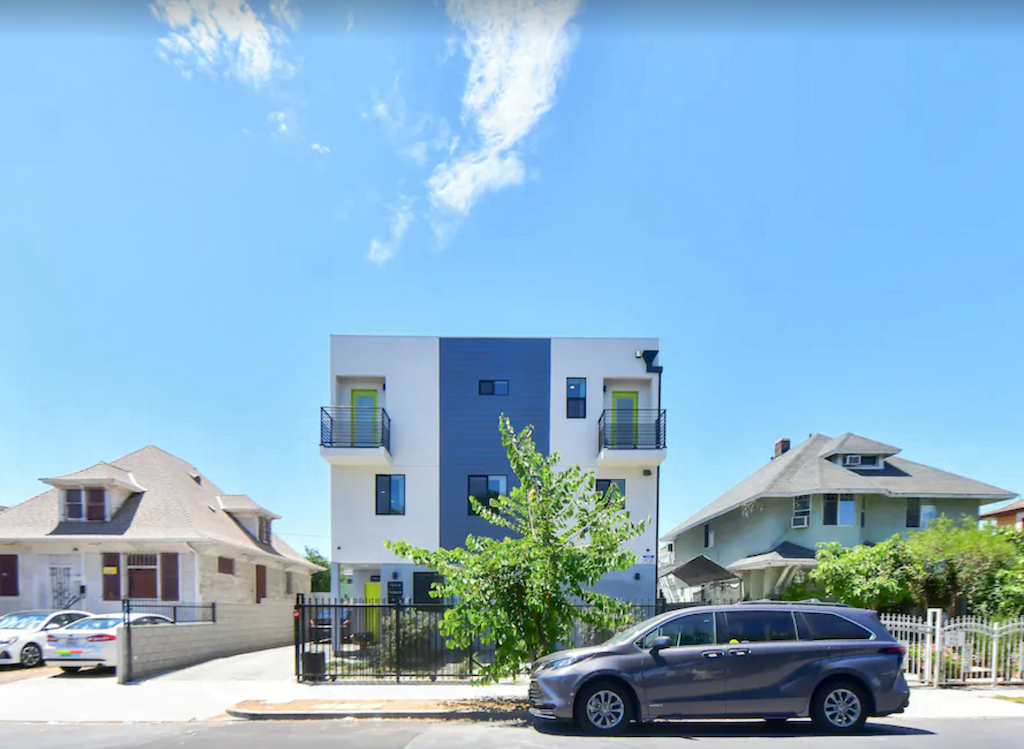 Unique Downtown Apartment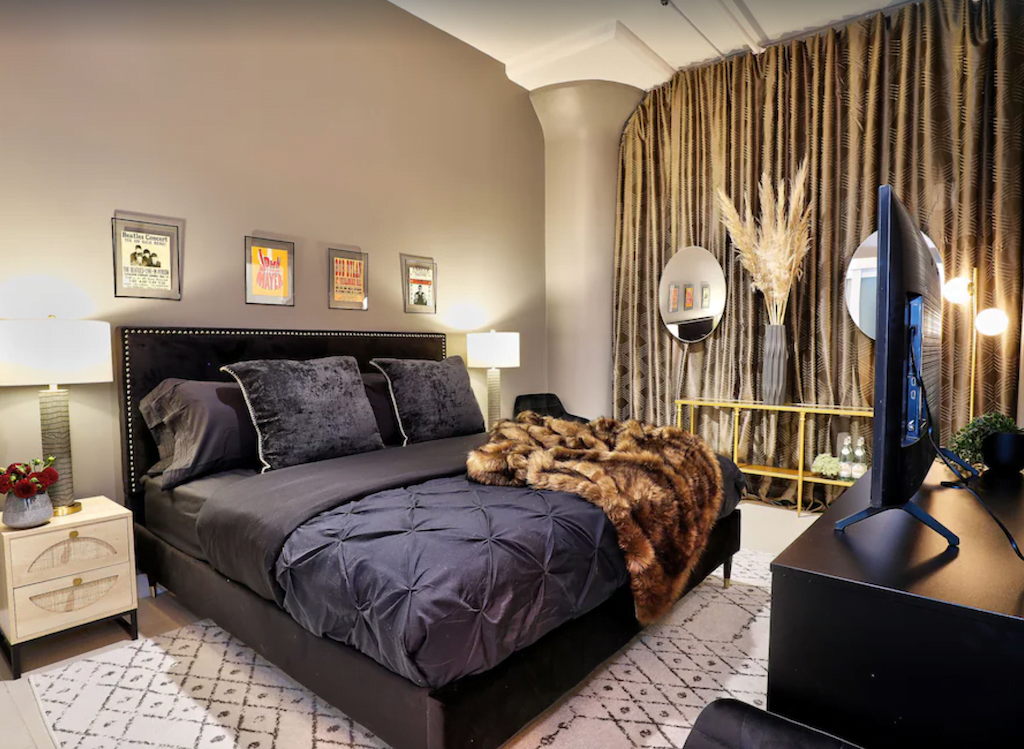 One of my favorite rentals that I've seen in Los Angeles is this incredibly unique condo located in Downtown Los Angeles. Described by the host as,"Rock N Roll Green Room Chic" this condo fully lives up to that billing. The walls are 12 feet of a gorgeous deep blue and the living room is adorned by a gallery featuring dozens of legendary musicians. What really makes this place stand out, however, is the incredible bedroom with an amazing all black bed that is sure to make you feel like a rockstar. The location is also great as the condo is located in a building with a great pool and central to most of the activities to do in Downtown. This is a great option for couples or anyone looking for an extremely unique accommodation option.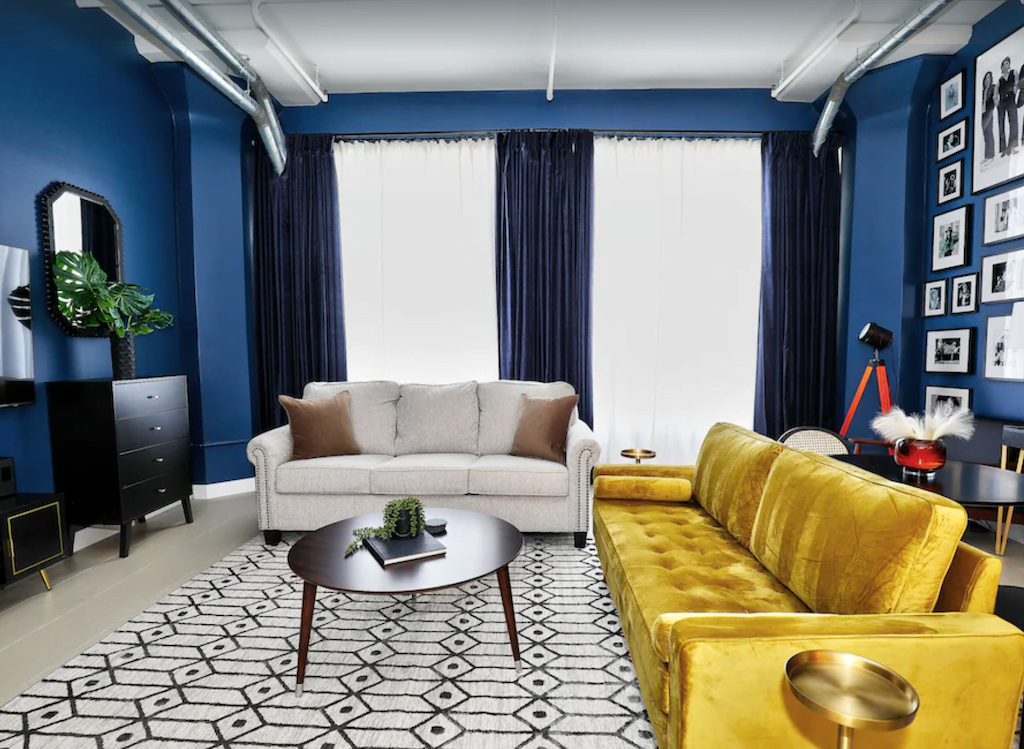 While you may wonder about staying in DTLA, keep in mind that California is one of the safest states in the US. Downtown has changed a lot n the last 30 years and now it's one of the city's hubs of activity!