Want a Los Angeles experience without some of the urban hassles that put people off of the city? Try Santa Monica! There are so many fantastic things to do in Santa Monica with kids that you could spend your entire vacation there without getting bored. My husband attended school in SaMo throughout his youth, and as parents living nearby we explored the city nearly every weekend.
After reading this article you'll find out where to stay in Santa Monica with kids, the best things to do with kids in Santa Monica and get insider tips on how to get around. See why we love SaMo and why you'll love it too!
Where to stay in Santa Monica with kids
Loews Santa Monica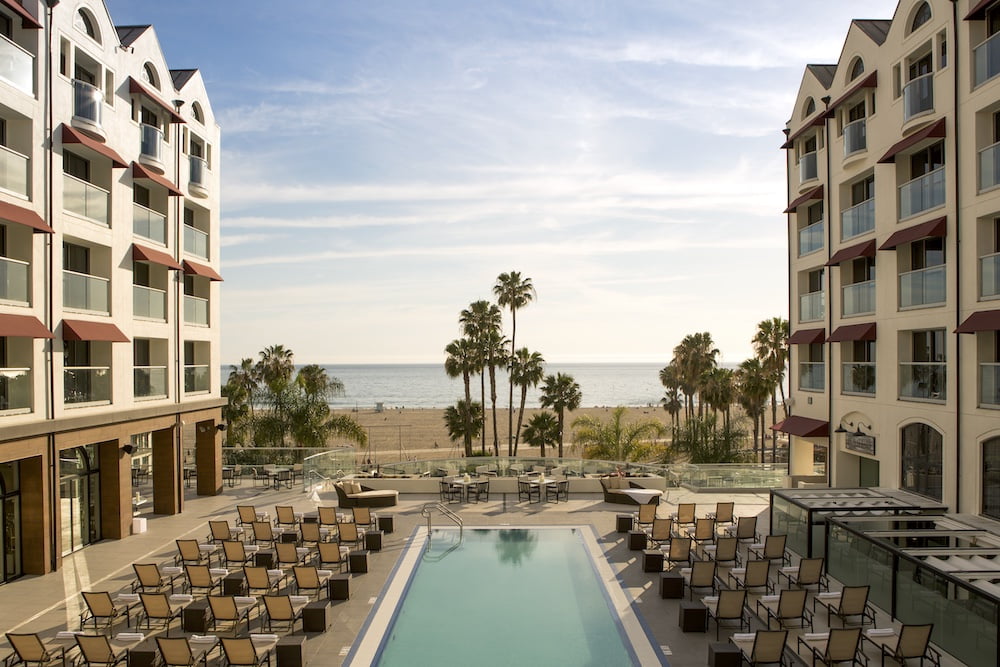 The Loews Santa Monica is the perfect hotel for families looking to stay right on the beach. It has everything a parent needs from cribs and strollers, baby products galore – even games so your older kids don't get bored!
The rooms are sleek with modern touches and optional multi-room set ups if necessary, which makes this an easy choice when it comes time get some sleep after exploring all day or if you need to regroup at your home base before hitting one more activity.
Loews has everything you need for a memorable stay – from their heated outdoor pool with views of the Santa Monica Pier, to bikes that can be rented just steps away on Oceanfront Walk!
Shore Hotel
Shore Hotel is a great family friendly hotel in Santa Monica. It combines an amazing location and beautiful design, along with a moderate price tag (for the nicer parts of LA). You get all of classic hotel amenities with some extra perks like access to their Mexican restaurant and gorgeous sunset views from your room!
You can relax in the stunning pool or walk right across the street to see all that Santa Monica has offer – its iconic Pier, 3rd Street Promenade (which includes plenty of dining and shopping options), the Cayton Children's Museum, the modern playground at Tongva Park and the scenic grassy stretches of Palisades Park. While it's not right on the beach, access is easy enough with a 5 minute walk down the pedestrian side of the Santa Monica Pier ramp. This is a great family-friendly hotel in the heart of Downtown Santa Monica!
Hampton Inn & Suites Santa Monica
You won't believe the amazing location for a relatively low price when you stay at the Hampton Inn & Suites Santa Monica. It's about two blocks inland from Shore Hotel but less expensive and it includes breakfast to save you money and get you out the door faster. There are no ocean views here, but you can unwind at the end of the day in a heated outdoor pool.
The hotel is perfect for people who are visiting Los Angeles without a car. It's one of the best places to stay if you don't have your own transportation because you can easily hop on the Expo ("E") Line out front or grab one of the many Santa Monica Big Blue Bus lines that picks up within a two block radius.
Within walking distance you can access the beach, Tongva Park's playground and splash pad, the Santa Monica Pier, the new Cayton Children's Museum at Santa Monica Place and 3rd Street Promenade. The Big Blue Bus #9 will take you to Temescal Gateway Park for a hike.
To explore more of the city, just hop on the Expo Line to Exposition Park. Spend the day checking out dinosaurs at the Natural History Museum and the space shuttle Discovery at the California Science Center (free!). You can even continue on the Expo line into downtown LA to catch a game at Crypto.com Arena, enjoy the buzz of LA Live or visit the Grammy Museum.
The Hampton Inn & Suites has a great selection of rooms and suites with balconies, tubs or other amenities that are perfect for family vacations in Santa Monica. The common spaces at the hotel have a modern beachy vibe making it memorable stay even if you're staying on budget!
Oceana Santa Monica
The all-suite Oceana Santa Monica is designed for luxury, with spacious suites and tons of free amenities. Book a massage or enjoy surf lessons on-site to make your stay even more enjoyable! You can also arrange airport transfers at no extra charge for a true VIP experience, because that's what this place is all about. Both the hotel and its views are a feast for the eyes.
The Oceana Hotel in Santa Monica is the perfect place to stay if you want a scenic view of ocean without being right on top it. You can enjoy Palisades Park between your room and the sandy beaches, and you're an easy walk to 3rd Street Promenade's shops and dining options.
If you want to experience the high-end side of Santa Monica this is an amazing place to stay. The hotel is just steps from the beginning of Montana Avenue, where celebs and other LA elites come to shop the boutiques and sip their lattes or fresh squeezed juices. It's a great place for an afternoon walk while your little one naps in their stroller.
Getting to the beach will either require driving or walking across the foot bridge over PCH. It's not a long walk, but it takes you down the steep bluffs and eventually you'll have to go back up (with your beach gear and children in tow). If you want an extra indulgence, the Beach Butler package includes beach chair set up, dining delivery in the sand, cocktails and more.
The Oceana is an experience like no other. This luxurious, five-star resort may not be for everyone but if you want to splash out on a special occasion it's worth taking into consideration!
---
Fun things to do with kids in Santa Monica
Hit the beach (and the beach house)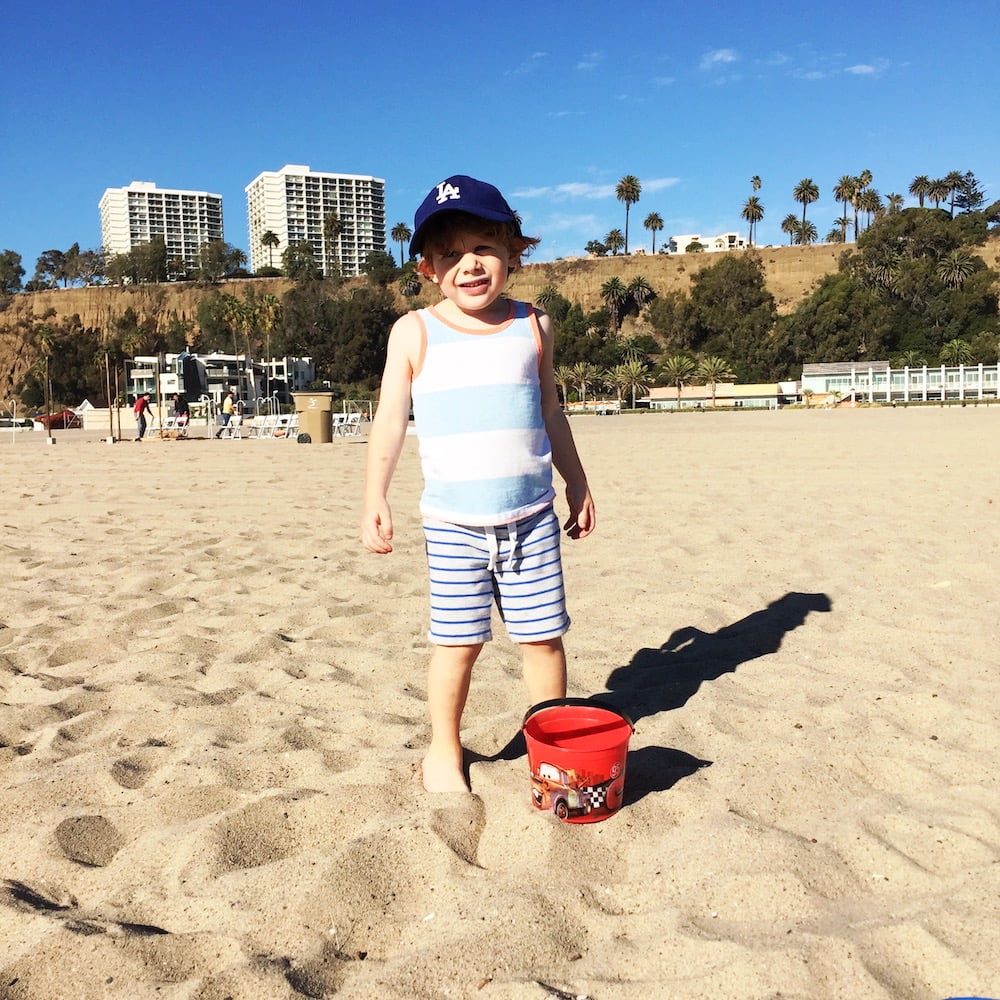 Of course hitting the beach tops the list of fun things to do in Santa Monica, California!
Santa Monica State Beach offers a huge stretch of sand and is an icon of Los Angeles. It can get busy right near the Pier, but it's incredibly convenient to access and the crowds thin out if you go even a little north or south. If you're driving, there are eight different parking lots to choose from so you'll definitely find a spot somewhere (and the emptier the lot, the emptier that stretch of sand probably is).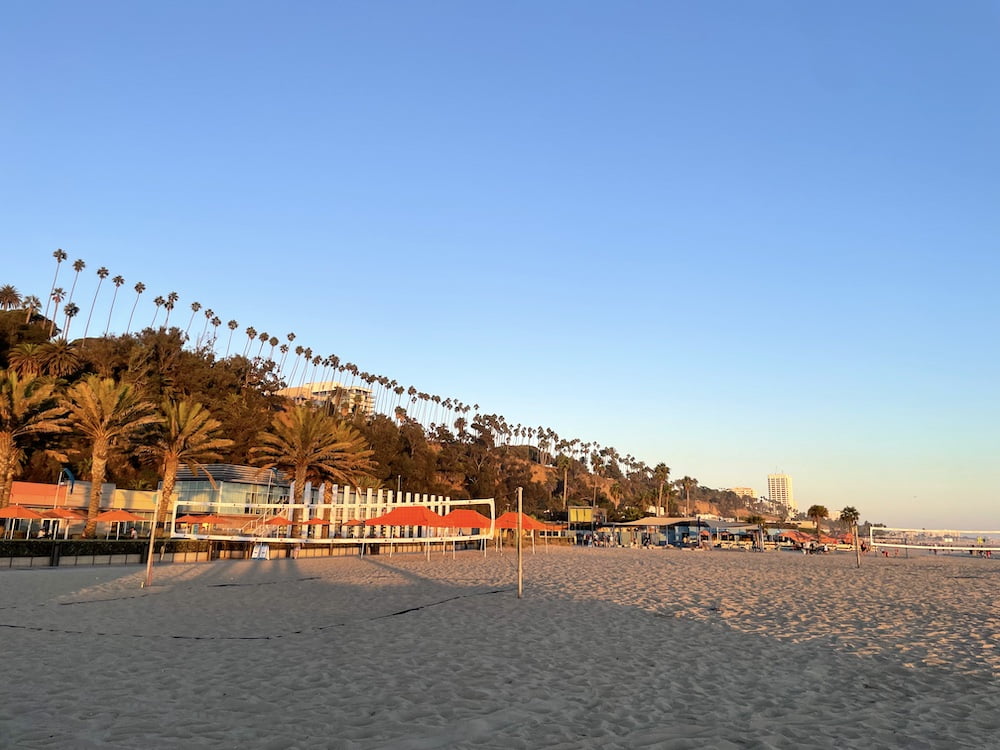 Our favorite section is 1.5 miles north of the pier on PCH at the Annenberg Community Beach House, which offers great facilities, a fun restaurant, a small playground and even a splash pad and (with paid reservation) outdoor swimming pool in the summer. This is where our family usually opts to take the kids to the beach in Los Angeles. Alternatively, we head just a few more streets north to Will Rodgers State Beach (technically in Los Angeles rather than Santa Monica), which is much less crowded and no less beautiful!
If you want a spot where you can rent beach chairs and umbrellas, look for the blue Perry's signs and umbrellas sprinkled up and down the beach. There are locations in Lot 7 North, Lot 3 North and two essentially side by side in Lot 5 South.
Visit the Santa Monica Pier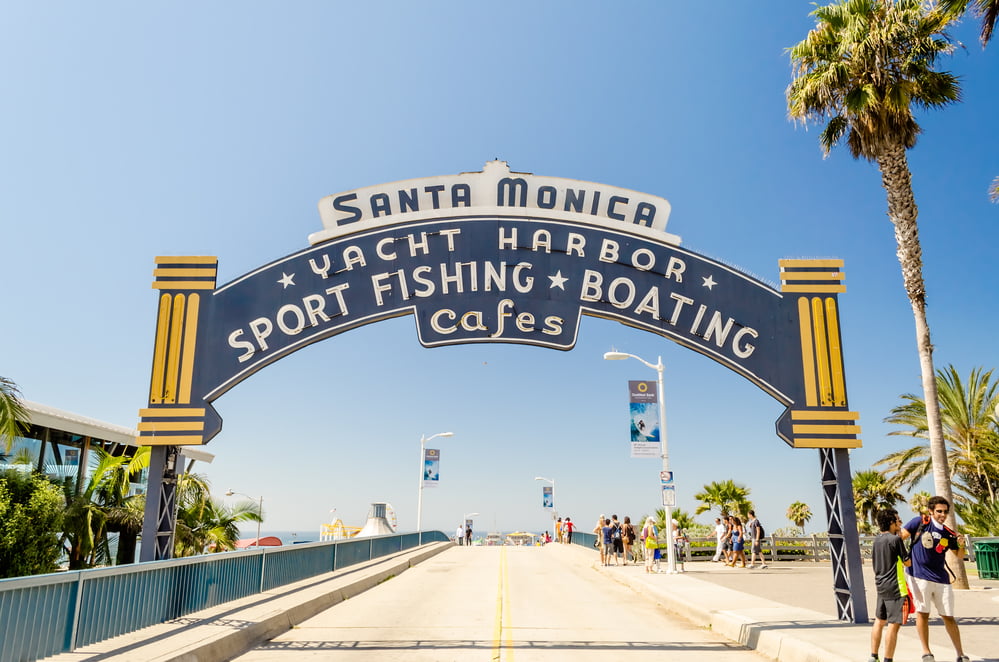 The Santa Monica Pier is as iconic as they come and always a fun family activity in Santa Monica! Without spending a dime you can stroll along to see the street performers and artists, take in ocean views and more. You might be surprised at the variety of things to do at the Santa Monica Pier.
If your kids love games and rides, there are plenty to choose from at Pacific Park. It's an admission-free amusement park on the Santa Monica Pier; you only pay for the activities you want to do! The most family-friendly is the Pacific Wheel, while older kids seeking adventure will like the West Coaster. There are several other rides for kids and their parents to check out like bumper cars and "tea cup" and "Dumbo" type rides, plus plenty of carnival games (yes, we've actually won prizes here). You can either pay per ride/play or grab an unlimited wristband depending on how long you want to stay.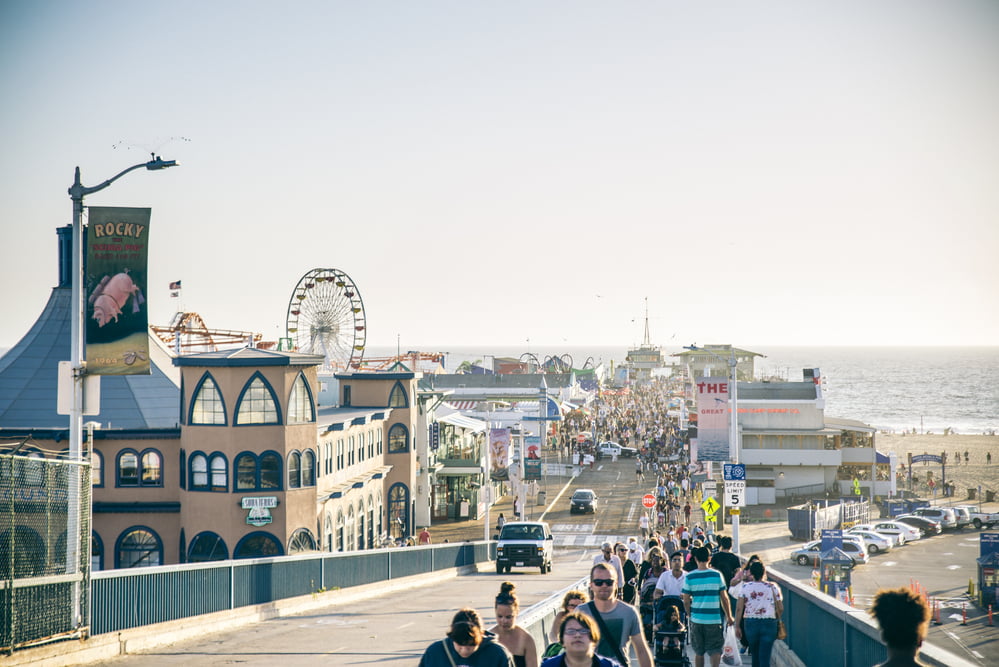 To get a break from the sun (or rain), take a stroll under the Pier to the Heal the Bay Aquarium. It's a great place to learn about the inhabitants of the Santa Monica Bay and what we can do to protect them. There's plenty of interactivity here from touch tanks to puppets!
And don't miss all the fun happenings on the third Thursday of every month!
Ride bikes through the sand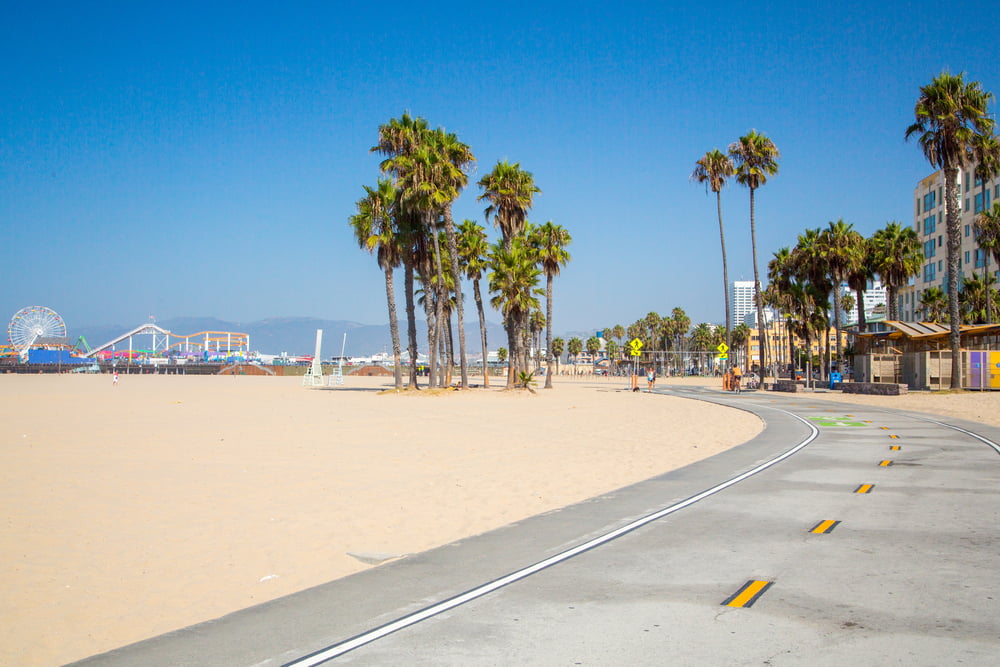 One of our favorite things to do with kids in Santa Monica has always been to rent bikes and ride along the path. We have had a good experience renting from Perry's Beach Cafe (don't necessarily recommend the food) at their northernmost location, 930 CA-1 (PCH). It's just south of the Annenberg Beach House. From there it's easy to hop on to the Marvin Braude Bike Trail and ride to Marina del Rey or beyond. You'll pass through some of the best things to see in Santa Monica and the iconic Venice Beach boardwalk, so give yourself time to watch the skateboarders doing tricks, admire the graffiti, do some people watching and pop into a playground or two.
If you don't have a car, you can actually pick up a bike from the Santa Monica Bike Center at 2nd and Colorado or on the pier and start your ride there. Just be aware of your surroundings as you navigate over to the bike path.
It's worth keeping in mind that there are many active cyclists, pedestrians, roller bladers and other people on non-motorized equipment sharing the path. A recent widening project has helped this situation, but kids who are brand new to riding bikes or still on training wheels may not be the ideal candidates to ride solo – we've seen plenty of crashes involving kids here, often because they're going very slowly and make an unpredictable swerve. Fortunately Perry's offers both trailers and tag-a-longs so that the whole family can have a great time and stay safe.
Do a family photo shoot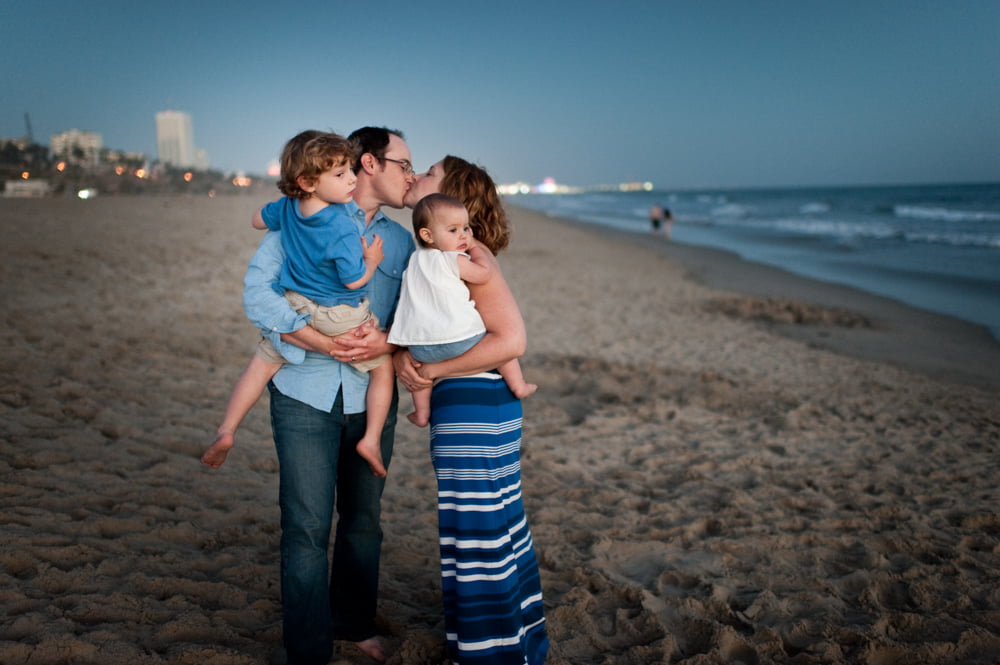 We've done plenty of family photo shoots in Santa Monica over the years, but I'd still do another one in a heartbeat. It's gorgeous every evening and there are always places to go where you can get a (mostly) people-free background. The easiest way to arrange a family photo shoot in Santa Monica is through Flytographer – that link will even give you $25 off your first booking.
The two best places to take family photos in Santa Monica are on the beach itself and up on the bluffs in Palisades Park. I'll let you see for yourself!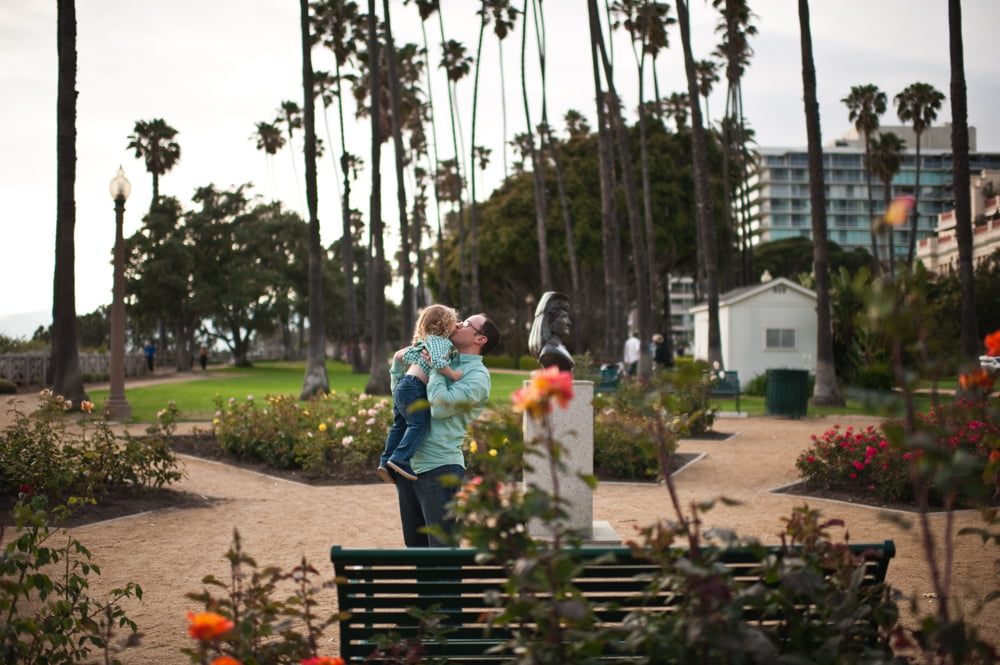 Go shopping in Santa Monica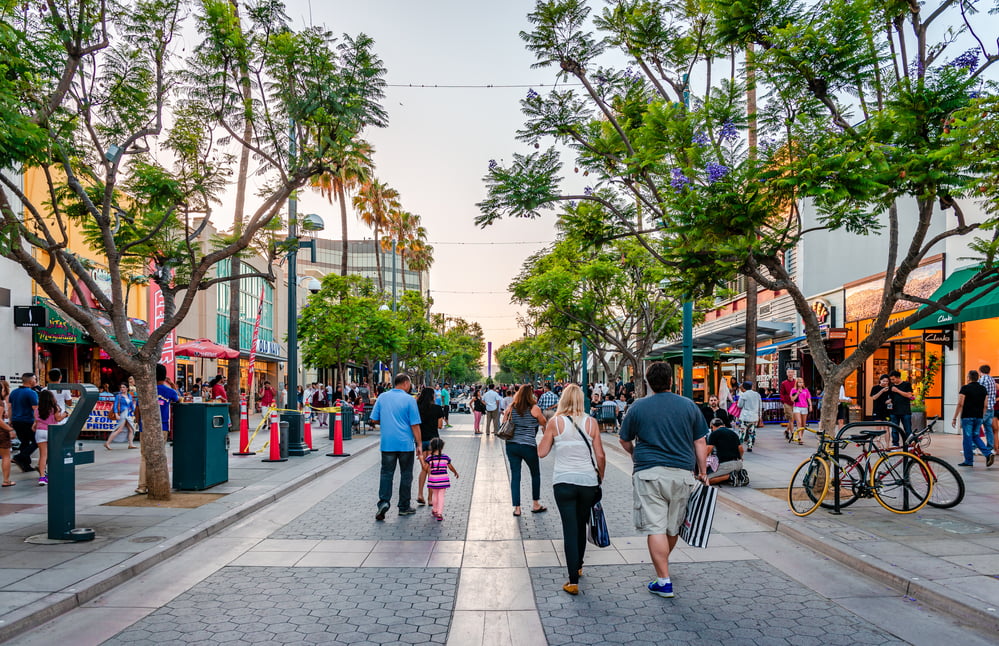 Trying to decide what to do in Santa Monica in the evening? There are plenty of family-friendly shopping options!
Santa Monica Place
This beautiful open-air-but-sheltered mall has tons of mid- to high-end national brands and is one of the best things to do in Santa Monica in the rain since most of the walkways have some protection. In addition to housing the Cayton Children's Museum (more on that below), there is dedicated Kids Club programming. Most kids will love browsing the unique selection at Tokyo Japanese Lifestyle, while mine always loved the shop (and the food) at The Curious Palate.
Speaking of food… if your kids need something less adventurous but you don't want to sacrifice on experience, you can grab something at the 3rd floor food court and take it to sit on the glass-fronted terrace overlooking the ocean at sunset. Not a bad way to enjoy a fast food hamburger!
3rd Street Promenade
The 3rd Street Promenade is one of the most quintessential things to do in Santa Monica with kids. It has several blocks of stores ranging from Old Navy to Urban Outfitters. You'll find tons of food options including sit-down, fast casual and (of course) coffees and smoothies.
You can also head to nearby 4th and 5th Streets for more stores your kids may love, like The Acorn Store (with its phenomenal selection of toys both classic and new) and the massive REI outpost (where they can "try out" the tents and other camping gear set up at the entrance).
Every kid's favorite thing about the 3rd Street Promenade is the street performers! You can see magicians, hip hop dancers, singers and more. Bring some $1 bills so your kids can tip them at the end of the performance. You're most likely to find performers there on weekend evenings, so plan accordingly.
Also, you can't leave until you spot the topiary dinosaurs.
Montana Avenue
Tony Montana Avenue is where many of LA's starlets go to shop the boutiques without disruption. It's not necessarily "kid-friendly" but if you're still part of the stroller set this is a good place to enjoy an afternoon walk while your baby naps on the go. With older kids, you can always bring their scooters as it's much less crowded than Santa Monica's other shopping areas. Kids who love soft things won't want to leave The Quilted Monkey. One notable shop to check out is Pink Chicken, which has fun and funky clothes for kids (with some matching ones for their moms).
Main Street
If you head to the south side of Santa Monica, you'll find plenty of unique shops along Main Street. It's definitely the "hipper" area of Santa Monica! If you're visiting Santa Monica with a baby (or you're expecting), pop into Caro Bambino for beautiful, sustainable products. Lost & Found has adorable clothing, unique picture books and great toys that are perfect for an Insta-worthy aesthetic.
Main Street also has tons of fantastic locals-only eateries to explore, with both kid-friendly fare and more eclectic offerings. While we've been going there for decades (it's where my husband and I met!), Main Street has recently taken on a new level of LA dining cool.
Pack a picnic with a view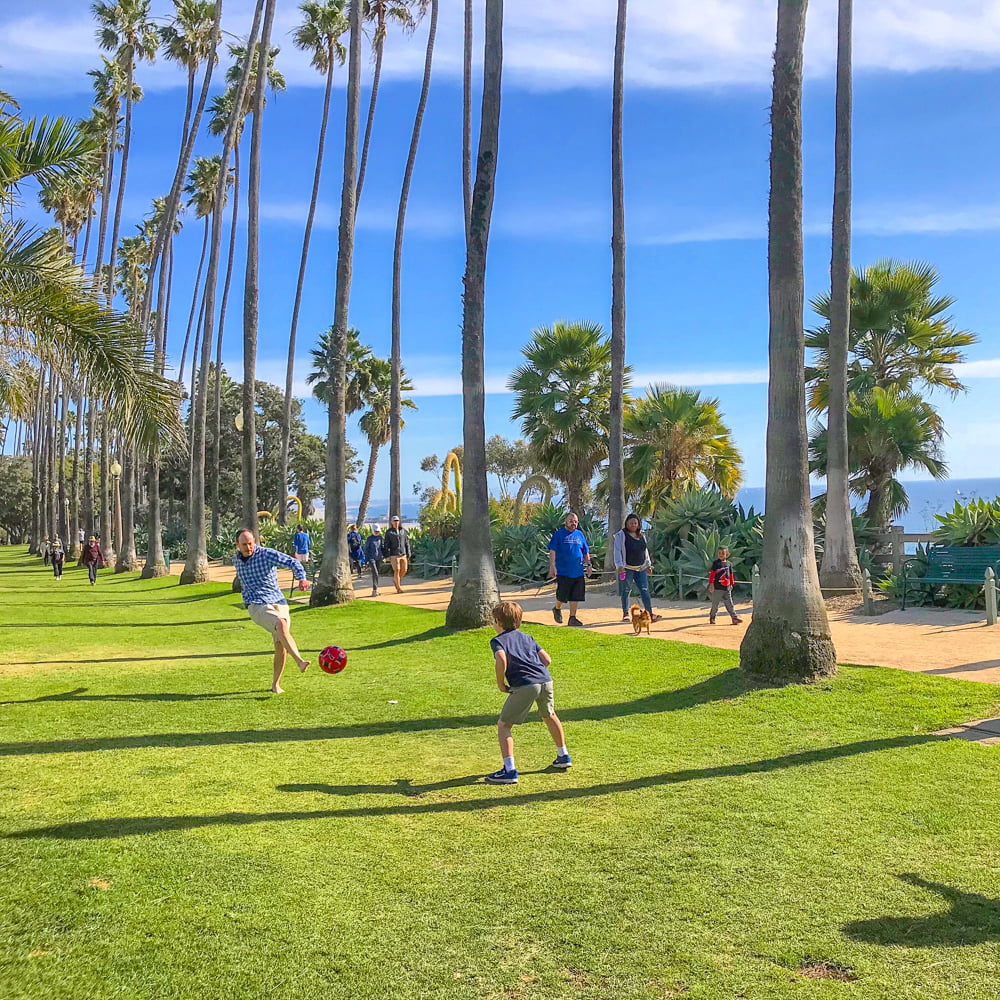 You won't find this on most lists of Santa Monica tourist attractions, but locals know that one of the best ways to spend an afternoon in Santa Monica with the family is picnicking in Palisades Park. This lovely stretch of green (which even some Angelenos can't name) sits on the bluffs above PCH and the beach. It has some of the best views in all of Southern California! There are plenty of space to lay out a jumbo sized travel towel and enjoy lunch together. You can also toss a ball around between the palm trees or go for a scenic walk together on the dirt paths.
Just as important as the location is what food you bring with you. I have two family favorites to offer. If you're driving in Santa Monica, Bay Cities Italian Deli is a staple for great sandwiches on high-quality bread. They get unbelievably busy because they're so beloved by locals that I strongly recommend ordering online in advance. Then you can just pick up your sammies to go and add chips and drinks without waiting in the deli line.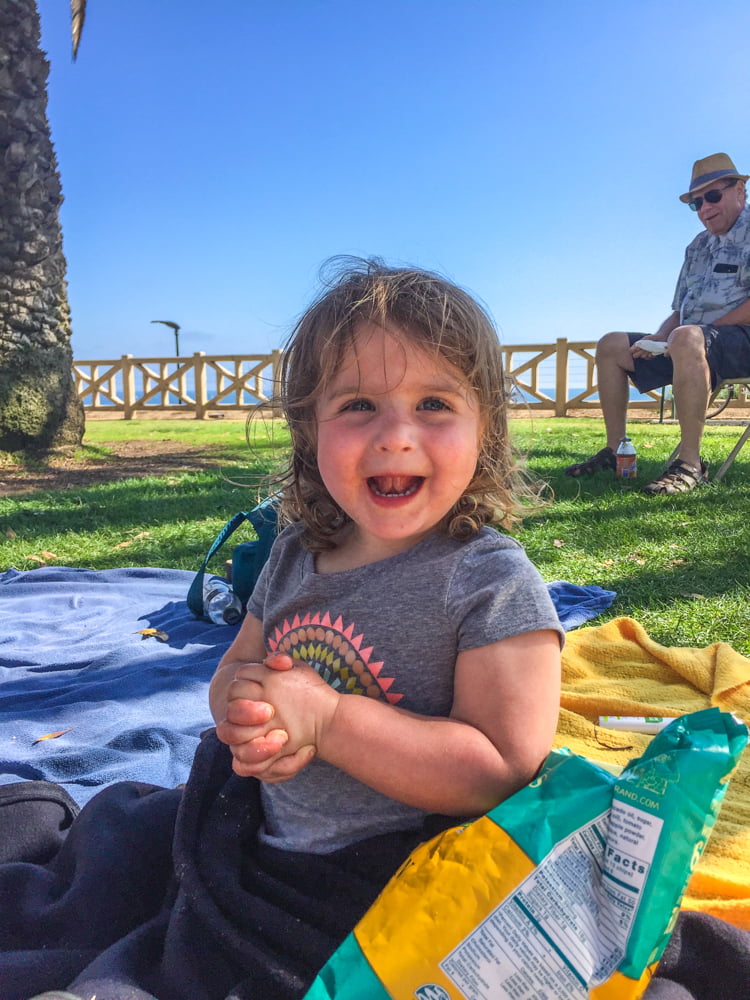 If you prefer something on the fancier side, you aren't driving or you want hot food head to Tender Greens at Arizona and 2nd. It's California farm-to-table style, but in a fast casual setting. They even offer a kids menu! For adults, you can choose one of several proteins to turn into a plate, salad, bowl or sandwich with various freshly grilled veggies and sides.
Take in a street performance
As I mentioned above, there are frequently (permitted) street performers on the 3rd Street Promenade. There are also several other locations around the city where you'll find these pop ups! Many times they're situated along the Santa Monica Pier, some use a stage that's periodically set up in front of Santa Monica Place and sometimes you'll even find them around the "Downtown Transit Mall" (the area between Santa Monica Blvd and Broadway that stretches inland from the ocean). This is one of my favorite free Santa Monica activities.
It may not be musical, nor is it on a street, but there's definitely an element of performance artistry down at Muscle Beach next to the pier. Your kids will be mesmerized watching the amateur and professional acrobats show off for each other on rings, swings and bars!
Explore the Cayton Children's Museum
The Cayton Children's Museum is huge, fresh and modern. You can check out the spaces here. While it's not the largest children's museum in Los Angeles, it might be the most convenient: it's located on the top floor of Santa Monica Place. This is one of the best things to do in Santa Monica with toddlers, as it's really a space that's dedicated to their enjoyment.
Since it's in the heart of downtown Santa Monica it's easy to incorporate into your day – or even take one kiddo while the other enjoys a snooze back at the hotel.
Shop the farmers market
The Santa Monica farmers market is known as one of the biggest in the country. It's equally popular among hot chefs, A-list celebs, regular locals and tourists. Don't be surprised if you go to a restaurant in the area and are told that the "vegetable of the day" depends on what looks good at the Wednesday farmers market!
There are actually three location and four sessions each week that you can check out. The biggest is on Arizona Ave between 1st and 2nd on Wednesdays from 8am to 1pm (I recommend going earlier) with a somewhat smaller repeat performance there on Saturdays. The Sunday morning market is on Main Street near Ocean Park. The final location is at Virginia Park on Saturday mornings; this park also has a library and a summertime splash pad, so there's plenty for everyone to do!
Play at wonderful Santa Monica playgrounds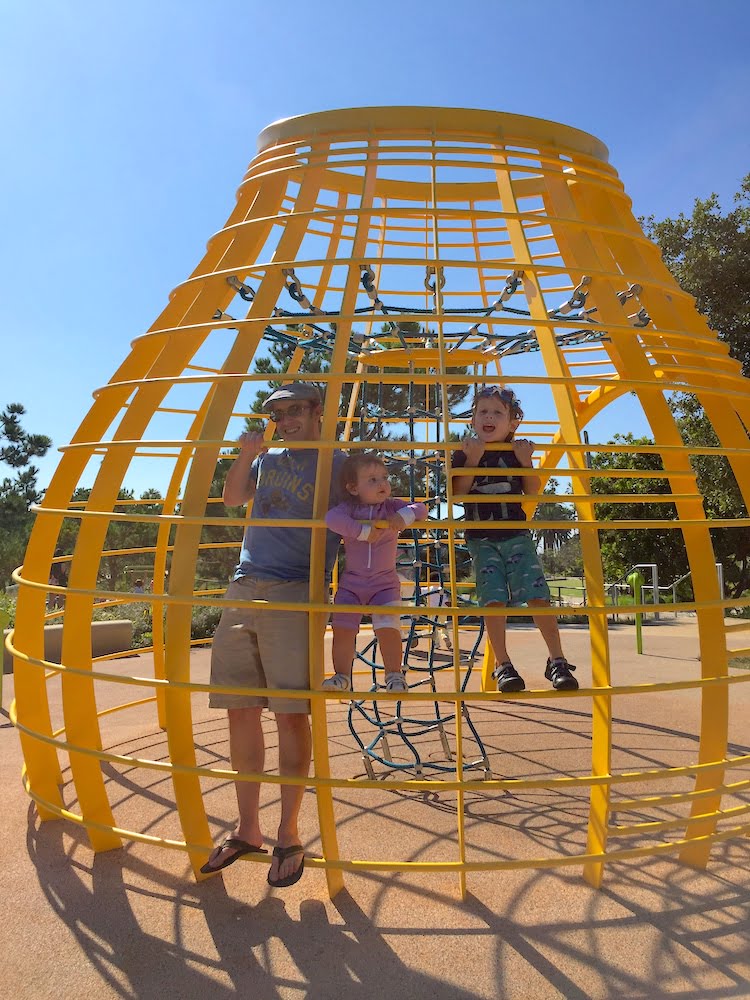 This wouldn't be a complete list of the best kids activities in Santa Monica without offering places to burn off some energy!
With its stunning ocean views and modernist design, Tongva Park in Santa Monica is the perfect place for families to enjoy an afternoon. There's plenty of space available that allows kids (and adults) alike plenty of spaces to play while still providing some seclusion if they want it too! The playground itself has some unique slides, a climbing wall, a splash pad and several very funky climbing structures. Water features, native plants and glorious ocean views make it a great place for adults as well.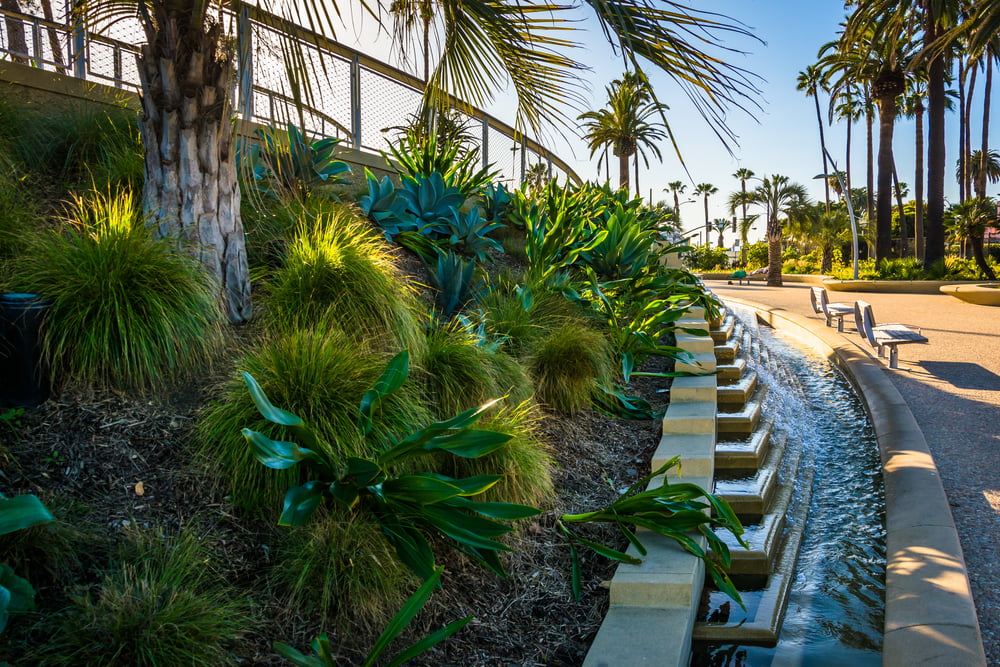 If you have a car and want a more traditional experience, head inland to Douglas Park. Not only does it have a duck pond, which provides plenty of paths around and in its waters, but there are also several structures and swing sets in the sandy play area as well. And if that isn't enough you can scoot, skate or bike during cooler months too because Douglas Park has a large concrete rink!
There are also some new playgrounds in Santa Monica right on the beach at long last! I look forward to checking these out on my next visit. You'll find North Beach playground at Lot 8 North (just past the California Incline if you're driving to the beach), while the boat that anchors South Beach playground at Dorothy Green Park has gotten a facelift.
Take a hike in the Santa Monica Mountains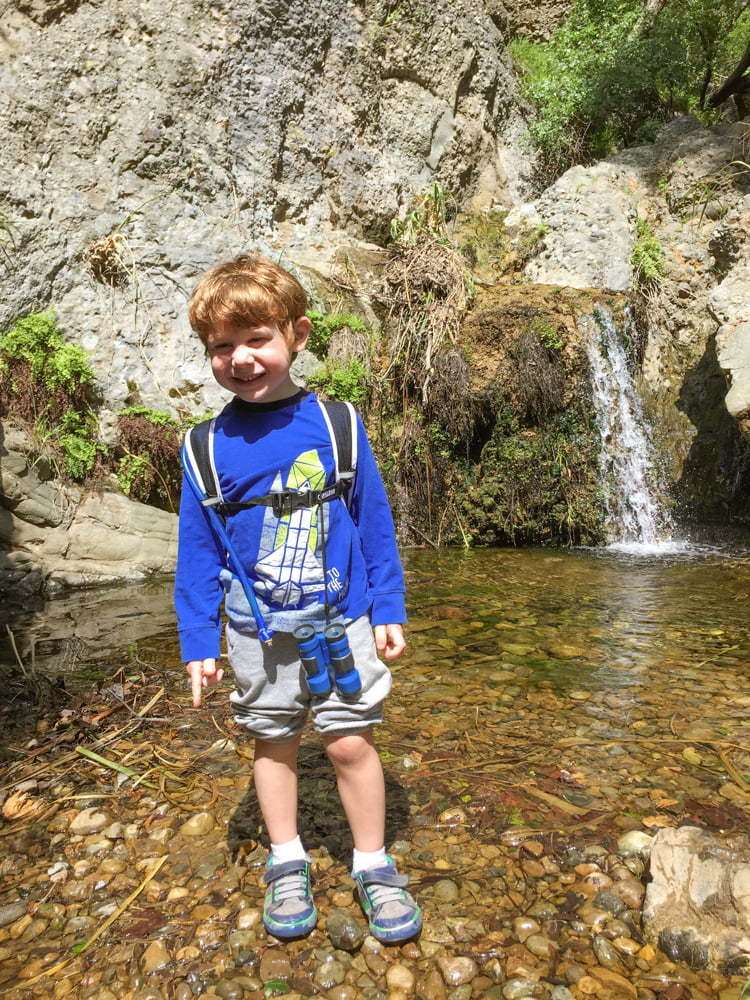 This one technically isn't in Santa Monica, but just north in the Pacific Palisades – a coastal neighborhood of Los Angeles that many visitors assume is an extension of Santa Monica. It's a great choice if you're considering other things to do near Santa Monica. If your family loves to hike, head to Temescal Gateway Park in the Palisades (either by car or on Big Blue Bus #9, though that requires a little walking when you get off).
This is not an easy hike, but it's also doable for families who hike at home on the regular and is a great choice for those visiting Santa Monica with teens, tween and older children – our son started doing it around age 6. This is a 4 mile loop with 1000 feet of elevation gain and it has a lovely payoff. There's a waterfall near the bottom after decent rains, wildflowers in the spring and endless views all year long.
Be prepared anytime you're considering hiking in Southern California, as the heat can be surprising even during "winter". Carry ample water for each person. This hike is best in February, March and April but may be too hot in May through September or even October.
---
Getting around Santa Monica with kids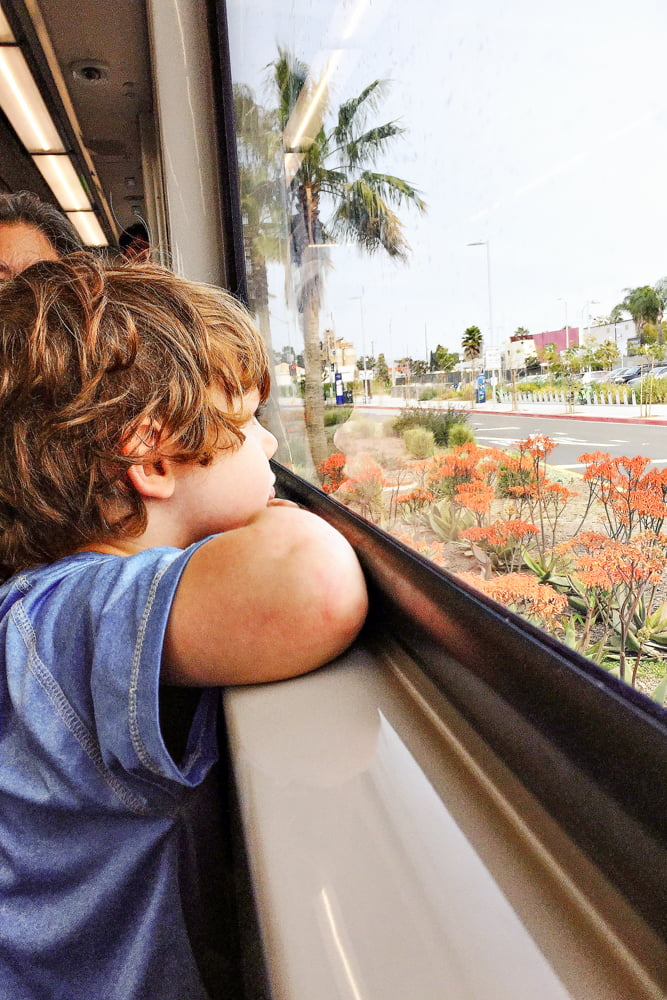 Perhaps the best thing about a family trip to Santa Monica is that you can fill so many days without stressing about one of the top concerns for LA travelers: transportation.
You have three basic choices for getting around Santa Monica with kids: walk, drive or use public transportation. In reality you'll probably do a combination of all three (or at least two).
Walking is pretty self-explanatory. The good news is that most of what you'll want to do as a tourist is in a pretty compact area. From Main Street to Montana Avenue is about 2 miles. That may sound like a lot, but there are a million places to stop and explore in between!
Driving in Santa Monica is usually slow but easy. One tip to keep in mind is that there are several prominent one-way streets. Be sure to have a navigation app like Waze or Apple Maps handy so you don't get yourself into a bind! There's parking all around the city, but you typically have to pay for it (certain garages in downtown offer 90 minutes free). You will have to pay for parking at the beach, and dynamic pricing applies based on day and season; there are generally pay stations where you can use a credit card.
The final option for getting around Santa Monica is public transportation, which is actually very good! Colorado Avenue is the end of the E Line (formerly Expo) of Los Angeles's metro rail system, which you can see my son happily riding above. It's very convenient to get to Exposition Park and downtown LA.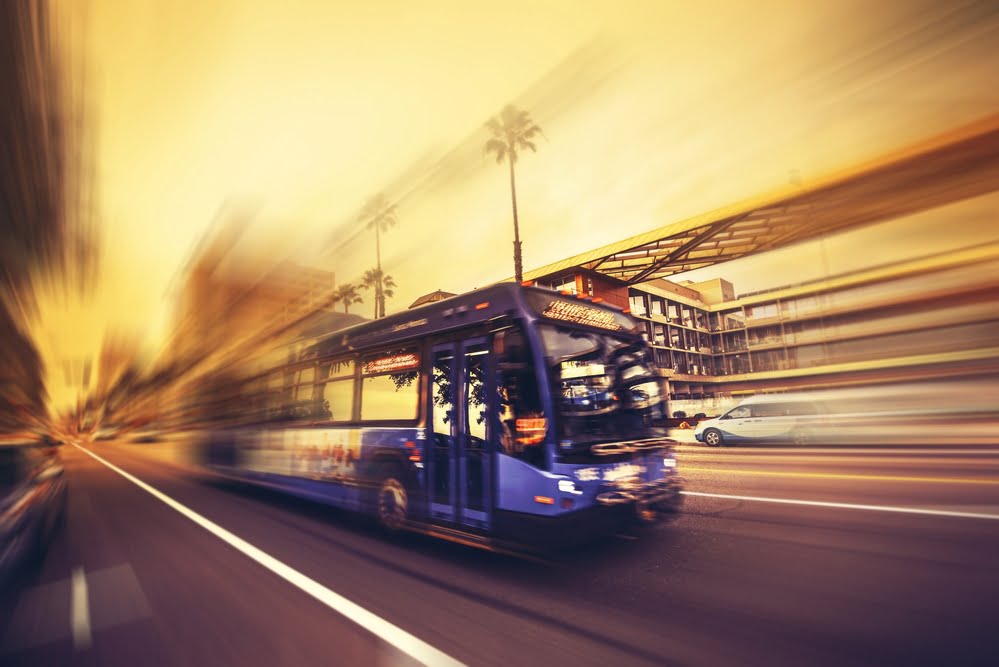 The Santa Monica Big Blue Bus is wonderful for both tourists and locals. There are lines to get you just about anywhere and it doesn't just stay in Santa Monica – I used to ride it to commute between Palms and Westwood, both in the city of Los Angeles. Obviously you're subject to a public transportation schedule, but you can make it work with some advance planning and the Google Maps or Apple Maps app in public transportation mode.
Here's a sampling of places served by the Blue Bus, including many I discussed above:
#1 – Main Street and SMC Performing Arts Center
#3/Rapid 3 – LAX City Bus Center (with free shuttle to terminals)
#9 – Temescal Gateway Park
Rapid 10 – Downtown LA, including LA Live
#18 – Montana Ave shopping district
Of course there are even more destinations to enjoy! There's really no wrong answer to how to get around Santa Monica with kids – unlike the rest of LA, it isn't a make-or-break choice.
---
Planning your family trip to Santa Monica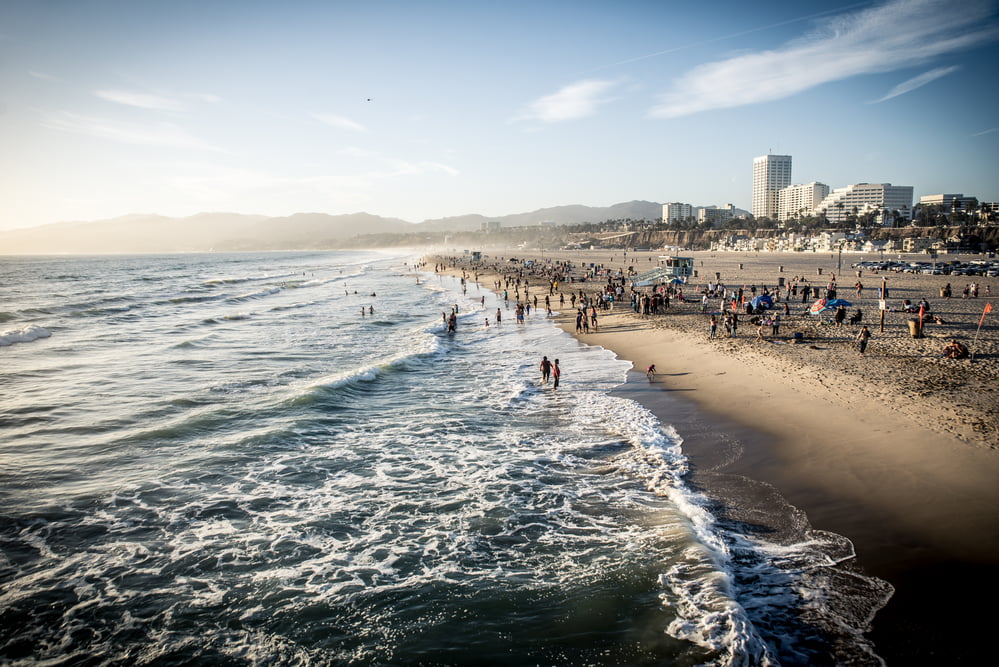 After reading this article you should have a great overview of all of the fantastic family activities in Santa Monica that await you! Use this map of the top Santa Monica attractions for families to help you plan your trip:
Need more info? Check out these articles as you plan your family trip to Santa Monica: