From family-friendly theme parks to amazing animals to outdoor activities, there are plenty of incredible day trips from Los Angeles for families once you've had your fill of all the best things to to in LA with kids. We spent years exploring family day trips in Southern California and now I'm sharing our favorites with you.
Tips For Your Los Angeles Day Trip With Kids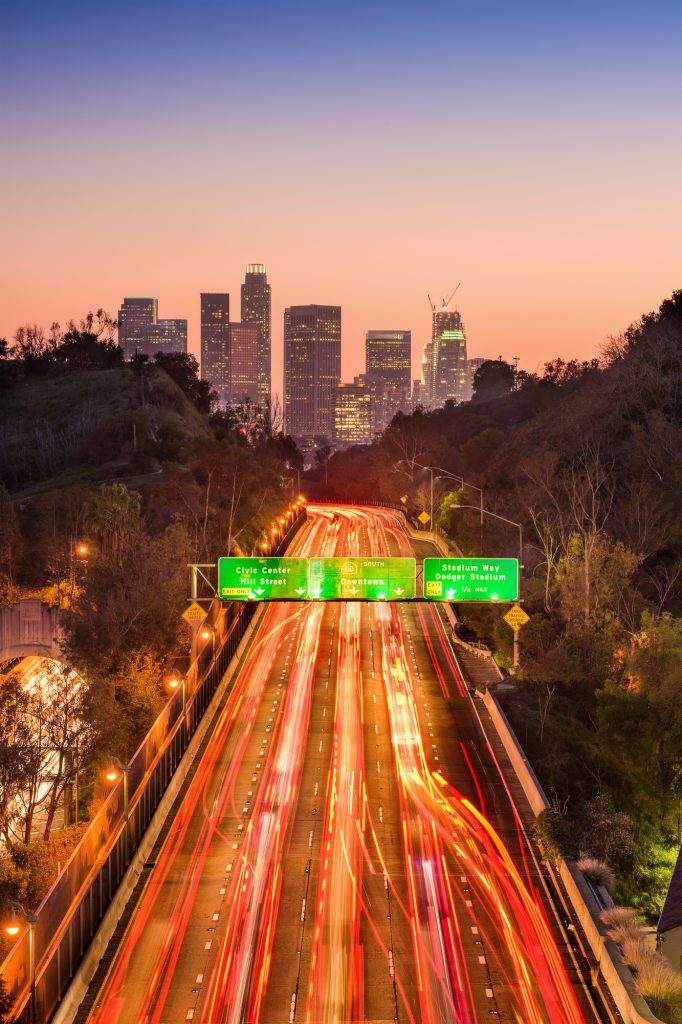 Mind the traffic
As with everything in Los Angeles, it's really important that you pay attention to traffic patterns as you plan out your itinerary. I've given you distances below in miles rather than time because it's so variable: I've gotten from Westwood to Disneyland in under an hour on a weekend morning, while my poor uncle once slogged for three hours from Disneyland to Pasadena to visit me on a weekday afternoon. YMMV… a lot.
Choose your home base wisely
Particularly if you're going to attempt one of these Southern California family day trips on a weekday, you may want to choose your favorite before you decide where to stay. You can use Google Maps with an estimated departure day and time to "test out" different locations to see what makes sense.
Some day trips are possible by train ride or bus
If you're debating whether or not to rent a car, the good news is that there are a few Los Angeles day trip options that are accessible by train! You may need to use an Uber or two, so I'd primarily recommend this option if your child is at least 4 years old so that you can use the Ride Safer Travel Vest for maximum portability.
The most convenient hotel options for day trips by train in Los Angeles are near Union Station or Glendale. From Union Station you can hop on Amtrak's Pacific Surfliner heading north or south along the coast – with amazing views and no worries about traffic. However, check for service updates as weekday service is suspended in some segments for maintenance.
Flixbus is now offering comfortable coach bus service at a bargain price from stops around Los Angeles to various regional destinations, and I'll highlight those below.
Keep in mind that renting a car in LA is still the most efficient way to get around overall.
Best Family Day Trips In Southern California
Disneyland and Disney California Adventure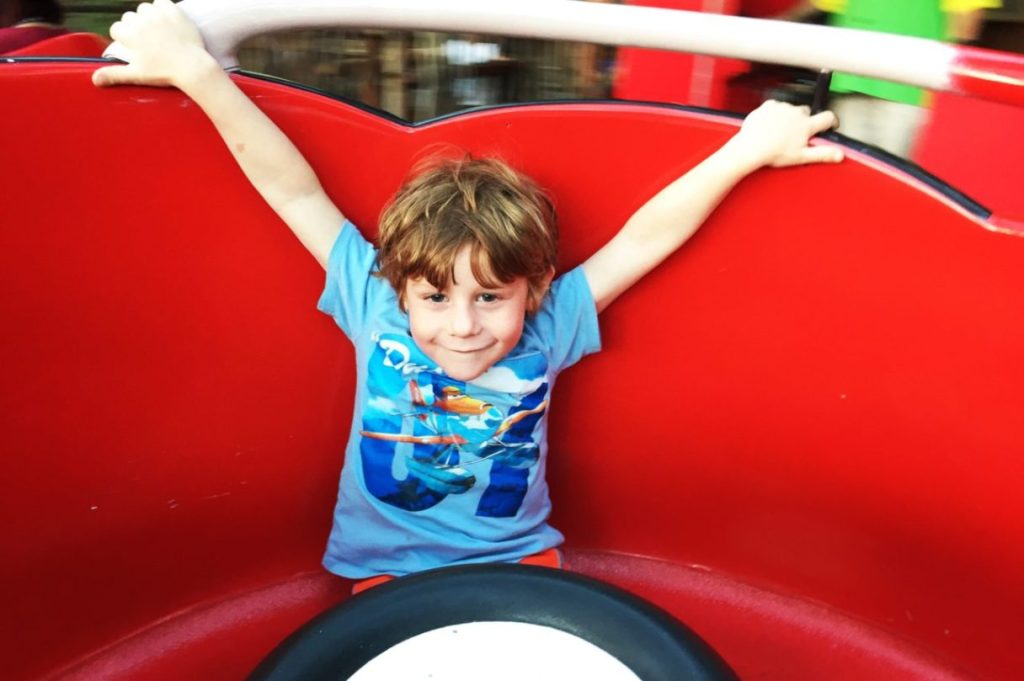 Distance from Downtown LA: 25 miles
Distance from Santa Monica: 40 miles
Distance from Universal City: 40 miles
Obviously the first Southern California day trip for families has to be Disneyland Park and Disney California Adventure! The fun rides and once-in-a-lifetime character encounters make this the top theme park in the region and a spot that you'll want to put on your family's itinerary. It's located in the heart of Orange County, south of Los Angeles.
Lots of families choose to stay overnight and visit each theme park for a full day, but Disneyland is close enough to Los Angeles that you can go early and come back late at night if you don't want to change hotels. Recent changes allow you to "park hop" between Disneyland Park and Disney California Adventure as early as 11am if you have the right ticket. Since it's easy to walk between the parks and they're usually open for at least 14 hours of the day, you can really pack in a lot on a day trip from Los Angeles to Disneyland Resort!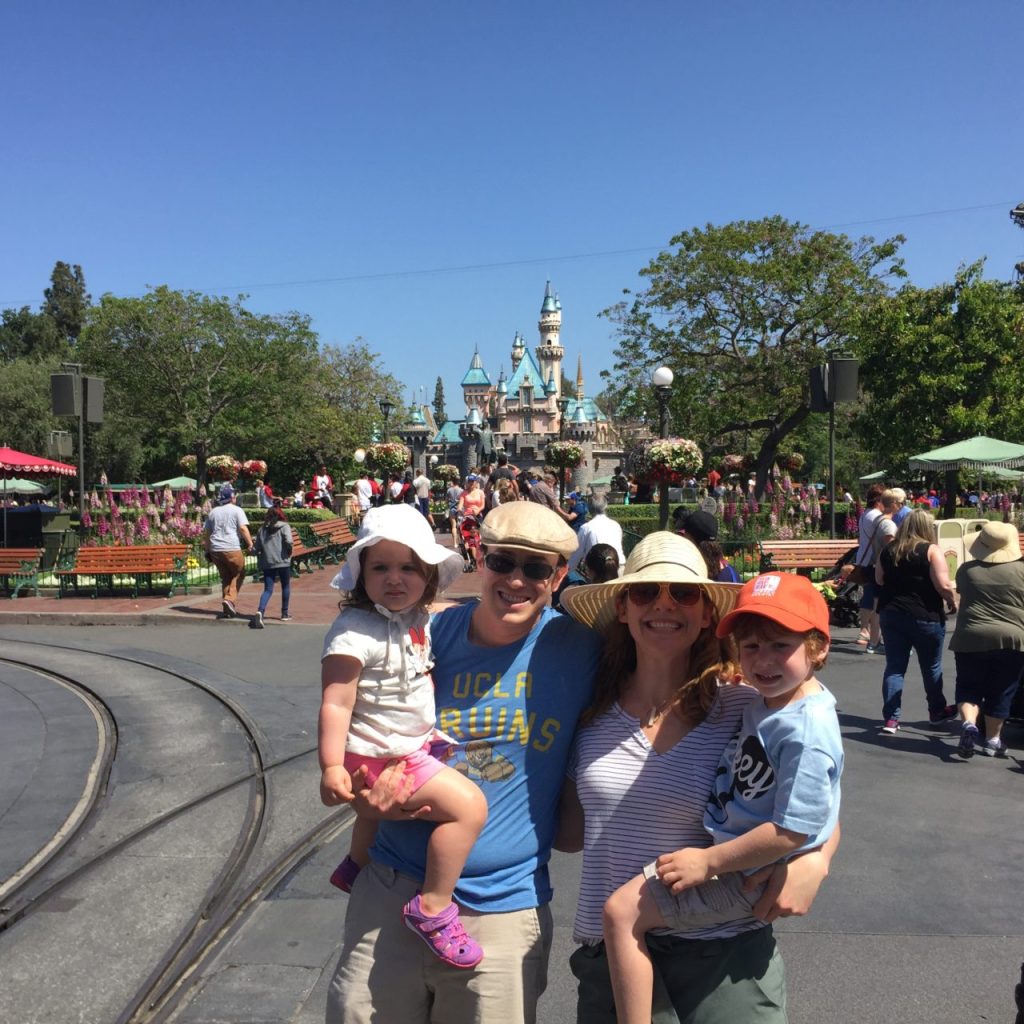 If you need a break from the theme parks, it's easy to walk over to the Downtown Disney district to grab a bite to eat or do a little shopping.
For those who prefer not to rent a car, you can grab the Flixbus from Westood or Downtown LA to Anaheim several times per day. The Pacific Surfliner also offers efficient transportation on the weekends. You'll be better off taking an Uber back at night since traffic should be light and public transportation options long and limited.
Want to stay overnight? Families love the Courtyard by Marriott just across the street, which even has an on-site water park included in the rate!
---
Santa Barbara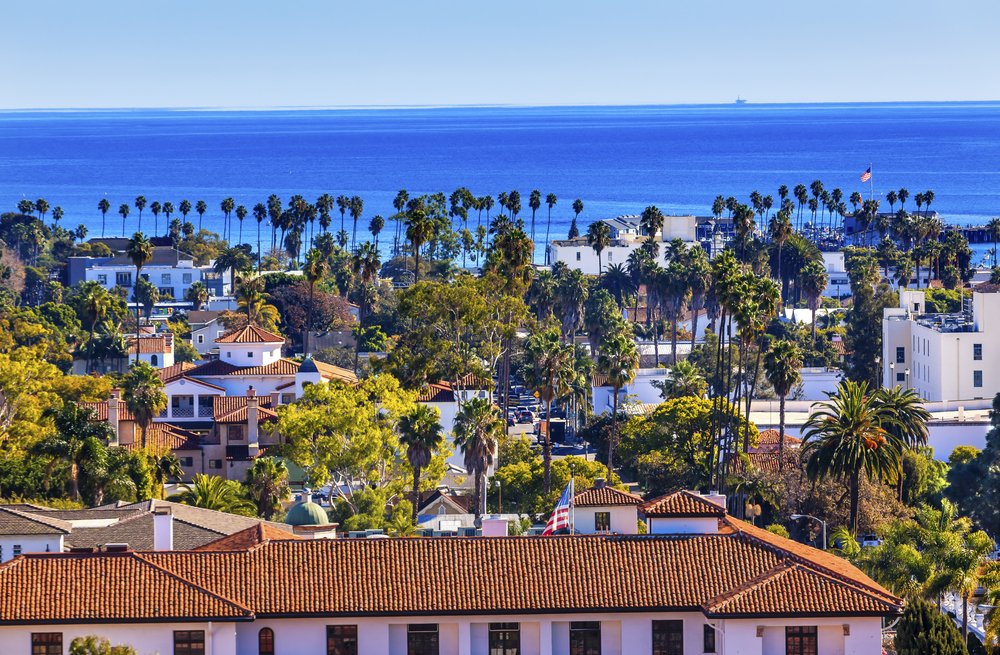 Distance from Downtown LA: 95 miles
Distance from Santa Monica: 85 miles
Distance from Universal City: 85 miles
One of the best day trips from LA for the whole family is Santa Barbara, beautifully situated on the coast north of LA. We spent many, many happy weekend days enjoying this gorgeous oasis of palm trees, ocean views and red tile roofs that looks like it was made for TV.
Your first stop is at the Santa Barbara Zoo, which is wonderfully landscaped and "right sized" for visitors of all ages to enjoy without feeling overwhelmed. Some of the highlights include giraffes, gorillas and leopards. Check the schedule for opportunities to feed the giraffes, always a favorite for my kids! Young ones will also enjoy riding the train around the zoo and burning some energy on the playground in the middle.
Swing by Los Agaves for a delicious Mexican lunch. Trust me, you'll love it and so will your kids!
The next stop is on Santa Barbara's famous State Street, where you'll dive in to all the activities at MOXI, The Wolf Museum of Exploration and Innovation. This relatively new STEM-focused museum has won tons of accolades for its interactivity and appeal even to big kids.
When the museum closes at 5pm, it's time to enjoy a stroll along lower State Street. There are plenty of local and smaller chain stores to enjoy, and of course you'll want to stop at McConnell's Ice Cream for a scoop of double peanut butter chip. State Street also offers plenty of dinner options for all culinary interests!
Thankfully your Santa Barbara day trip from Los Angeles has the potential to be very budget-friendly. While you'll need to get yourself up there (either in your rental car or using the Amtrak Surfliner or Flixbus), the zoo is half-price for members of a local AZA facility while MOXI is free for ASTC members!
Want to stretch your trip overnight? Grab a room at the perfectly-located Inn By The Harbor.
You can also head further up the coast to lovely San Luis Obispo, which offers a much smaller college town feel with plenty of quirky attractions. Be sure to eat at some of the best SLO restaurants while you're there!
---
Newport Beach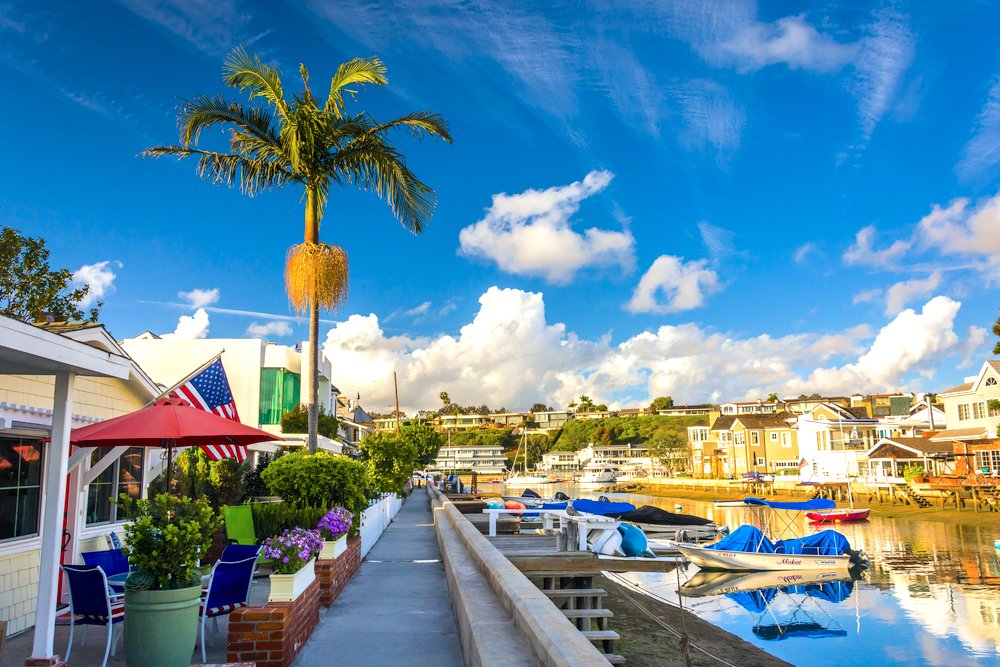 Distance from Downtown LA: 45 miles
Distance from Santa Monica: 55 miles
Distance from Universal City: 55 miles
Angling for some low-key fun family day trips in Southern California? Newport Beach in the middle coastal Orange County is a great pick. At most times the drive will take about an hour (plus or minus 20 minutes) from most parts of LA, so it's easy to hop down even for part of a day. Though you're still in SoCal, you may feel like you've been transported to a New England – with some California flair.
Start your morning on Balboa Island. Park your car and explore the quaint shops along Marine Avenue before indulging in an iconic frozen banana. Enjoy a leisurely walk around this tiny island's perimeter as you're surrounded by lovely beach houses on one side and docked sailboats on the other. It's the perfect place to soak up that Southern California sunshine!
Next, drive around to the Balboa Peninsula or you can get there via the charming Balboa Island ferry (just $1.50 for adults and 50 cents for kids). Balboa Beach is wide and sandy, so it's great for play time, though don't expect the water to be pleasant unless you visit in August or September. You can stroll along the beach, check out the Balboa Pier or grab a bite to eat.
For a truly unique experience, book a whale watching tour! Orange County is regularly home to home five whale species and four dolphin species; which ones you'll see depends on the time of year. Even on days when whales don't appear, the views of coastal OC are still picture perfect and it's a great day out on the water. Book your tour here.
---
Palm Springs & Palm Desert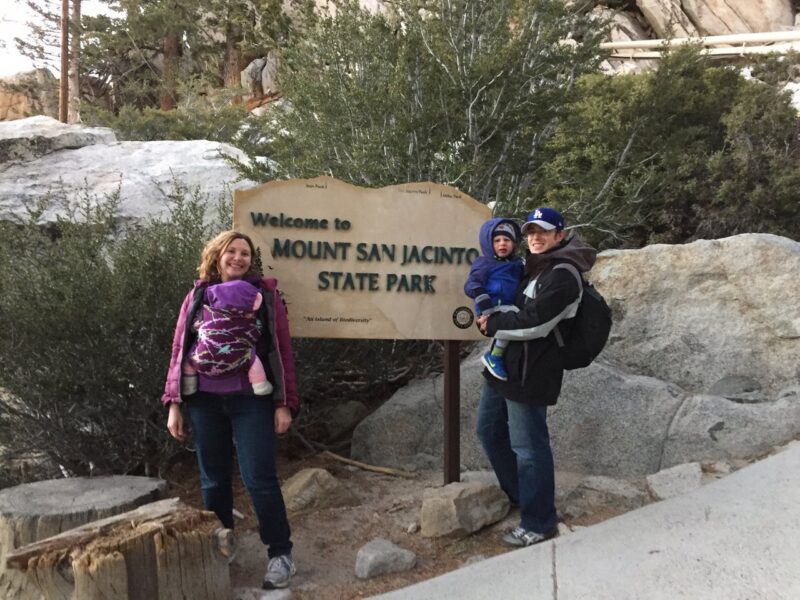 Distance from Downtown LA: 110 miles
Distance from Santa Monica: 125 miles
Distance from Universal City: 120 miles
While Los Angeles is known for its lovely Mediterranean climate, just over a hundred miles away in the Coachella Valley you can experience a completely different world in Palm Springs and Palm Desert! You'll find these pleasant small towns in the middle of the desert surrounded by mountains – there's much more of a "getaway" feeling than in the big city. I'd generally recommend visiting Palm Desert as an overnight trip, but if you go on a weekend you can make the drive in just around two hours.
Because of the distance, there are a few driving consideration to keep in mind (these apply to the next day trip as well). First, you'll want to get an early start to the day so that you aren't sitting in too much traffic. Second, be sure to use your navigation app from the start; there are two main routes through the Inland Empire and which one is faster really does vary based on conditions. Third, double check that you aren't trying to go on a big event weekend like the Coachella Valley Music and Arts Festival, Stagecoach or the BNP Paribas Open (usually just called the Indian Wells tennis tournament).
You'll start off at the Palm Springs Aerial Tramway, which whisks you almost 6000 feet up to the top of the San Jacinto Mountains. While there you can hike around, grab a snack and admire the expansive views. I do recommend that you buy your tickets in advance to save time waiting in line (and avoid disappointment, as they do sell out).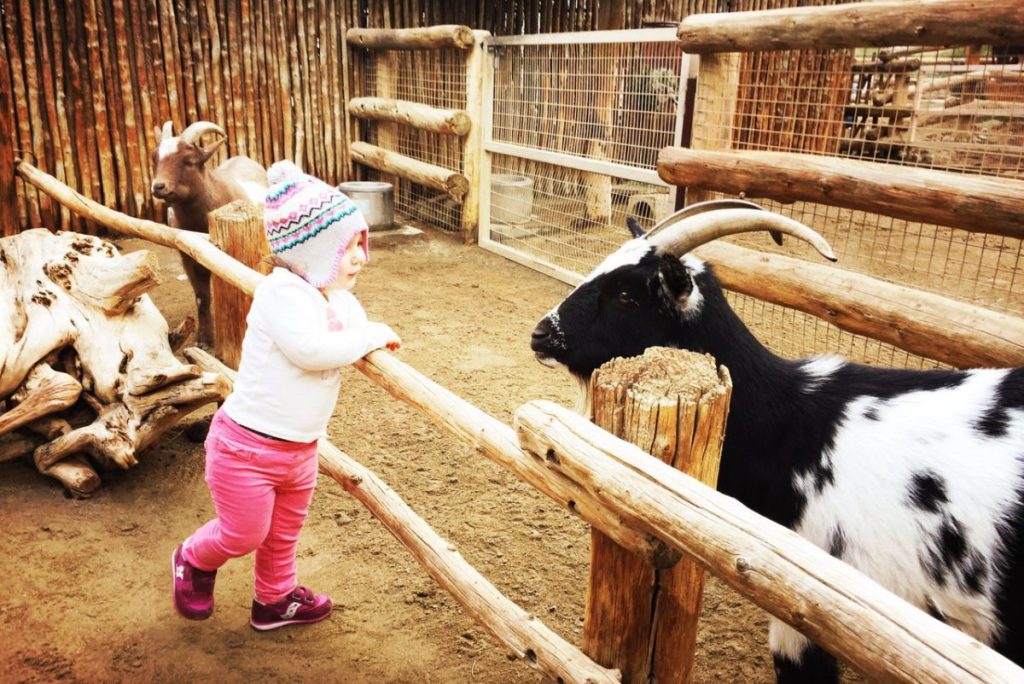 When you're back on solid ground, head to nearby Palm Desert. Enjoy lunch and some window shopping in the El Paseo Shopping District in the heart of town. Then you'll head to The Living Desert Zoo & Gardens, one of the best zoos in the US. Thanks to its warm, arid climate this zoo makes a great home for plenty of animals that might have to spent the winter inside in other places. If you're a member of your local zoo, you'll get half-price admission here.
One important note: I don't really recommend visiting this area in the summer, but if you do be sure to visit The Living Desert first as it closes at 1:30pm. Then you can spend the hottest part of the day in the cooler temperatures in the forest at the top of the mountain.
Want to stay longer? Treat yourself to a night at the lovely JW Marriott Desert Springs Resort & Spa! It's the perfect spot to enjoy some poolside dining, arcade time or even tennis and golf.
---
Joshua Tree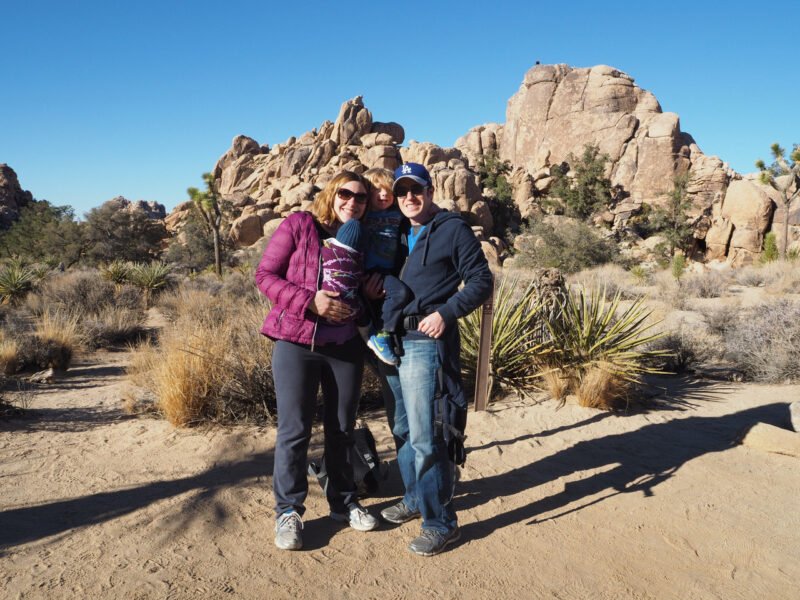 Distance from Downtown LA: 170 miles
Distance from Santa Monica: 175 miles
Distance from Universal City: 170 miles
There's no better place for an outdoor activities day trip from Los Angeles than Joshua Tree National Park! The park features incredibly unique rock formations, Dr. Seuss-like plant life you won't find elsewhere, and it sits at the meeting point of the distinct Mojave and Colorado Deserts.
While I usually prefer to stay overnight in the area, I've visited on a day trip as well. Be sure to see my tips above about getting to the region efficiently. Visit Joshua Tree with kids between October and April when temperatures rarely cross 85, and bring plenty of water with you to keep everyone hydrated in the desert conditions. Pack in a simple lunch that can withstand not being refrigerated, like peanut butter sandwiches and apples along with some other dry snacks; you won't find a cafe anywhere in the park.
Be sure to have at least light jackets if you'll stay in the park as the sun sets. If you're planning this as a Southern California day trip with a baby or toddler, be sure to bring a carrier instead of a stroller.
If you're planning to visit other National Parks this year, pick up an America the Beautiful National Parks Pass to cover your admission to amazing sites all around the country!
A day trip to Joshua Tree with kids works well because the park's main roads show you tons of highlights efficiently even for non-hikers or light hikers. I like starting on the southern end of the park near the Cottonwood entrance. Drop by the visitors center for hiking advice and to pick up the all-important Junior Ranger booklet. Even if your kids are too young to complete it or you won't have time to drop it off on your way out of the park, it's a great resource for the whole family to understand what you're seeing in the park! You can also mail in the completed booklet at a later date to receive your badge.
You'll spend the morning driving up Pinto Basin Road. Be sure to stop briefly at Ocotillo Patch and then for a nice walk through the Cholla Garden – and warn your kids that these are not cuddly friends! It's amazing for kids to learn that desert life isn't just towering saguaros that they might have seen in illustrations of Arizona.
Near the end of Pinto Basin Road is your first chance at some family-friendly bouldering: Arch Rock Nature Trail. It's a very short trail – about 1.5 miles in total – and most of it is flat and sandy; once you get to the junction on the trail, hang a right to take the small loop that goes up into the rocks. There are even signs to explain the geology along the trail.
When Pinto Basin ends at the T, you'll want to turn left on to Park Boulevard. You're entering the higher elevation of the Mojave Desert and you'll soon see Joshua Trees all around you! The nearby Split Rock picnic area or closer Live Oak picnic area are both great places to stop and eat lunch. Be sure to hop out of the car at Skull Rock for one of the most unique rock formations in the park!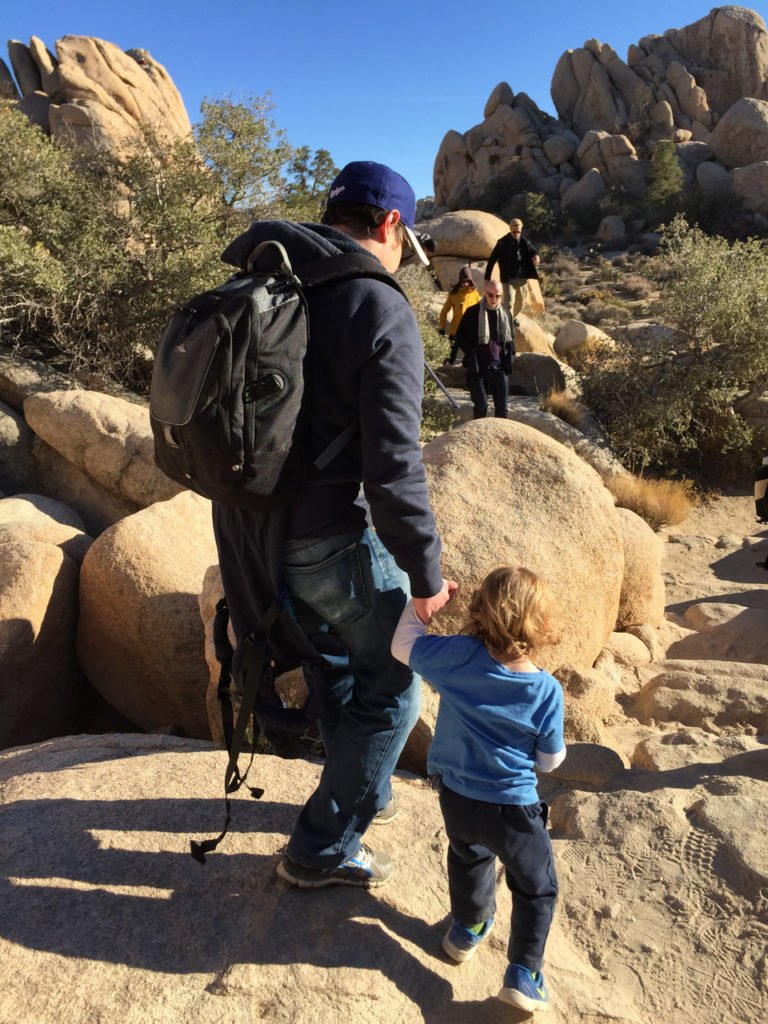 There are tons of wonderful family-friendly hikes in Joshua Tree and you won't be able to do them all. Some of these are great for kids as young as 2.5 as long as they've got proper footwear and a parent spotting them (since there's plenty of "baby bouldering" for younger kids to try):
Split Rock Loop Trail – 2.5 miles, 275 ft elevation gain; moderate
Barker Dam Nature Trail – 1 mile, 60 ft elevation gain; easy
Hidden Valley Nature Trail – 1 miles, 120 ft elevation gain; easy
My kids' favorite!
Don't forget to stop by Keys View (no hiking required) for sweeping desert and mountain vistas!
You'll exit the park on the "west" (really northwest) side in the funky little town of Joshua Tree. Wrap up your day with a delicious dinner at Crossroads Cafe, and then turn on some relaxing music so the kids can settle in for some peaceful sleep on the ride back to your home away from home.
If you decide to spend two days in Joshua Tree National Park, grab an affordable room at the Oasis Inn & Suites in 29 Palms (the northernwestern end of the park). That'll give you easy access to the rest of Park Boulevard on your second day!
LEGOland California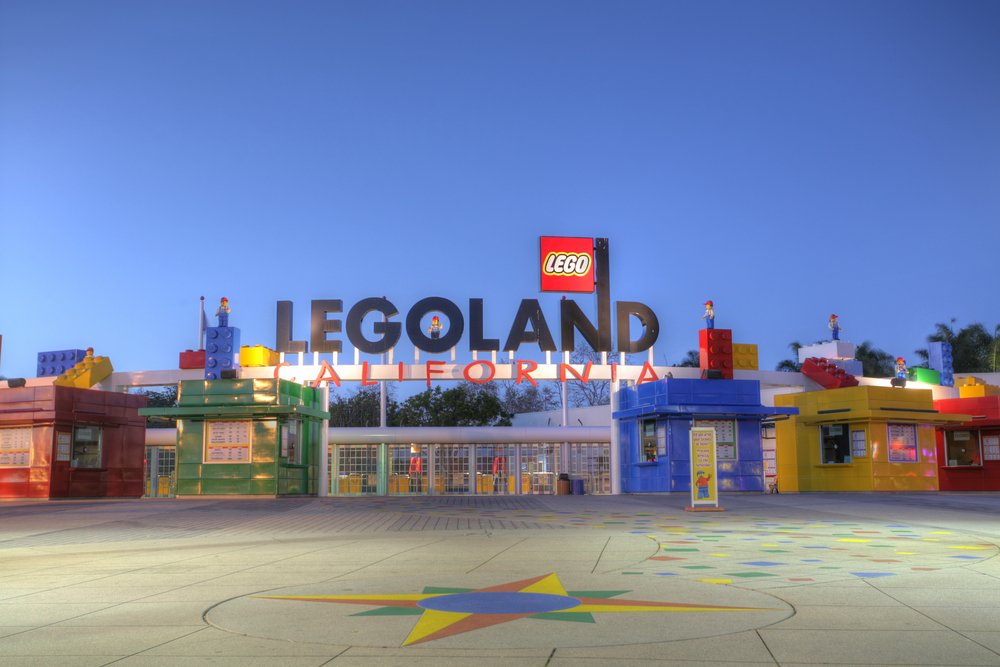 Distance from Downtown LA: 90 miles
Distance from Santa Monica: 105 miles
Distance from Universal City: 105 miles
Located in the northern San Diego County city of Carlsbad, LEGOland California is the perfect place for budding engineers and anyone looking for fun attractions to spend the day. It's an amusement park full of LEGO-themed family fun, from miniature replicas of architectural wonders to games and rides.
LEGOland California is a fun place for young children especially, as the "thrill rides" are a little tamer than at some other local theme park options. Attractions in the theme park include favorites like the Fun Town Police and Fire Academy, The Dragon (an indoor/outdoor roller coaster for 40″+), LEGO Ninjago The Ride and even Driving School (ages 6-13).
For just an extra $10 on your base ticket price, you can include access to the LEGOland Sea Life aquarium on-site. It offers up-close encounters with marine life, educational talks and even some fun ocean-themed play. While it's not worth going all the way down just for Sea Life, if it looks like a really hot day you might appreciate the change of pace from the endless walking in the sun that's typical of amusement parks.
Beyond the main theme park, LEGOland California also offers the huge LEGOland water park if you're visiting in summer or select spring and fall dates! There are plenty of water slides for kids of all ages and sizes to enjoy, including shallow splash areas for younger children.
Be sure to take note of the theme park's hours, as they're generally shorter than others. In the winter, LEGOland California closes as early as 5pm – just in time to hop to one of the nearby beautiful beaches to watch an epic sunset over the Pacific Ocean.
San Diego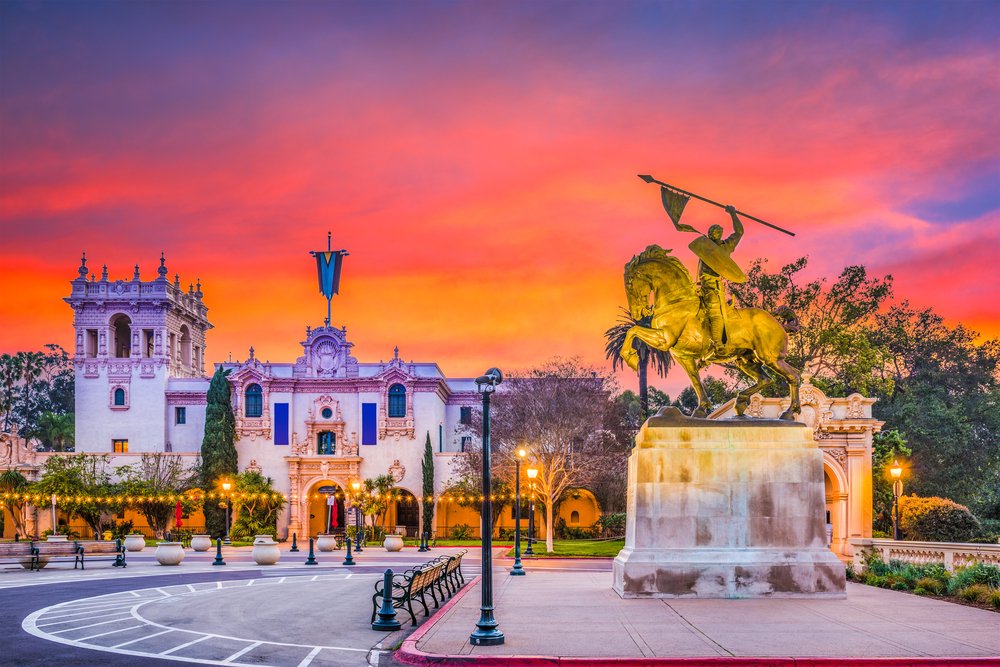 Distance from Downtown LA: 120 miles
Distance from Santa Monica: 130 miles
Distance from Universal City: 130 miles
This finally day trip from Los Angeles isn't one I would generally recommend: going from LA to San Diego and back again in a single day. I love San Diego and there are so many awesome things to do from visiting the amazing animals of the San Diego Zoo to exploring the Fleet Science Center and gorgeous historic buildings in Balboa Park or checking out the USS Midway.
The challenge is that you'll be covering a ton of distance on some of the most congested roads in the US – if you're unlucky the drive down could take more than 3 hours of slogging in traffic (the drive back up at night is usually a bit faster). But if it's your only trip to Southern California and visiting San Diego is a priority then don't let me stop you! Just be prepared, and consider spending the night.
Most families will want to start the day by heading straight to the San Diego Zoo. I recommend starting off with the Skyfari aerial tram, which takes you to the (uphill) far side of the zoo to see the polar bears. You can then wind your way back down to the entrance as you visit many more animals along the way.
You'll want to spend a few hours at the zoo to capture the entire experience before you head into the heart of Balboa Park. The architecture is absolutely magnificent! For a beautiful lunch, you can dine on the terrace of The Prado – reservations recommended.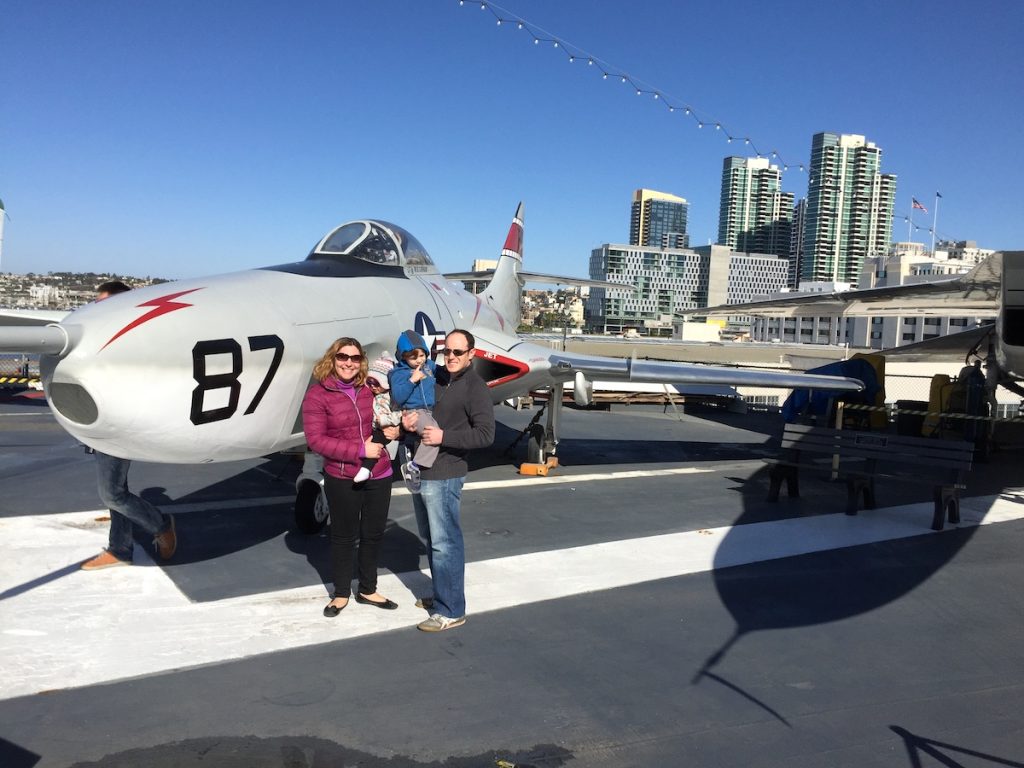 Next up you'll head to downtown San Diego. If it's 3:30 or earlier, hop aboard the USS Midway in the Embarcadero. The Midway was the longest serving aircraft carrier in the US fleet, beginning its service in 1945, and has served as a museum for two decades. In addition to the ship itself, there are tons of different aircraft to see! It's exciting and fascinating for the whole family.
As the sun is dipping low, it's a great time to take a stroll along the Embarcadero. For dinner with a view, you can head over to The Fish Market on the waterfront. If it's already dark out you can take a stroll over to Italian Village or the lively Gaslamp Quarter for a great dinner.
If you opt to stay overnight (which I recommend) grab a room at the Hyatt Regency Mission Bay Spa and Marina. We love the Hyatt Regency brand for our family, and this hotel pairs and awesome location with great pools and water slides!
Want more tips to plan an amazing trip to Los Angeles with kids?