If you're just starting to plan your trip to LA, there's one critical question to consider: Which of the major Los Angeles airports is the best one to fly into?
How long is a piece of string?
Over the last few decades I've flown into four of the five major airports in greater Los Angeles. There are lots of factors to consider, and in this article I'll give you the quick rundown of what to keep in mind along with key information about each airport.
What are the airports in Los Angeles?
There are five major airports in Los Angeles, plus a few smaller ones. Here's some basic information on each one to keep in mind as you plan, plus a map to get a sense for where they're located (though keep in mind that traffic in LA means that distance and time don't always line up the way you expect).
LAX – Los Angeles International Airport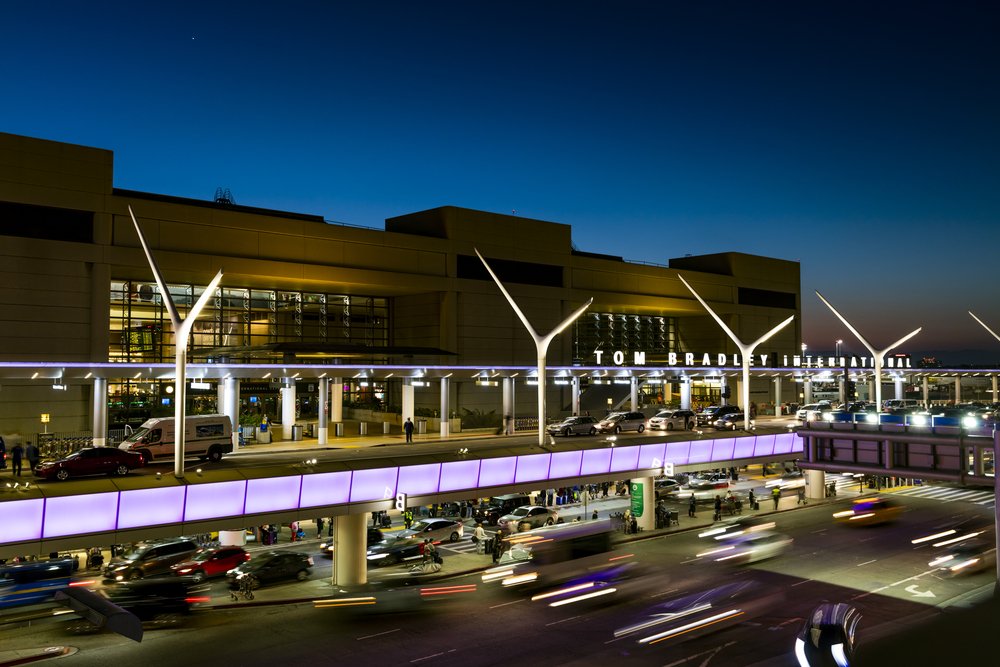 LAX is the "800 pound gorilla" of Los Angeles airports. Last year it handled an eye-popping 32 million passengers (third place in North America), serving more than 40 countries on 805+ routes. It has 9 different terminals configured in a horseshoe, and sometime in 2024 it will finally have a "people mover" to connect them along with the new rental car center.
The location in El Segundo makes it a convenient option for those visiting West LA and South Bay, but many visitors can only get non-stop flights to LAX so it's a popular choice for every destination within greater Los Angeles. LAX is definitely the best airport for visiting Santa Monica.
Leaving LAX can be time consuming, so be prepared. If you're renting a car, for now you'll need to look for your rental company's shuttle bus (until the people mover comes online) – sometimes these get stuck in "the loop" with all of the cars, so it can take a while for them to come. If you're using a taxi or ride share instead, for now you have to take a different shuttle bus to the LAX-it pick up lot (or walk there from terminal 1, which includes Southwest).
If you fly out of LAX, allow ample time for security. It's not uncommon to stand in line for more than 30 minutes, and at busy times of year we've been stuck in lines that extend onto the sky bridges connecting to the parking lots – no joke. Sometimes've been been lucky and it's only taken 15 minutes, but other times we have been very very unlucky.
BUR – Hollywood Burbank Airport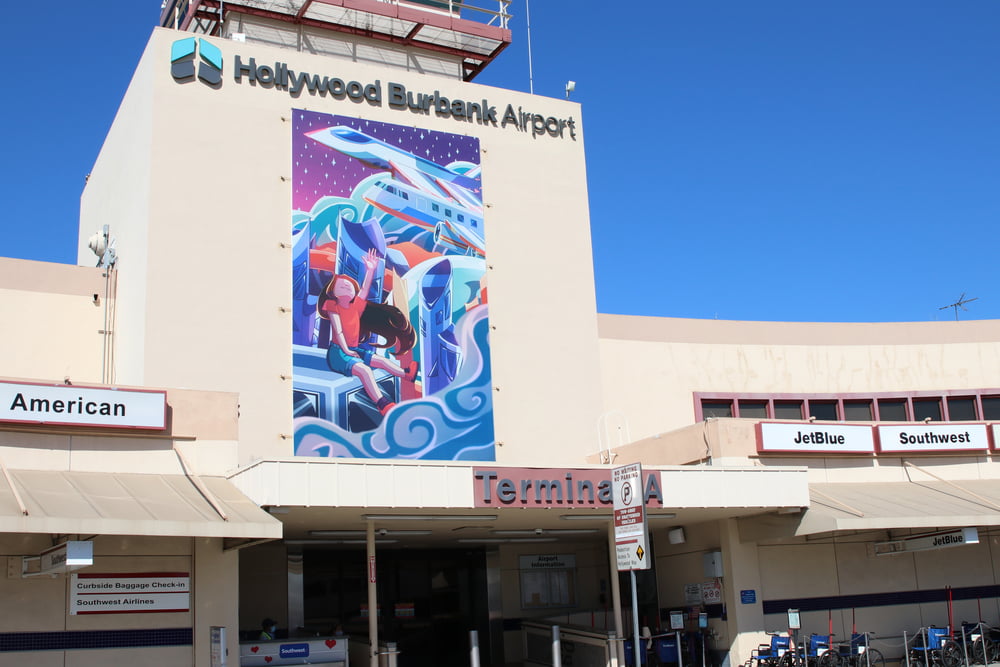 BUR, locally just called Burbank Airport, is the smaller, friendlier option that still gives you easy access to many destinations within LA. It's convenient for visiting downtown, Hollywood, Pasadena, Universal Studios, Warner Brothers and more making it perhaps the most versatile of the L.A. area airports. There are just two terminals with a shared entrance.
You can catch non-stop flights to Burbank from all over California and the west plus a few other major hubs like New York, Chicago, Denver and Dallas. However, it has direct flights to just 30 destinations so you're more likely to need a stop if you're coming from a smaller market.
Leaving BUR couldn't be more different than leaving LAX. Ride share pickup is right in front of terminal B, while rental car pickup is in a centralized rental car parking lot that's walking distance from the airport building.
On our most recent visit, getting through the airport to depart took us just ten minutes from door to gate – including security. That's pretty unbeatable!
One word of caution: try not to schedule an arrival or departure at Burbank too late at night. There's a 10pm hard stop on flights ("quiet hours") and that can sometimes cause problems if a flight is delayed.
LGB – Long Beach Airport
Located 20 miles southeast of LAX, the Long Beach Airport has had a much bumpier history than its competitors around the city. At times there have been major carriers like American, JetBlue and more with a substantial presence but today nearly every flight is run by Southwest (with two destinations served by Hawaiian and one by Delta) with a total of around 20 destinations.
The good news is that if you happen to have service from your home airport to LGB, there's pretty much no easier airport around! There's just one terminal and rental cars are right across from it.
It's about a 30 minute drive to Disneyland, downtown LA or South Bay so you aren't right near everything but you also aren't terribly far from anything. Similar to Burbank, Long Beach has a 10pm hard stop on air traffic so try not to schedule a late flight.
SNA – John Wayne Airport (Orange County)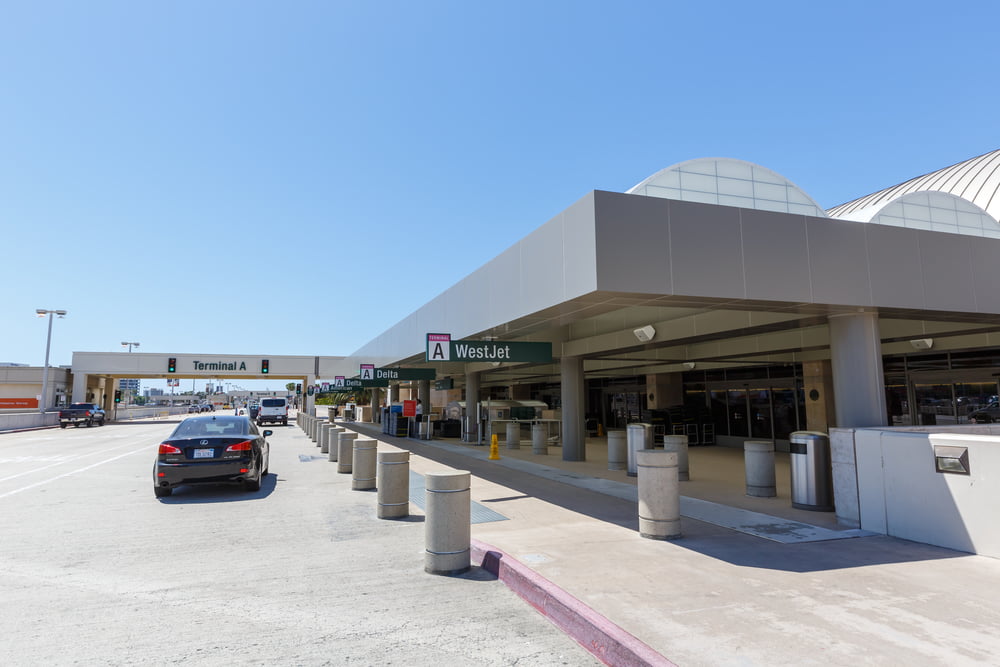 If you're coming into LA for a trip to Disneyland or a sunny beach vacation, it's worth putting Orange County's John Wayne Airport on your radar. It's coded SNA thanks to its Santa Ana location. A third terminal opened a decade ago, allowing Orange County to access more than 40 destinations today! Upstart Breeze Airways is even giving SNA access to some mid-sized markets on the other side of the country at very affordable prices.
Like LA's smaller airports, the Orange County airport is pretty easy to get in and out of and has walking access to its rental car lots. Taxis as SNA pick up right in front of the terminals, while ride share users have to go to the back corner of one of the parking lots to grab a ride.
SNA quiet hours are slightly less restrictive, allowing departures until 10pm and arrivals until 11pm.
ONT – Ontario Airport
Ontario Airport in San Bernardino County isn't likely to be anyone's top pick for a visit to LA, but it does offer nearly 20 non-stop flights in the US and overseas (including to Taipei of all places). It's the most convenient airport for visiting the Inland Empire , but I'll be real with you that most Los Angeles tourists have no reason to use this airport. Like the other small/medium airports in Los Angeles, flights can't arrive or depart beyond 10pm.
Which Los Angeles Airport Should You Choose?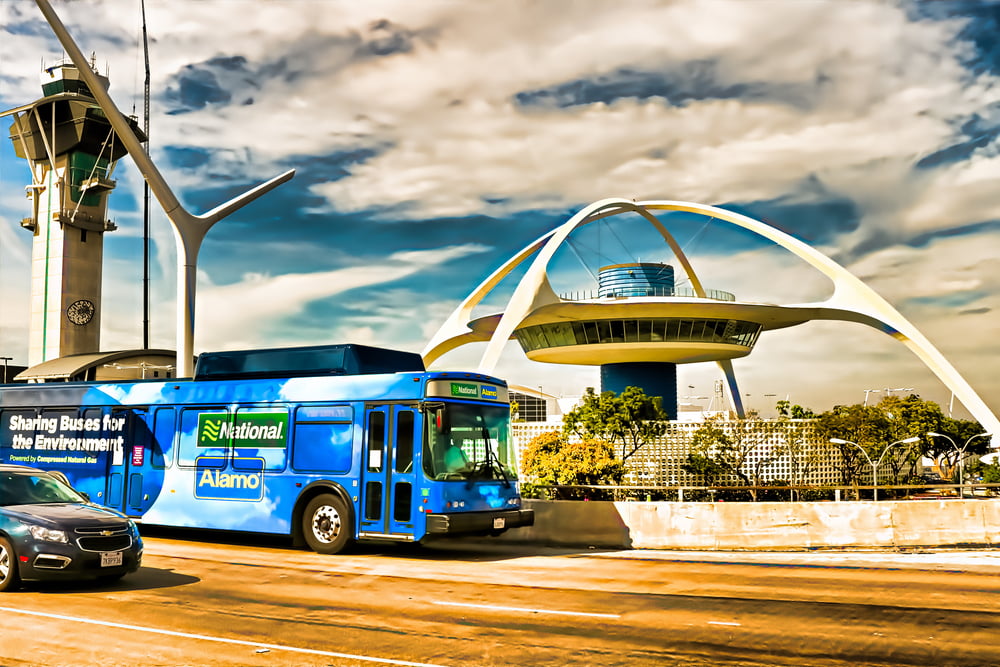 Ultimately the best Los Angeles airport to fly into depends on your itinerary and what flights are available to you.
If you're planning to go to downtown, Hollywood or the Valleys when you arrive, Burbank is the most convenient geographically and will be very quick to get in and out of.
Visitors to the Westside will generally opt for LAX, as it offers a good location combined with robust flight schedules and (usually) the best prices.
Those heading to South Bay may need to do some calculations of their total travel time to both LAX and Long Beach. While LAX is about 10 minutes closer, you could easily spend 40 minutes just trying to leave the airport.
I'll use our family as a case study for how this analysis goes. Now that we live in a mid-sized midwestern city, our options to get to LA are somewhat limited. Our non-stop options include Spirit to LAX and Breeze to Orange County, both about 5 hours. If we're willing to make a stop the good itineraries stretch to 6-7 hours but grant us access to Burbank, Long Beach and Ontario.
One recent trip was squarely focused on the westside and we stayed at the lovely Luxe Sunset Boulevard Hotel, so LAX was the natural choice even though we had to allow tons of extra time to deal with the airport itself.
But our most recent trip was focused a little further east, staying at the Andaz West Hollywood and visiting Universal Studios Hollywood. We flew Burbank round trip even though it required a stop for a few reasons. First, there are plenty of itineraries available so we were able to get one that meets our needs. Second, we needed to depart early in the morning and Burbank took about an hour less for security and rental car return than LAX would have. It couldn't have been smoother!
You can also consider flying into one airport and out of another. Gone are the days of being locked into round trip plane tickets on domestic flights – typically each leg is priced independently and there's no penalty for booking two one-way tickets. That said, if you're renting a car in LA you'll want to double check rental car pricing to return your car to a different location. Sometimes the price is the same, but other times it could cost several hundred dollars extra!
LA Airports FAQs
How many airports are in Los Angeles?
There are five major airports in the LA area handling commercial traffic, plus several small ones focused on private aviation.
Is it better to fly into SNA or LAX?
If you're debating between Orange County airport and LAX, know that the best airport for a trip to LA depends on where you're going and how you intend to get around, plus what flight schedules are available from your home airport.
Is it better to fly into Burbank or LAX?
If you're debating between Burbank Airport and LAX, know that the best airport for a trip to LA depends on where you're going and how you intend to get around, plus what flight schedules are available from your home airport.
Which LA airport is cheapest to fly into?
LAX usually has the cheapest flights, but sometimes discount carriers flying into the smaller airports offer great deals.
What is the best airport to fly out of in Los Angeles?
The best airport to fly out of in Los Angeles depends on where you're staying in the city and what your ultimate destination is.
Which airport to fly to for Disneyland?
The most convenient airports for Disneyland are Long Beach and Orange County.
After you've decided which Los Angeles airport to fly into, be sure to read up on whether or not to rent a car in LA and LA rental car tips to figure out how to get around. It's one of the most important decisions for a successful trip to LA!