Los Angeles' is one of the best places to travel to in the country due to its great weather and wealth of activities to do. The city's size can make it difficult to decide what to do with only one day but this guide aims to cut down the chaos into one manageable day filled with fun activities. Los Angeles traffic is no joke so to ensure you and your group can get as much done as possible, this guide takes place all within a relatively short distance in Downtown Los Angeles.
This group is targeted towards groups of all ages but if you are interested in adjusting your itinerary, check out my guide to Downtown Los Angeles for more options during your day in the city. This guide is also designed to not need a car so you should be able to get by by walking and taking a couple of quick rideshares.
Downtown has more than enough fun activities to fill your day and this guide is a great way to make the most of your time during your 24 hours in Los Angeles.
Where to Stay in Downtown Los Angeles
Downtown Los Angeles has some great accommodation options for groups of all sizes. One of the best perks of this area is the walkability and close proximity for all the activities in the area. With this in mind, I chose hotels close to where you will be spending the majority of your day so that you can maximize your time spent doing activities as opposed to traveling.
A great option right in the heart of Downtown LA Omni Hotel located on top of historic Bunker Hill in the heart of Los Angeles. Most accommodations in Downtown are located near LA Live and if you are visiting for a sporting event or concert, LA Live would be the place to stay but if you are just visiting for a trip I would recommend the Omni because it is much closer to most of the fun activities that Downtown has to offer! The Omni is perfect for a trip to downtown because of its great location combined with the comfortable rooms you would expect from a luxury hotel.
If you are interested in a different accommodation, Downtown has tons of great options:
The E-Central Hotel: Centrally located hotel close to LA Live and the Crypto.com Arena This Gorgeous Condo: Cute one bedroom condo near LA Live, perfect for couples The JW Marriott at L.A. Live: Another great option right in the heart of Downtown
Check out my accommodation guide here for more options!
One Day in Los Angeles Itinerary
This is a very jam packed way to experience the city and if that is what you want, the great! However, if you want something a little more calm feel free to skip things and change the itinerary to whatever best fits your needs. There is so much stuff to do it can all feel overwhelming but the best trip is the one you enjoy the most so take things at whatever pace works best for you and your group!
A major plus to this itinerary is how close everything is to each other. Most activities are walking distance and anything not in walking distance is just a couple blocks away so a ride share is an easy solution to any travel issues. You could rent a car but I wouldn't recommend it unless you plan on having a trip longer than 24 hours, parking in Downtown is difficult and this itinerary does not require it.
Morning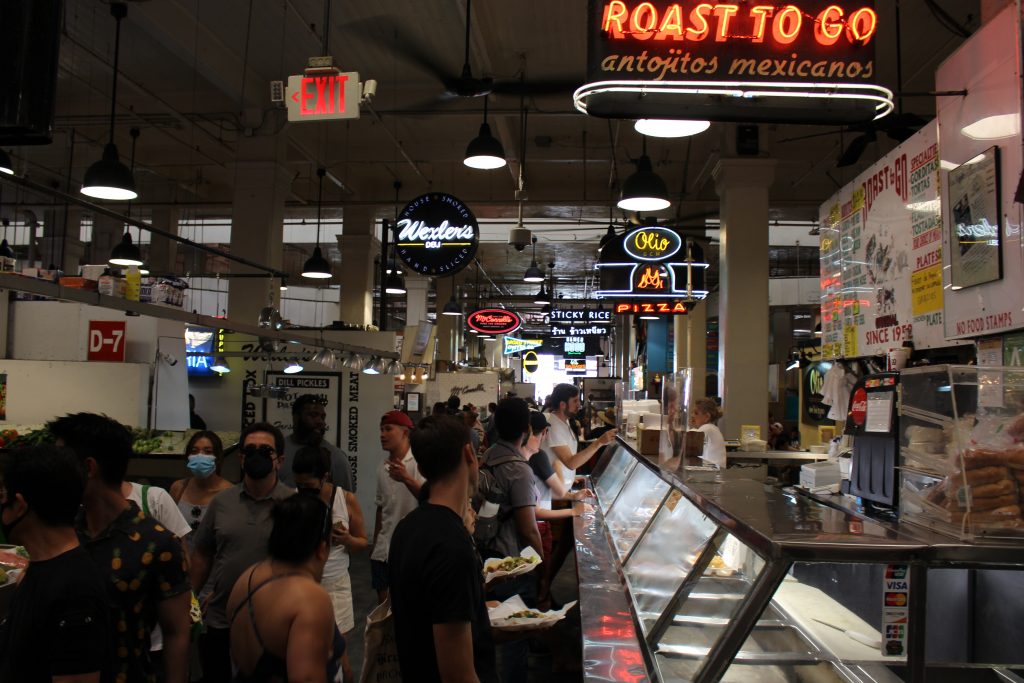 A great way to start your morning in Downtown is by heading over to Grand Central Market for Breakfast. Grand Central Market is an iconic Los Angeles venue and a highlight of the cities vibrant food scene since they opened their doors in 1917. The massive building houses over 40 vendors, all serving up delicious and diverse options. The market has options for all meals and the breakfast options are diverse and delicious. Some highlights include the legendary Donut Man, delicious Filipino spot Sari Sari, and trendy LA favorite Eggslut.
The layout of the market makes it easy for all members of your group to find something delicious and unique so don't feel like you need to find a spot that works for everyone. The markets range of options makes it easy to feel like you are missing out on other delicious spots so if something jumps out at you for lunch or dinner, it is easy to adjust this itinerary to make it back to try a different option!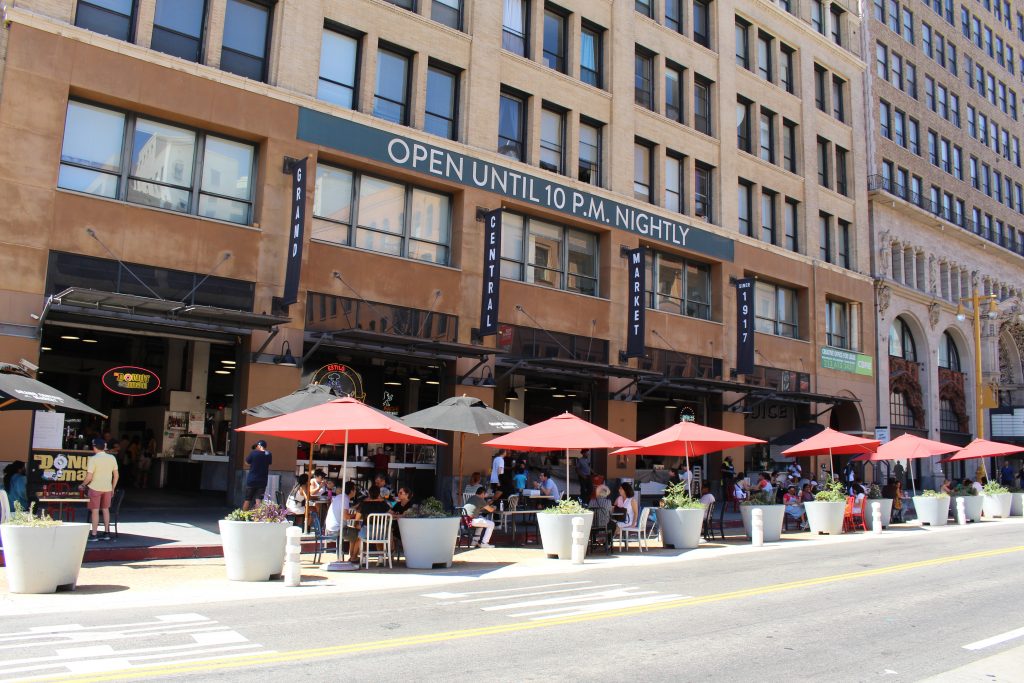 After a delicious breakfast at Grand Central market, walk next door to the iconic Bradbury Building which is one of LA's most impressive architectural feats and a historic monument in the city. This is a quick stop during your day but worth the time spent to see the impressive skylight and geometric staircases. The building is featured in many TV shows and movies but its most notable appearance is most definitely in Ridley Scott's Blade Runner. Admission to the building is free and well worth checking out.
Once you finish breakfast and a quick stop at the Bradbury Building, walk across the street to Angel's Flight, a small but historic railway that continues to operate today. This cable drawn train will take you up Bunker Hill for $1 which is a great alternative to climbing the stairs instead. The railway is also featured in La La Land and another quick but fun stop on your trip.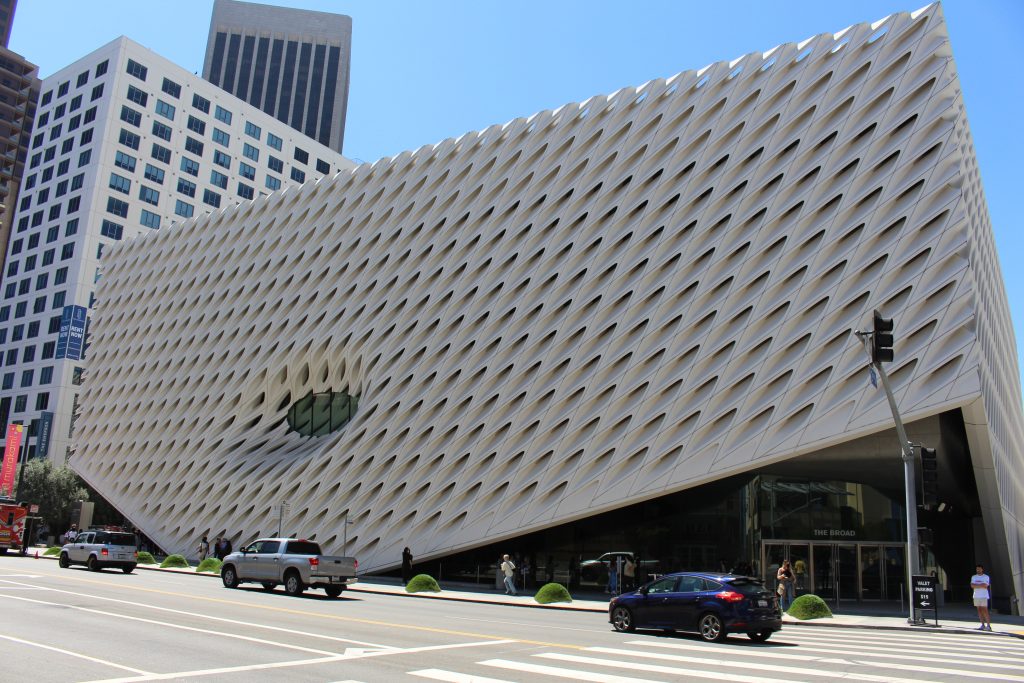 Once you get off Angel's Flight it's time for the first major activity of the day. Continue walking to the Broad which is one of the best activities in Downtown Los Angeles. The Broad is a contemporary art museum with a great permanent collection featuring works from Andy Warhol, Ray Lichtenstein, Cindy Sherman, and Jeff Koons. The museum is architecturally incredible and the galleries are very well curated and interesting.
The best part of the museum, however, is that general admission to the permanent galleries is completely free! The location is also great as you are very close to Grand Park and the Walt Disney Concert Hall. You do need to make reservations in advance and some temporary galleries require paid tickets which you can book here! There is also a small green space right next to the museum which can be great to take any kids in your group to ice cream after the museum.
Afternoon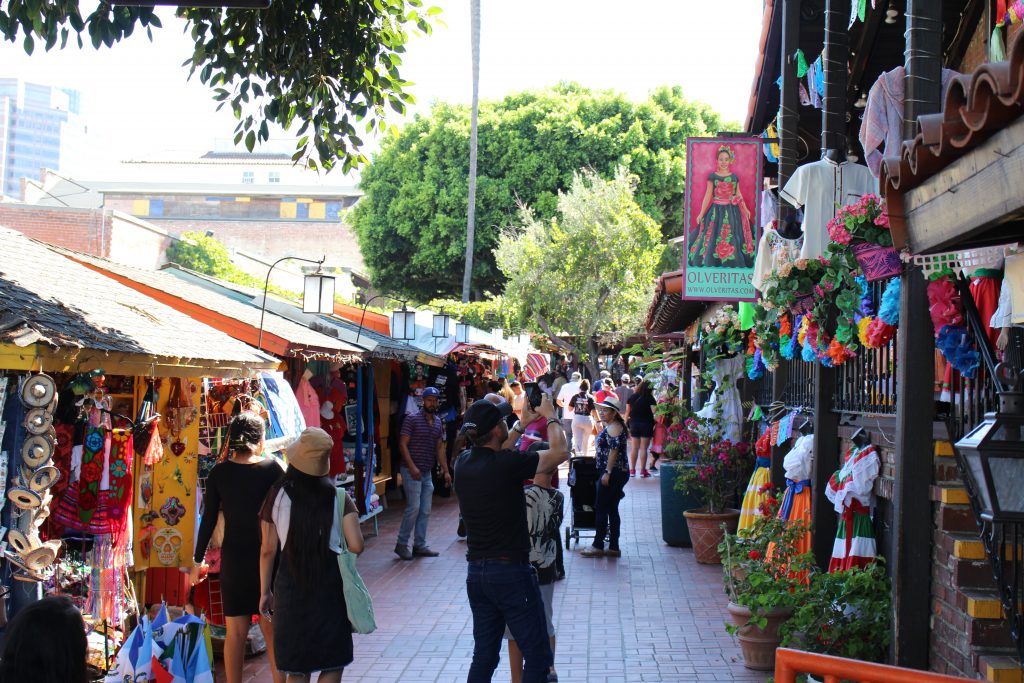 Once you and your group wrap up at the Broad, it's time to start thinking about lunch. For lunch, one of my favorite places to eat in Downtown is one of the many Mexican restaurant on historic Olvera Street. Olvera Street is a historic street that is in the area of the Los Angeles plaza which was the center of life in the city going back to the 1820's when Los Angeles was still a part of Mexico. The street today features some incredible historic buildings going back to 1818 as well as great Mexican restaurants and lots of vendors selling various goods.
Cielito Lindo and the El Paso Inn are two classic Mexican restaurants on the street but there are tons of great options in this historic area. If you and your group want something that is not Mexican food, I strongly recommend Felipe's The Original which is an iconic Los Angeles sandwich restaurant and the inventors of the French Dip Sandwich.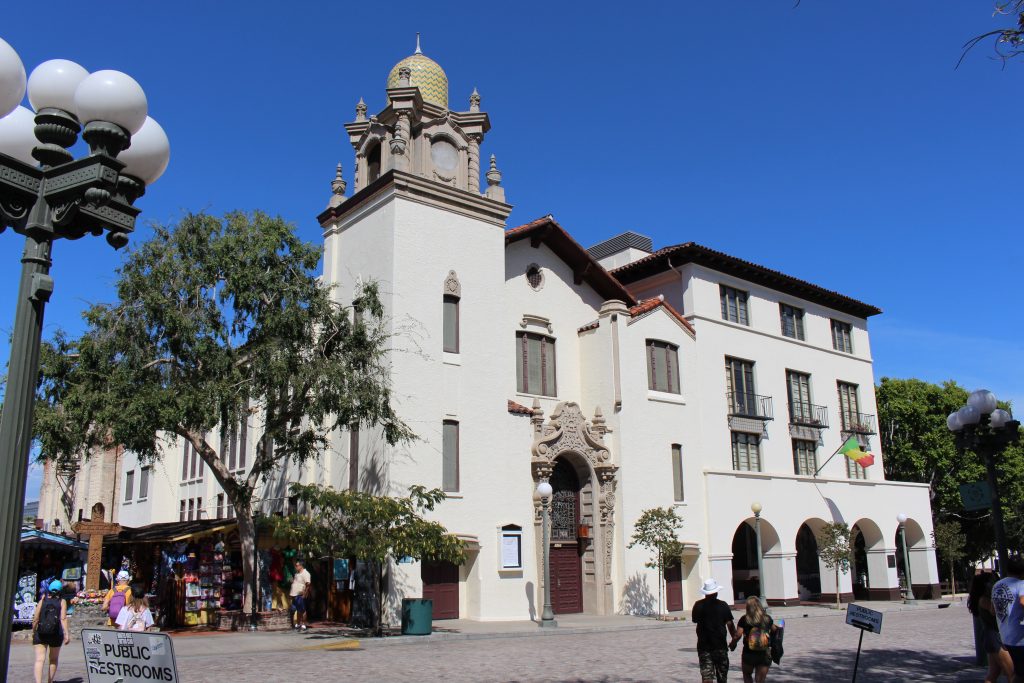 Once you and your group wrap up lunch, I would recommend spending some more time in the area and see all the historic architecture and vendors. Olvera Street is such a historic and unique part of Los Angeles that it is well worth some time to take it all in and check out everything you can. The street exists as a fantastic homage to the early settlers and Los Angeles' extensive history.
After some time on Olvera Street and a quick ride share, one great way to connect with Los Angeles' music history is the Grammy Museum located in LA Live. This is a little far from Olvera Street so I would recommend using a ride share service but the museum is a definitive highlight of Downtown.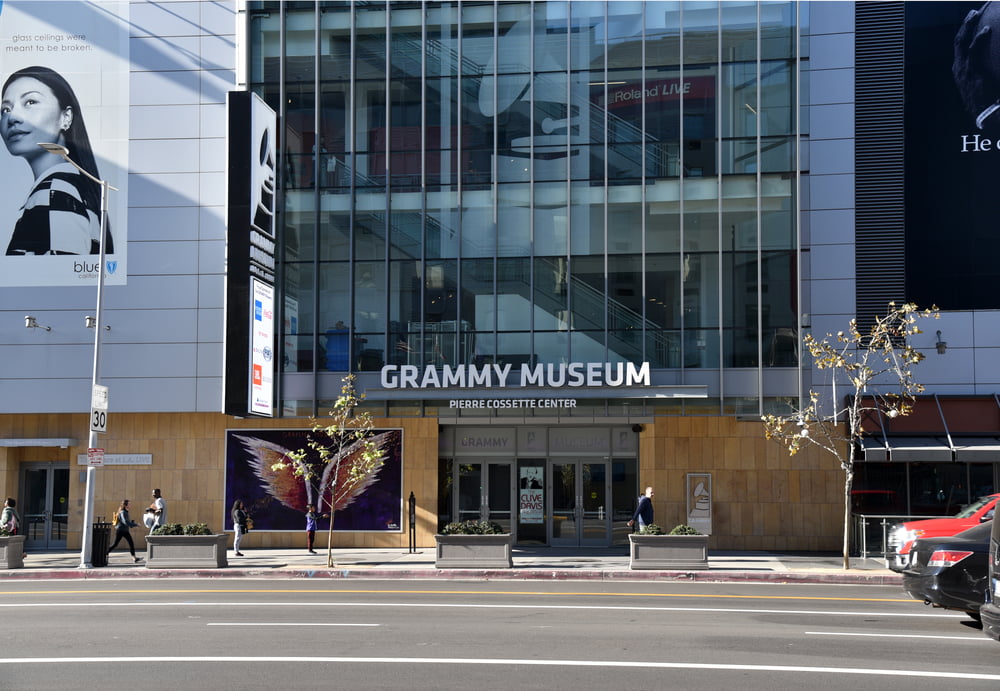 My favorite part of this museum is how interactive and unique the museum's exhibits are. While there are tons of music memorabilia and iconic clips from the Grammy award show, a great interactive highlight is the fake recording studio that the museum features. This is a great option for all groups and I would recommend you check it out.
Evening
After the Grammy Museum, you and your group will be right in the heart of LA Live which is perfect for the rest of the evenings activities. LA Live is famous for being a massive entertainment complex right next to the Crypto.com arena and this gives a ton of great options for what to do with your night.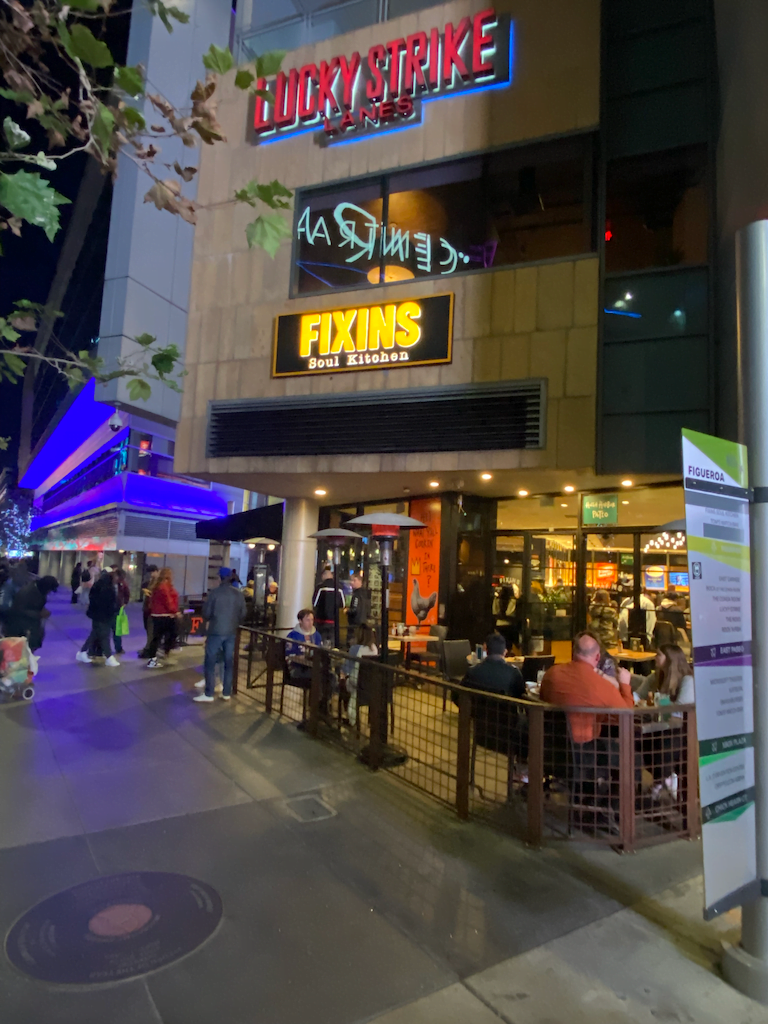 For dinner, I suggest Fixins Soul Kitchen which is a new soul restaurant right next door to the Grammy Museum. Fixins' menu is filled with delicious soul classics like fried chicken, catfish, burgers, and ever soul side you can think of. The restaurant has options for every group and a full bar in addition to semi private seating options. The restaurant has a fantastic vibe and is a delicious and fun place to start your evening.
After dinner, LA Live has some great entertainment options. The area has the Crypto.com arena, Microsoft Novo performance venue, and Regal Cinema for any sports, music, or movie you could be interested in but if there is not an event when you plan on visiting, I highly recommend going to Lucky Strike at LA Live.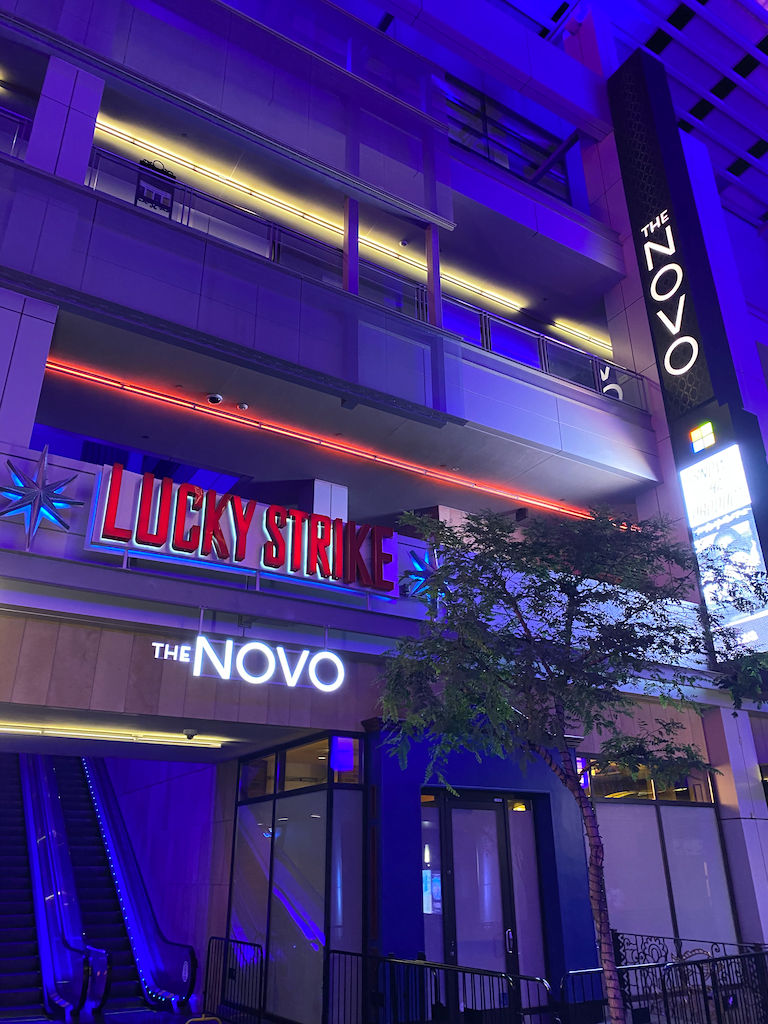 This bowling alley is not your traditional bowling alley, which makes it a unique experience. Lucky Strike features 18 premium lanes, tons of TV's, and a full bar and kitchen which really complete the experience. The facility does have a 21+ policy after 9pm but depending on whether you are going with younger guests or not, you can easily plan around the requirement. Lucky Strike is a great way to end your day in downtown with a fun activity right in the heart of LA Live.
Itinerary
-Breakfast at Grand Central Market 9-10
-Bradbury Building+Angel's Flight 10-10:30
-Broad Museum 10:30-1
-Lunch on Olvera Street 1:30-2:30
-Explore Olvera Street 2:30-3
-The Grammy Museum 3:30-5
-Dinner at Fixins 6-7:30
-Lucky Strike LA Live 8-9:30
If you want to add activities or swap out some itinerary options, check out my downtown activity guide here!
I also have activity guides for nearby Pasadena and the Sofi Stadium area so check those out for more fun things to do on your trip!
If you plan on extending your trip and want another day's itinerary, take a look at my one day Santa Monica itinerary.