Are you looking for the best studio tour in Los Angeles? TV and movie lovers won't want to miss the Warner Brothers Studio tour! I've done it twice over the decades and loved it both times. The WB Studio tour keeps adding experiences and features to make it more fun, engaging and interactive.
After reading this Warner Brothers Studio tour review, you'll have all the tips you need to make the most of your experience – including how to snag a Warner Brothers Studio tour discount!
Warner Brothers Studio tour information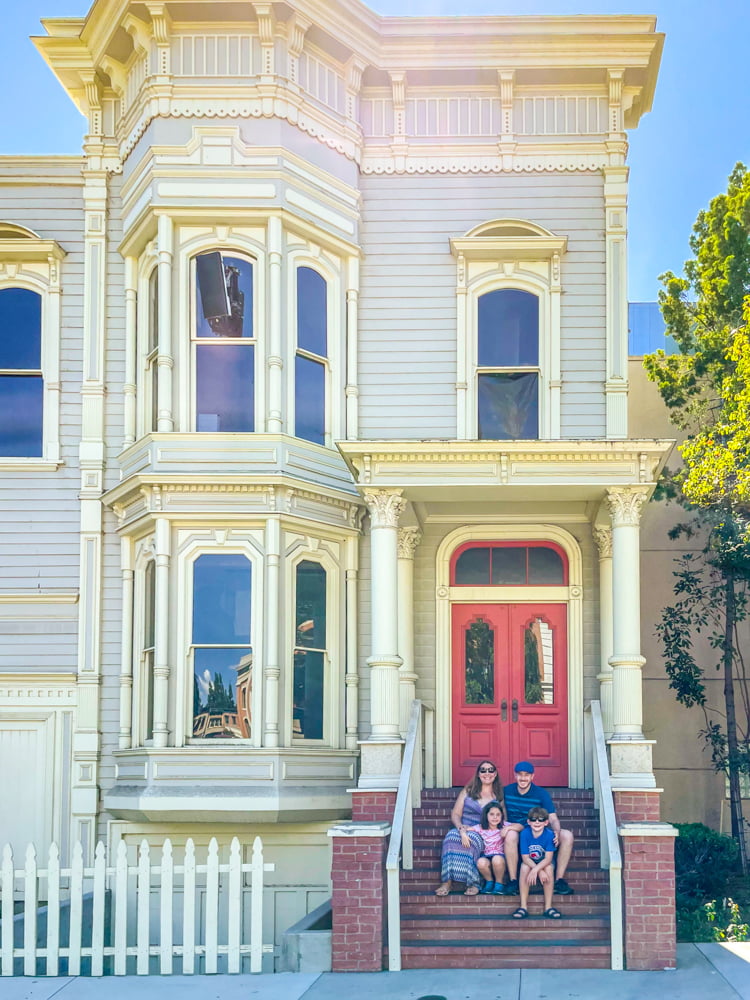 The Warner Brothers Studio Tour Hollywood takes place on the backlot of the famed WB Studio in Burbank, California. It borders Griffith Park and is just 3 miles from Universal Studios Hollywood.
The basic Studio Tour includes about 1 hour touring the back lot with a live guide in a cart along with as much self-paced time exploring exhibits as you want. During the guided portion of the tour you'll see some of Warner Brothers' most famous sets like "New York City", Fuller House, The Big Bang Theory, Friends and more. Guests even visit an active sound stage where current shows are filmed!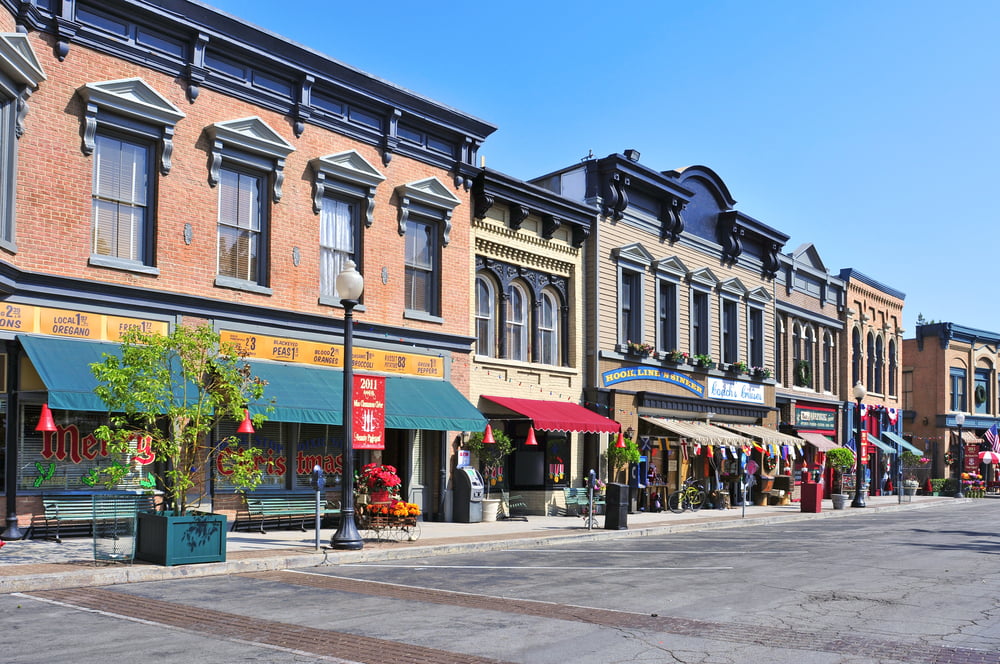 In the photo above from 2011, you can see the set "dressed" as Bluebell, Alabama for Hart of Dixie. It's amazing to notice the small details that must be added and removed every time an area of the massive backlot is repurposed!
We learned so much about the different types of sets, how lighting needs are met, ways to turn residential Burbank into a remote island jungle and more. If you're paying attention to the details, the tour is incredibly informative. You really do get to go behind the scenes, exactly as advertised.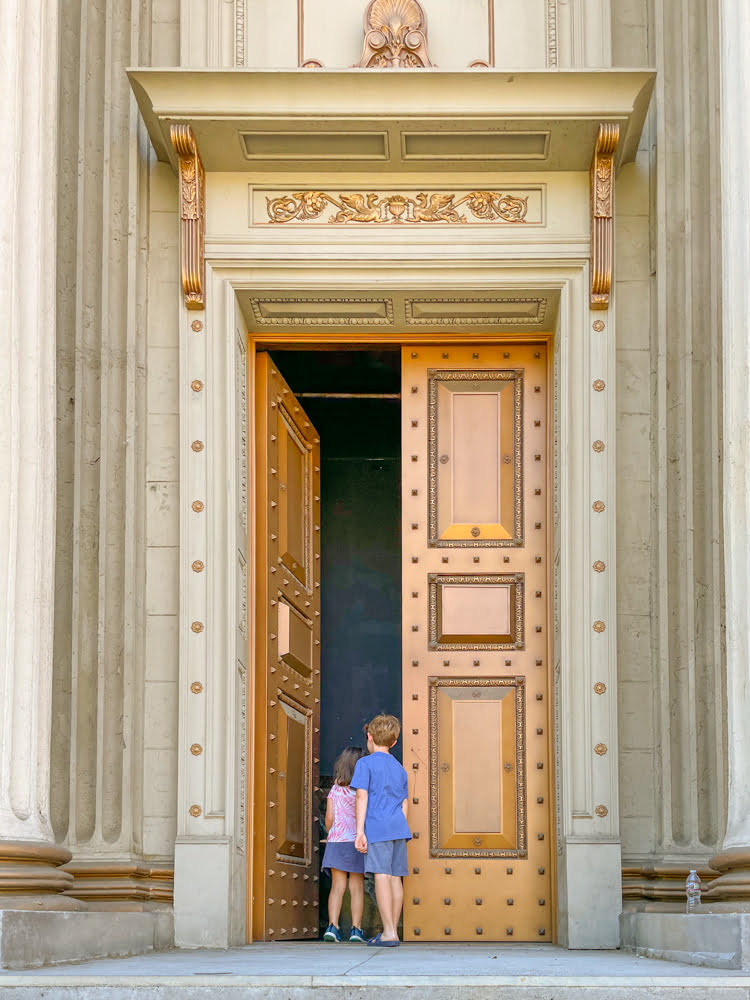 In recent years, Warner Brothers has fleshed out the tour to include tons of fun interactive experiences. You can check out the latest Batmobile, design your own costumes, get sorted into your Hogwarts house and so much more! Warner Brothers Studio suggests to allow about two hours for these exhibits and that matched our experience.
During your visit you'll ride two carts: the first is your main studio tour from the arrival to the Stage 48 exhibits, and the second is (mostly) transportation from Stage 48 back to the building where you started. I like this set up because you really can set your own pace in the interactive areas. Stage 48 has the Central Perk Cafe, restrooms, several popular TV sets and a very cool interactive soundstage. This is where you get to learn how so many costumes, special effects and computer animated characters are created!
Once you're ready to leave Stage 48, your second cart makes a brief stop for photo ops at the "Friends fountain" for anyone who wants to do it – though plenty of people forgo it because they've already been on the tour for around two hours at that point. Surprisingly, the "couch" is made of fiberglass so it's hard as a rock and can be blazing hot as it sits in the LA sun.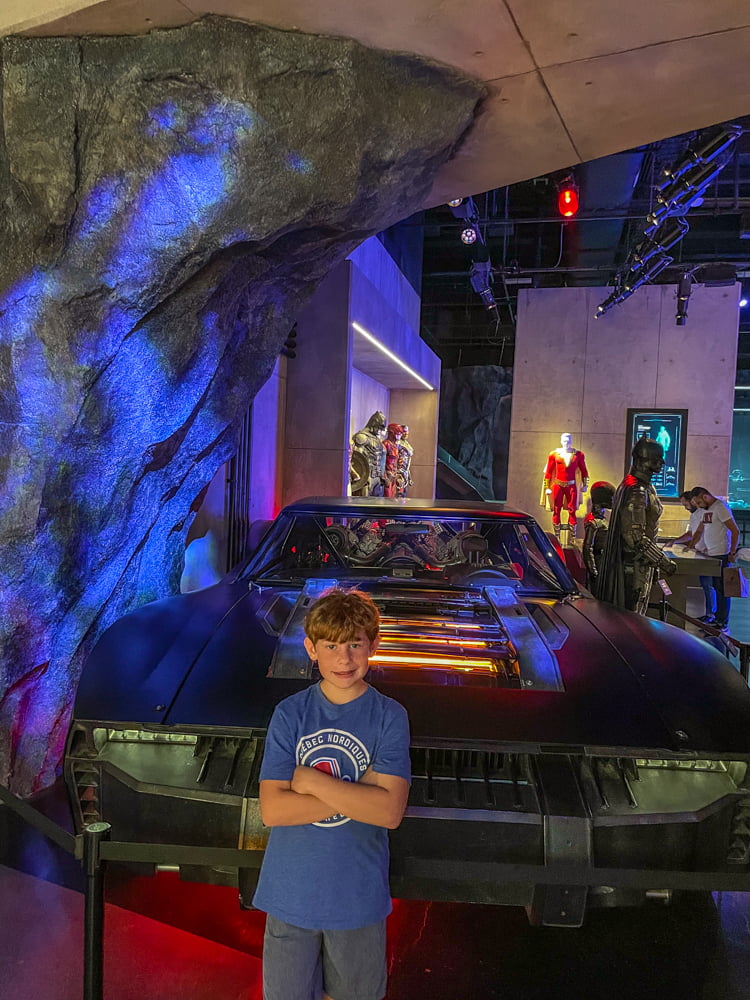 The final stop on the Warner Bros Studio Tour is a brand new set of exhibits designed to connect WB Studios with younger generations. There are huge areas dedicated to DC Super Heros and Super Villains and to Harry Potter. We spent most of our time in the HP section, which is an official "Wizarding World" location. There are so many fun things to do! Visitors can practice casting spells, pose in iconic scenes and more. It's a great warm-up to visiting Universal Studios.
If you feel like you'll want even more behind-the-scenes than the hour with your tour guide, check out the Studio Tour Plus. It includes an extra hour with your guide plus lunch at Central Perk and some other bonuses. This is for true movie and TV buffs!
Is the Warner Brothers Studio worth taking?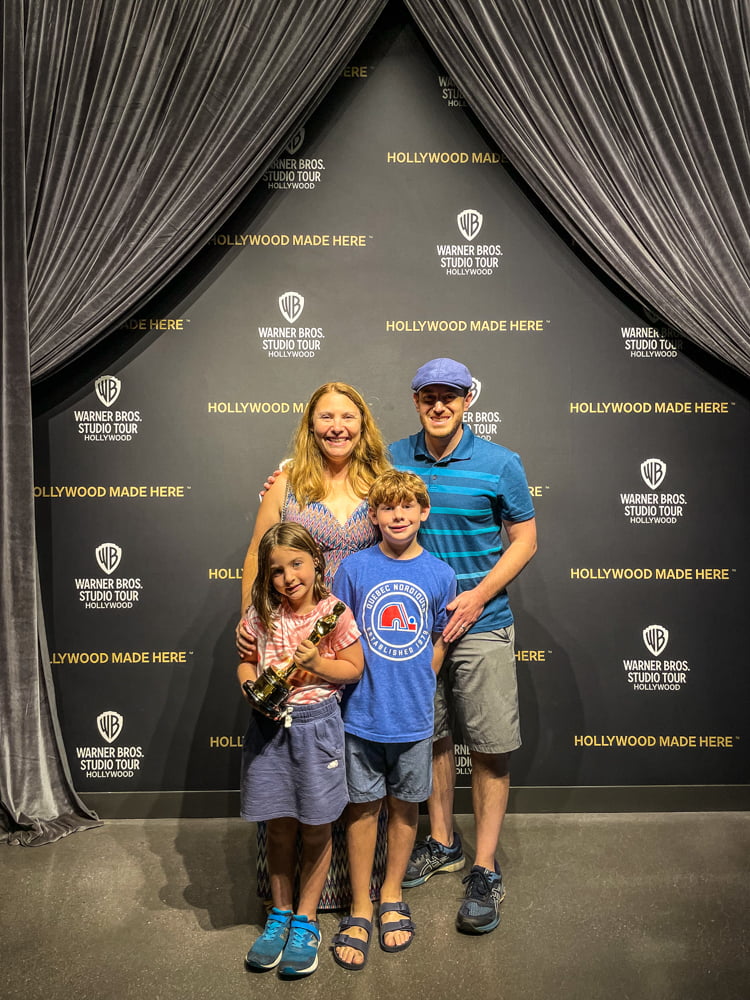 Absolutely! I've taken this tour twice and enjoyed it even more the second time. There's something in the WB Studios tour for everyone, whether it's the opportunity to connect with your favorite TV shows and movies or to nerd out on all the cool special effects. We even got to hold a real Oscar!
What you won't find here are rides and attractions that are typically in a theme park. This is a tour of one of the busiest studios in the world rather than a stand-alone tourist experience. As long as you go into it understanding what to expect, you'll have a phenomenal time.
Warner Brothers Studio tour tips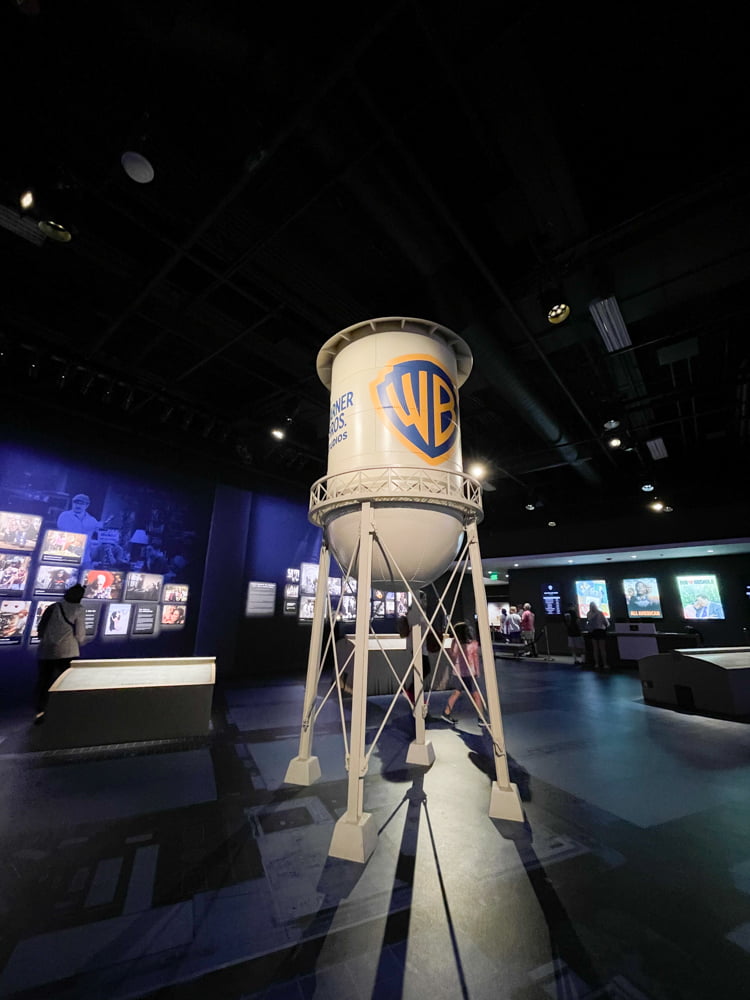 How to score at Warner Brothers Studio tour discount
There are a few excellent ways to get a discount on the Warner Brothers Studio tour.
SoCal resident discount
If you live in Southern California, the simplest way to get a discount is to book resident tickets. You don't need a Warner Brothers Studio tour coupon, but you will need to show proof of residency when you check in. A resident can buy up to 6 tickets, so this is a great option if you have family and friends visiting from out of town. Note that this deal isn't available during the winter holidays or summer break.
That said, the SoCal resident discount is NOT my favorite way to get discounted tickets for the Warner Brothers Studio tour…
Undercover Tourist Warner Brothers Studio tour tickets
The Undercover Tourist tickets to Warner Brothers Studio is just $1 more for adults but it's $6 cheaper per child! The huge advantage is that you can use the tickets even during peak dates like summer break. I've used Undercover Tourist for tickets in the past and there was never a hiccup; they're a legitimate travel agency focused on theme parks and other attractions in SoCal and Orlando.
Even better, if you buy your WB Studio Tour tickets and book your rental car at the same time you can save up to 50% off of your car! I've done it myself for other tickets and saved hundreds of dollars.
GoCity Los Angeles attractions pass
The GoCity Los Angeles attractions pass is a great way to save money if you're planning to do a lot of sightseeing in LA. They offer two options, which both include the WB Studios tour: Explorer Pass and All-Inclusive Pass. I'll explain the difference.
The GoCity Los Angeles Explorer Pass allows you to choose how many attractions you want to visit in a 60 day period. This can be a great option for both visitors and locals! You select between 2 and 7 activities you want to do. The more you do, the more you save. If you really want to explore the city, you could opt for 7 attractions for $163 per adult/$119 per child. In addition to WB Studios, you can check out great options like the Aquarium of the Pacific in Long Beach, get a behind-the-scenes tour of SoFi Stadium, see the new King Tut immersive experience, go whale watching and plenty more.
If you're tight on time but want to do a lot, the GoCity Los Angeles All-Inclusive Pass lets you cram in the best activities within a short amount of time. Pick the number of days you plan to use the Pass and on each day you can do as many activities as you want! You have 14 days to use your All-Inclusive Pass, so you don't have to use the days consecutively. The All-Inclusive option can be a really great value, especially for theme park lovers: Passes of at least three days include Universal Studios Hollywood, and all durations include LEGOland, Knott's Berry Farm and Six Flags Magic Mountain (in addition to plenty of other activities). You can even cap off an evening with a dining credit at The Curious Palate (which I love) on the roof of Santa Monica Place!
When's the best time to take the Warner Brothers Studio tour?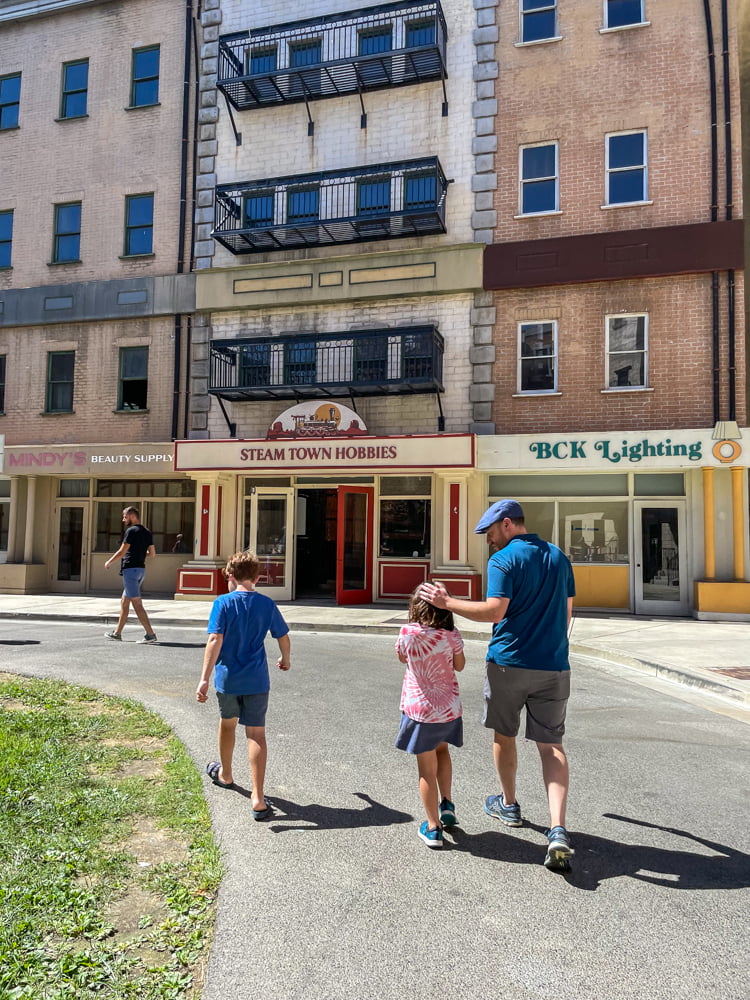 If you can, try to schedule your tour of Warner Brothers Studios for a weekday. You'll see the lot buzzing with activity and might even see some of your favorite celebs! Weekends (as seen above) and holiday periods are much quieter, as there's rarely filming. Even Hollywood types get time off.
The specific time you've booked your tour isn't critical. Try to arrive around that time but tours run pretty much continuously from 9am to 3:30pm most days. We weren't able to secure tickets for as early in the day as we preferred, but when we arrived 30 minutes early the attendants told us to go right in. You'll spend the first part of your visit on your own exploring the engaging exhibit about the Studio's history anyway.
Obviously if you've booked the last tour of the day, show up on time – or early!
What age should kids be for the Warner Brothers Studio tour?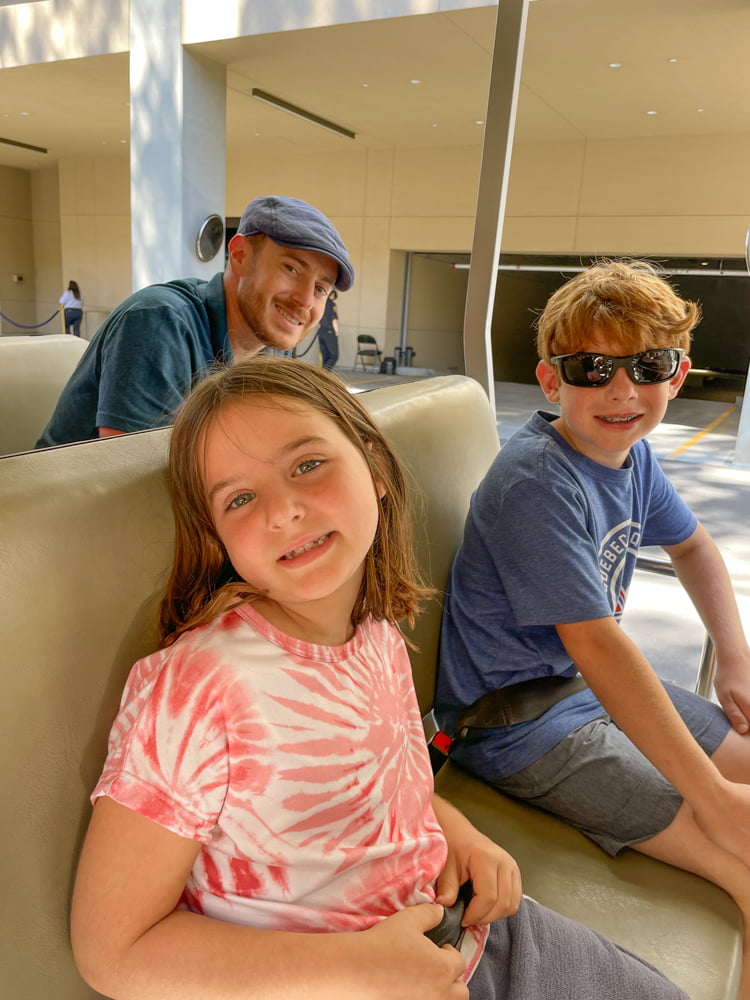 The minimum age for the Warner Brothers Studio tour is 5 years old.
That said, I wouldn't bother bringing kids until they've started getting into live action movies unless they're really interested in special effects. They won't connect with the sets and story telling as much as older kids and adults so they might get bored.
We took our kids at 8 and 11, and they had already watched all of the Harry Potter and Fantastic Beasts movies plus several super hero movies. It was great for them, but probably wouldn't have been even a year earlier.
If you plan to do the Warner Brothers Studio tour with kids, be sure that they're able to sit calmly and in the open-air cart as it zips around the back lot. There are lap belts for all passengers.
Can you take photos and videos on the Warner Brothers Studio tour?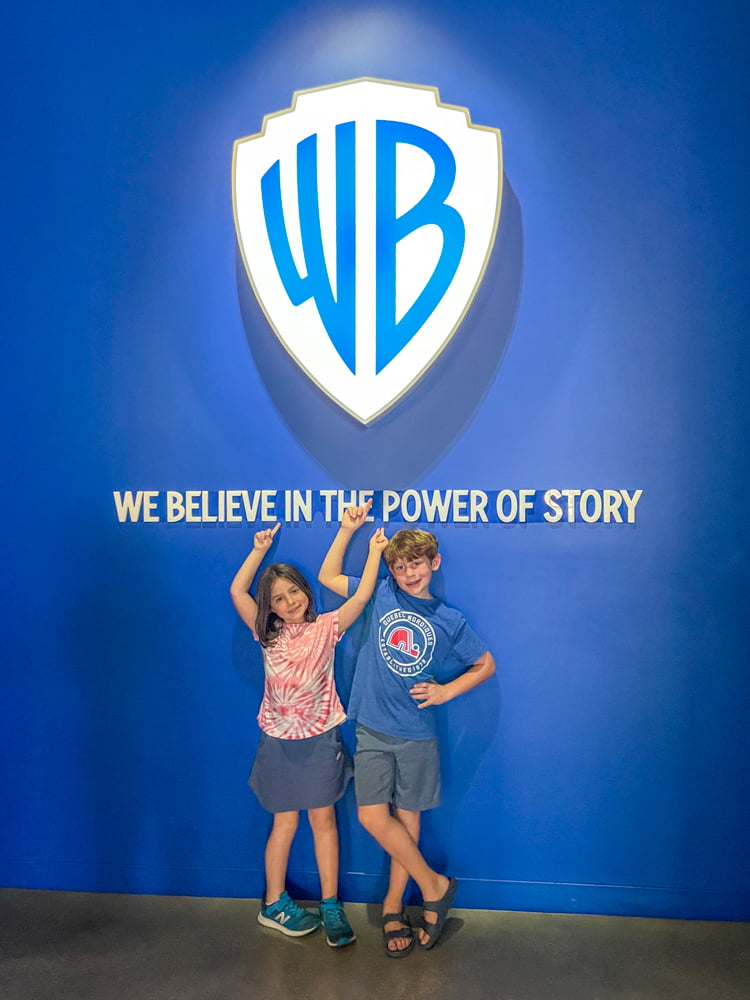 You can't take videos on the tour at all. You can take photos on most of the tour except when you're touring the sound stage that's currently being used for production (even if no one's working in it that day).
Best places to stay near Warner Brothers Studio tour
Just a mile away from Universal Studios in North Hollywood is The Garland. I'm already looking at rooms for our family's next trip back to Los Angeles!
Inside the mission-style building, you'll find a beautiful blending of SoCal craftsman architecture with Mid-Century Modern design touches. For larger crews, this hotel offers quite a few different room types including standard queen-queen rooms, rooms with junior bunk beds in alcoves for early bed times, and even family suites with bunk beds. And for pet owners, The Garland is a pet-friendly hotel in Los Angeles!
If you don't want to rent a car while you're in Los Angeles, The Garland is a great option. They have a free trolley shuttle to CityWalk at Universal Studios, as well as to the Red Line (now called "B") metro station nearby. That metro line will get you to all of the major sites in Hollywood as well as Downtown LA. To get to the Warner Brothers Studio tour, hop on the orange #222 and then walk a few blocks from the Hollywood Way stop – you'll be there in about 15 minutes.
There are also on-site activities available to keep you busy when you aren't out exploring. There's a lovely pool and a family jacuzzi, plus a rotating calendar of activities that includes lawn games, local food pop ups, guided tours and hikes in the area and more. It all comes together to make one of the best places to stay in LA with kids!
Pro tip: If you do rent a car, head 5 minutes north to the NoHo Arts District and grab some amazing tacos or ceviche at newcomer Xécora.
How to get to Warner Brothers Studio tour + parking
The Warner Brothers Studio is located in Burbank just off the 134 freeway near Riverside Drive. The tour has its own entrance that is separate from the "working" studio gates, and you'll be able to find the tour in your favorite navigation app. The entrance is at 3400 Warner Blvd.
If there's one thing I can't stand about LA, it's making captive, money-spending audiences pay for parking. But that's the way this city goes. The Warner Brothers Studio tour parking cost is $15 per vehicle, payable by credit card when you enter.
Planning on a car-free trip to LA? There are several bus lines that run pretty close to the Warner Brothers Studio tour entrance. The orange metro #222 picks up just in front of The Garland and drops you off at Hollywood Way/Alameda – total transit time for walking and the bus is just over 15 minutes. Visitors staying at the Sheraton Universal City will need to allow 25 minutes to walk and catch the orange #155.
For those staying outside of the immediate area and avoiding a rental car, you'll probably want to snag an Uber. There are additional transit options (including the Metro Red line) but they'll take a least 40 minutes each way.
Keep exploring LA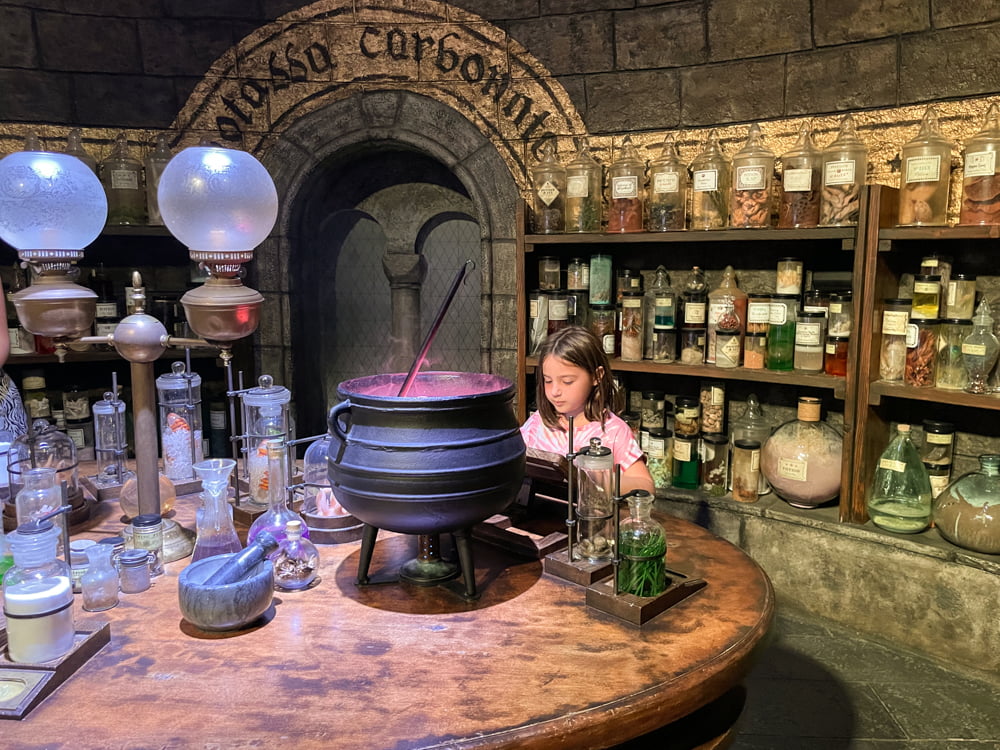 After you've wrapped up your WB Studios tour in LA, check out these other fun things to do in Los Angeles: