There are tons of reasons to visit Downtown Los Angeles but regardless of whether you are in town for a Lakers game, convention of some sort, or just visiting for vacation you are going to need some fun things to do. This guide is to show you some of the most iconic and best activities in Downtown Los Angeles to help plan your visit with a variety of options for groups of all ages and sizes.
If you are looking for accommodations, check out my details guide to where to stay in downtown Los Angeles! You can also use this handy map to find the best places to stay in DTLA by location:
Best things to do in downtown LA
Visit the Broad Museum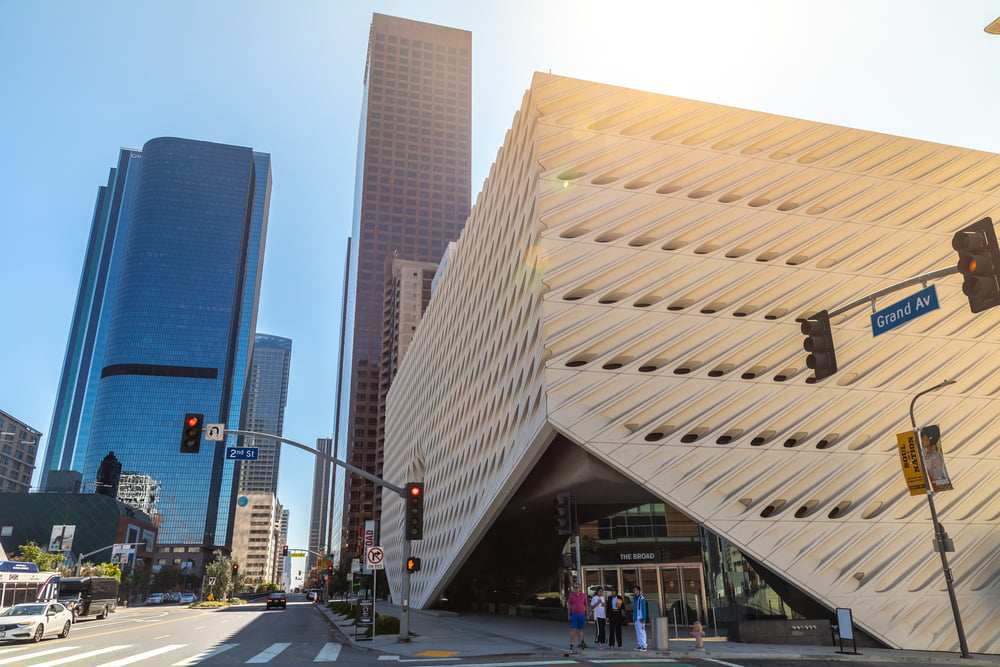 One of the best activities in Downtown Los Angeles is to pay a visit to the Broad museum. The Broad is a contemporary art museum with a great permanent collection featuring works from Andy Warhol, Ray Lichtenstein, Cindy Sherman, and Jeff Koons. The museum is architecturally incredible and the galleries are very well curated and interesting.
The best part of the museum, however, is that general admission to the permanent galleries is completely free! The location is also great as you are very close to Grand Park, the Walt Disney Concert Hall, and Grand Central Market. There is also a small green space right next to the museum which can be great to take any kids in your group to ice cream after the museum.
You do need to make reservations in advance and some temporary galleries require paid tickets which you can book here!
Grab a Meal from the Grand Central Market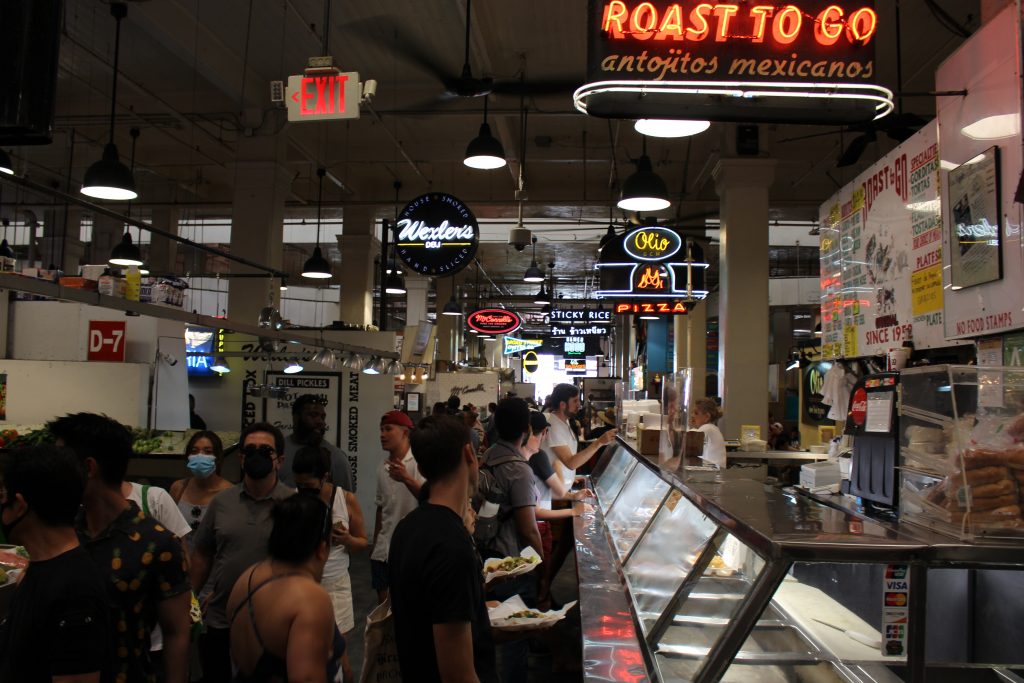 Grand Central Market has been a Los Angeles favorite since they opened their doors in 1917. This bustling building is home to 40 food stalls including a wide array of restaurants from legacy vendors who have inhabited stalls for over 50 years and new successes from Los Angeles' incredible food scene.
I highly recommend trying a couple things from different vendors and make sure to save room for dessert! Personal favorites include Broad Street Oyster Co., Horse Thief Barbecue, and legendary Wexler's Deli. For dessert I normally get ice cream from McConnells but Nicole Rucker's Fat and Flour is turning into a favorite of mine. Nearby Bradbury Building and Angels Landing are two fun attractions to check out after your meal as well.
Relax in Grand Park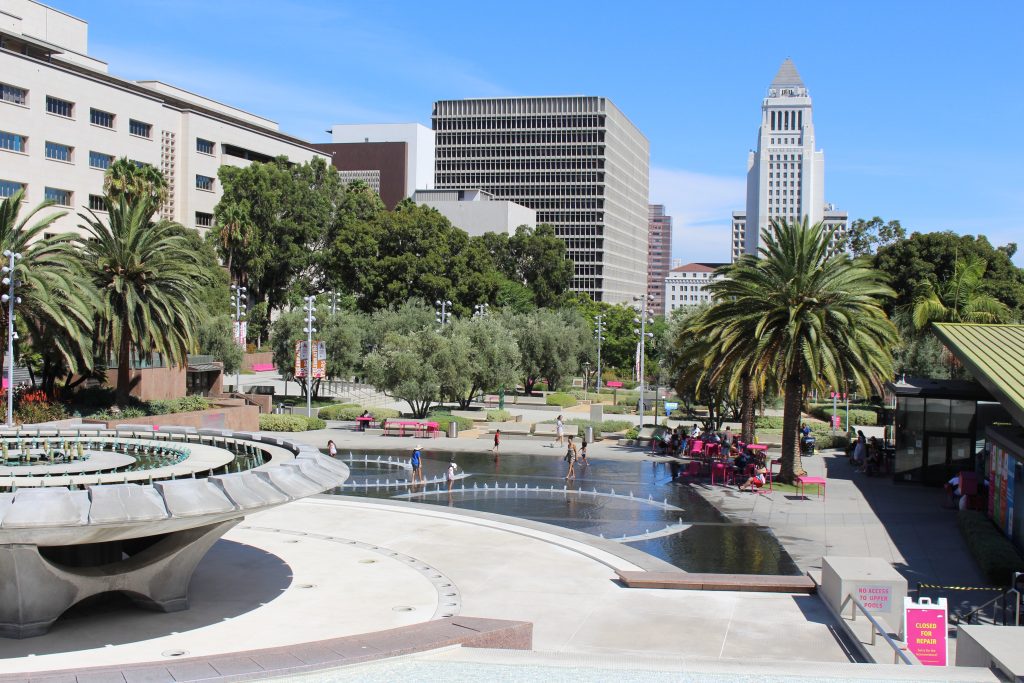 Grand Park is a 12 acre park located centrally in Downtown Los Angeles. The park is full of green spaces, fountains, and seating for picnics. Grand Park also puts on a lot of civic events and has programming for kids of all ages. This is a great place to bring a meal from Grand Central Market and enjoy the green space that is so rare in Downtown Los Angeles. It is also right by the Broad so I like to do the Broad and then bring food from Grand Central Market into the park to eat.
Walk Around Olvera Street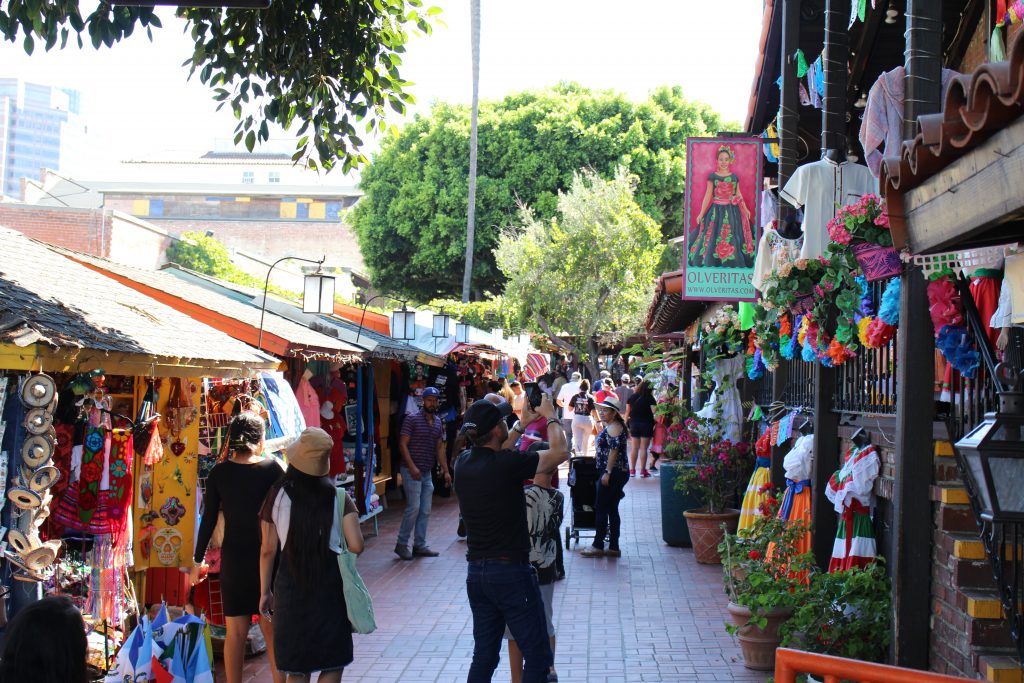 Olvera Street is a historic street that is in the area of the Los Angeles plaza which was the center of life in the city going back to the 1820's when Los Angeles was a part of Mexico. The street today features some incredible historic buildings going back to 1818 as well as great Mexican restaurants and lots of vendors selling various goods.
The street is very popular and a fun walk along old streets with some beautiful classic Mexican architecture. Olvera street is a fun homage to the early settlers of Los Angeles and a truly unique fun thing to do in Downtown Los Angeles.
Try Philippes the Original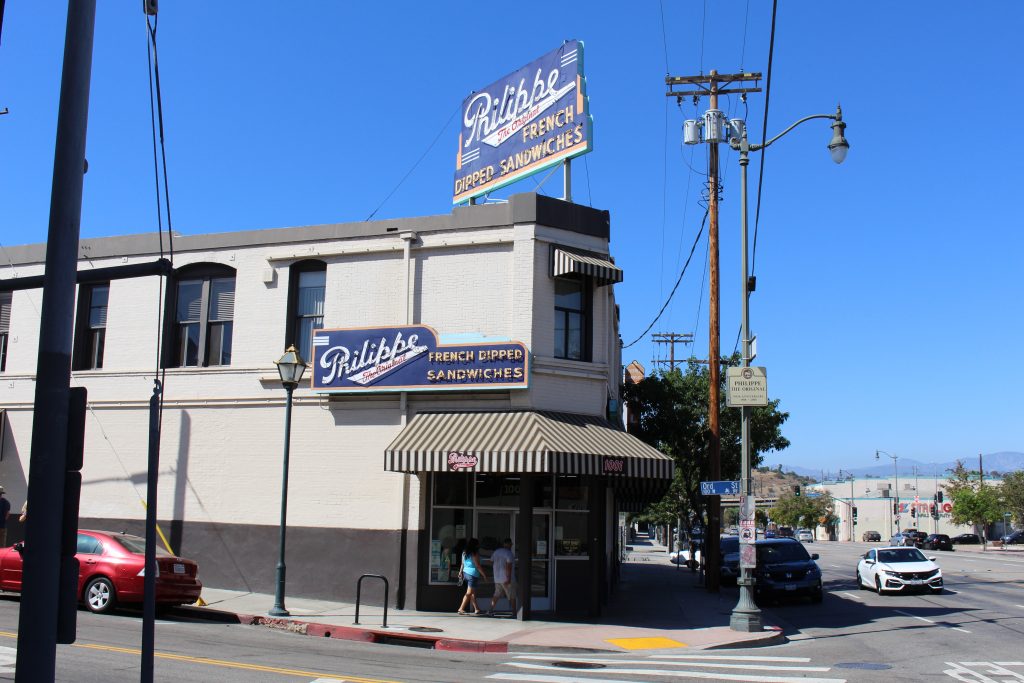 One of Los Angeles' most iconic food destinations is Philippe's the Original, home of the french dipped sandwich. The story goes that in 1918 while making a sandwich, Philippe Mathieu dropped the roll into the roasting pan that had just come out of the oven. The customer wanted it anyways and came back the next day with a group asking for more, and thus the French Dip sandwich was born.
Philippes is about as iconic an institution as you can get in Los Angeles and they've been serving a delicious and simple menu of sandwiches, sides, and soups out of the same location since 1951. I could not recommend Philippes more and think it is one of the best places to eat in all of Downtown Los Angeles.
Even if you're just passing through DTLA on an I-5 road trip, this is an amazing place for a lunch stop!
Enjoy Walt Disney Concert Hall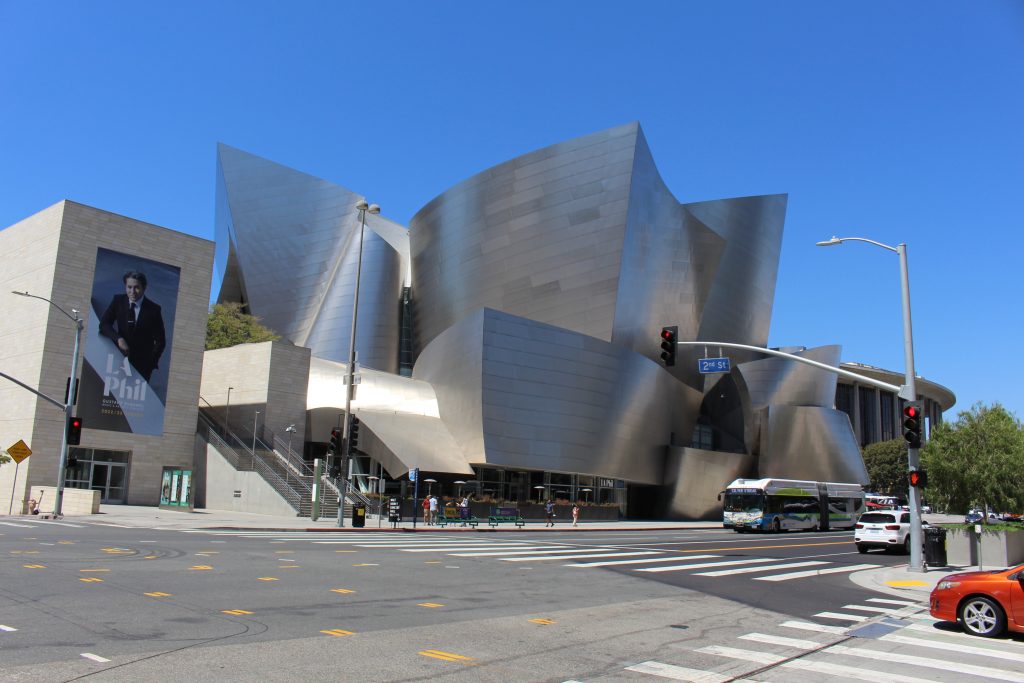 Walt Disney Concert Hall is the stunning home of the world-renowned Los Angeles Philharmonic and Los Angeles Master Chorale. The building is a Frank Gehry designed masterpiece that features massive metal paneling in an elegant curtain style design that truly does not seem possible.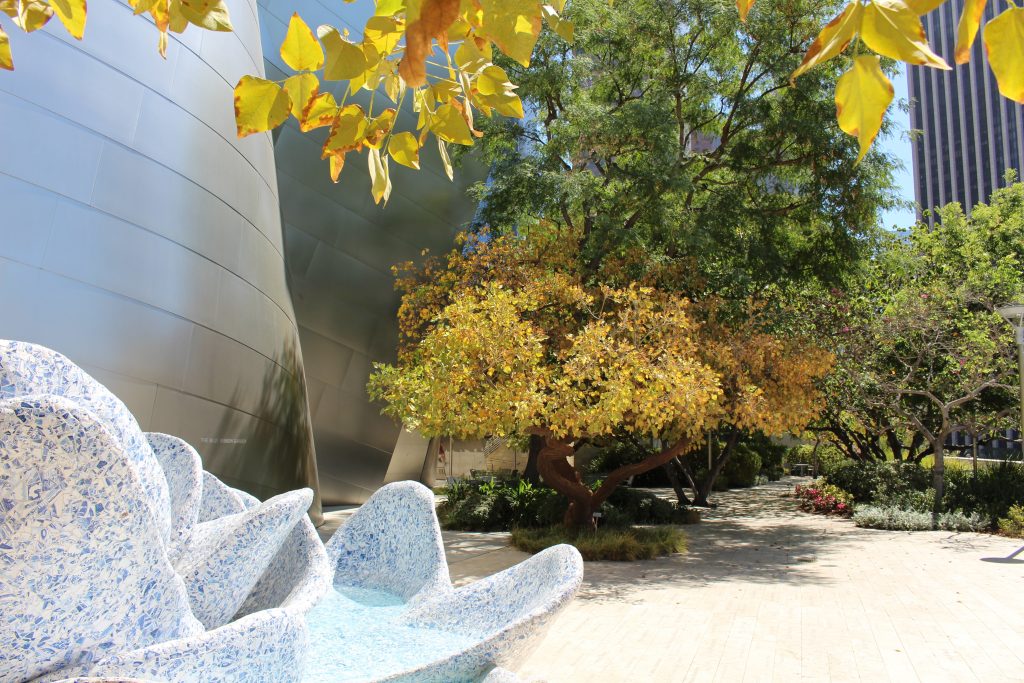 The acoustics in the building are absolutely incredible and if you are a fan of the symphony, I would try and catch a performance at this incredible venue. Even if you don't plan on seeing a show I would recommend walking around the building as the architecture is marvelous and they have a nice shady sculpture garden in the back of the building. Purchase tickets for the Los Angeles Philharmonic here.
Check Out LA Live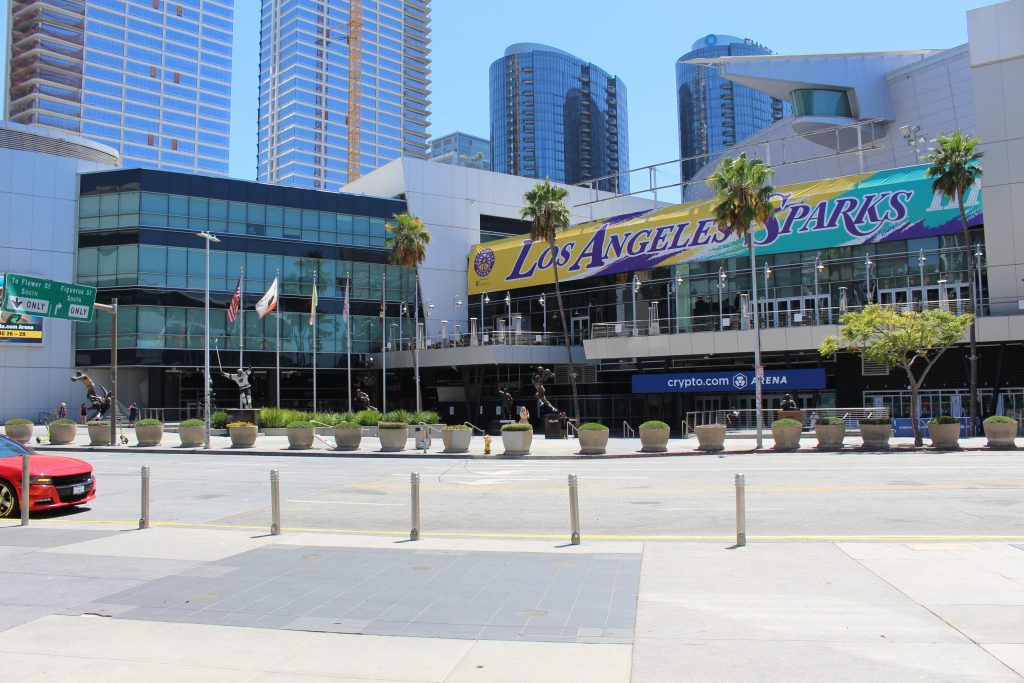 Located right next to the convention center and the Crypto.com Arena (formerly the Staples Center) LA Live is a great place to spend time in Downtown Los Angeles. The area features a bunch of great restaurants to grab a meal from before a game at the arena or concert at the Microsoft Novo.
Even if you aren't in Downtown for an event, the statues outside and history of the arena make it an interesting place to walk around. The Grammy Museum is also part of the complex so if you have any fans of music history in your group, that can be a great way to spend some time. The area also has Lucky Strike LA which is a very fun bowling alley with a 21+ bar atmosphere at night. I would highly recommend spending some time in this hub of Downtown if you find yourself looking for something to do.
If you are looking for an itinerary style guide to Downtown, check out my guide here!
If you are interested in other activities check out my guides for the area around nearby Sofi Stadium and Pasadena!