If you're headed for a game or event at the Rose bowl stadium in Pasadena, California, I'm excited for you! I lived in Pasadena for four years and had UCLA football season tickets for several years after that, so I'm excited to share my insights on how to choose among the best hotels near Rose Bowl stadium for your trip.
In this article you'll find out where the Rose Bowl is, how to get there and what important factors to consider when you're weighing different Pasadena hotels near the Rose Bowl. I've even thrown in some Pasadena Airbnb/VRBO options in case you want to be really close to the action while also having some space to spread out.
Quick picks: Hotels near the Pasadena Rose Bowl
Don't want to read through my whole analysis? That's ok! Here are my top choices for hotels near the Rose Bowl in Pasadena:
Where is the Rose Bowl stadium located?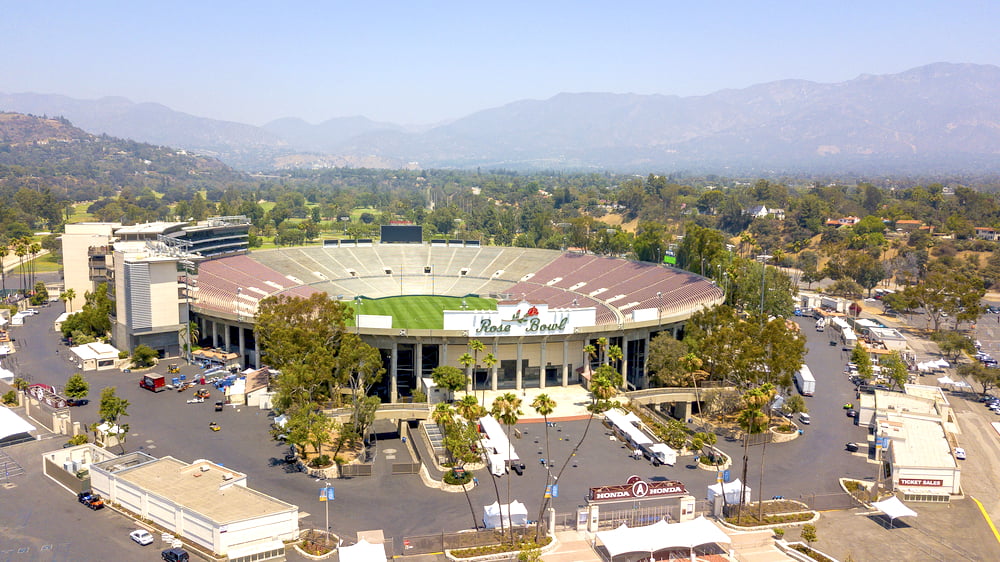 Before you try to decide where to stay near Rose Bowl stadium, it's important to understand where the Rose Bowl is located and the best way to get to the Rose Bowl stadium. In case you don't know where Pasadena is, it's 10 miles northeast of downtown LA.
The location of Rose Bowl stadium is a little over 1.5 miles northeast of Old Town Pasadena, in the middle of the golf course at Brookside Park. In fact, for most events that golf course is used for parking! The complex is fairly large and also encompasses the Rose Bowl Aquatics Center and Kidspace Children's Museum.
While it seems close on the map, it's important to understand the reality on the ground. First, you'll be crossing under two freeways (the 210 and the 134, though some pedestrian routes have you cross where they meet). Much of the walk is flat, but not all of it. In addition, some streets as you get closer to the stadium don't have sidewalks and are very busy with cars on game days and for big events like concerts. That said, many people do the walk – you'll just have to evaluate if that's the right choice for your group.
All this is to say that the Rose Bowl is in Pasadena, but it's not in a central part of the city that lends itself to being walkable for everyone.
How to choose hotels near the Rose Bowl in Pasadena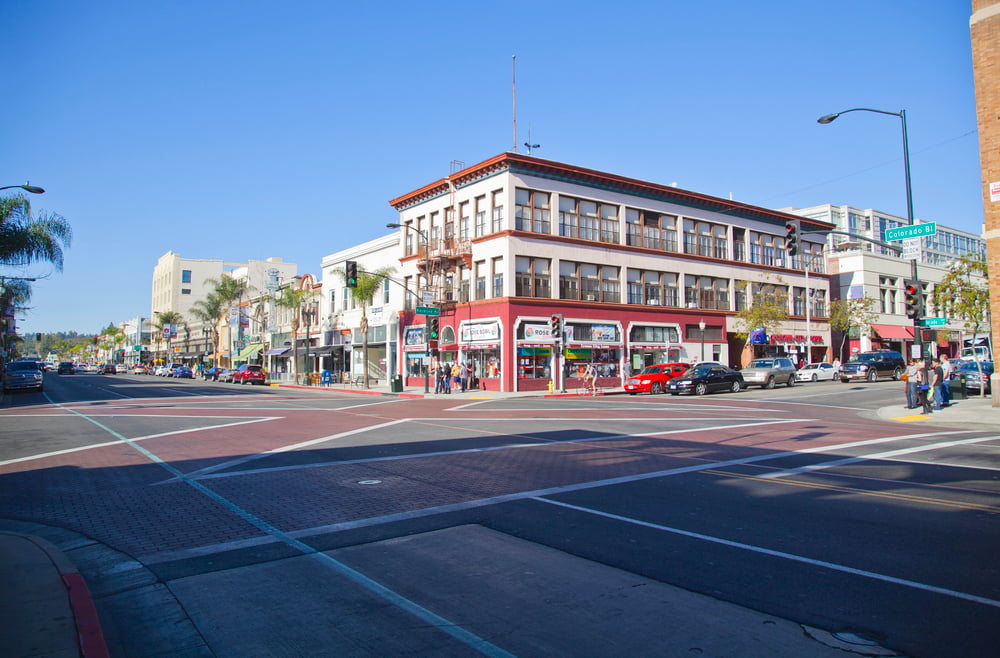 What should you consider when you're choosing the right hotel near Rose Bowl stadium for your experience?
First, you have to keep availability in mind. If you're planning to attend a major event like the actual Rose Bowl football game, be sure to book a hotel as soon as you decide to go. Even better, if it looks like your team has a shot go ahead and grab a cancellable reservation before the teams are announced to avoid sold-out hotels. Pasadena is already a zoo over New Years due to the parade no matter who is playing.
Second, decide how you're going to get from your hotel to the Rose Bowl stadium. You can definitely drive to the Rose Bowl and pay to park; it's still a trek across the golf course unless you pay a ton for premium parking, but many people including me do it. If you're attending a football game at the Rose Bowl, you'll find lots of people tailgating and even some pop-up tents to buy food outside of the stadium if you didn't bring your own grill (we always brought this one with us).
People who are in good shape may opt to walk to the Rose Bowl (if the weather is good) from Old Pasadena. If that's not the right fit for your needs, there are shuttle services that operate from Old Town Pasadena during many live events. It's free for the Rose Bowl football game but generally paid for other events – find your event here for details. When all else fails, you can take a ride share from your Pasadena hotel to the Rose Bowl. If you don't want to mess with any of that, near the end of this article I've included a few Rose Bowl Airbnbs/VRBOs that are withing just a few minutes walk of the stadium.
Third, consider your group's specific needs. If you're renting a car, you'll probably appreciate free parking. You may want a suite and free breakfast if you're visiting Pasadena with kids. And an outdoor swimming pool at your hotel can turn your stadium visit into a Los Angeles staycation even if you're a local!
Best Rose Bowl stadium hotels in Pasadena, CA
Courtyard by Marriott Old Pasadena
If you're looking for hotels near Rose Bowl stadium that are conveniently located for shuttle service or if you plan to walk to the Rose Bowl, it's hard to beat Courtyard by Marriott in Old Town Pasadena! It's just a two minute walk to the usual shuttle pickup lot. It's also almost the closest Old Pas hotel, at 1.7 miles from Rose Bowl stadium.
There's plenty to love beyond proximity. It has a beautiful outdoor swimming pool area, pets allowed, and there's paid on-site parking if you want to explore the rest of the region by car. Both the Courtyard and our next contender are also just a sneeze away from the heart of Old Pasadena, so it's a great choice if you value walkability to shops and restaurants.
Residence Inn by Marriott Pasadena
The Residence Inn by Marriott Pasadena is across the street from the Courtyard, so they're roughly equal in terms of convenience: the Residence Inn is supposedly 1.6 miles from Rose Bowl stadium, but they're across the street from each other so there's no real difference. The you're focused on hotels walking distance to Rose Bowl stadium, you'll want to choose one of these two.
What's the difference between these adjacent sister properties? The Residence Inn Pasadena is a better choice for families since it's all suites and offers free breakfast. It also has an outdoor swimming pool, allows pets, and has paid on-site parking.
There are two potential downsides of the Residence Inn though. First, some of the rooms back directly to the 134 freeway. Second, for some dates the cheapest room at the Residence Inn is substantially more expensive than the cheapest room at the Courtyard Marriott Pasadena. Be sure to compare the prices of both hotels and evaluate what's a better fit for your needs.
The Westin Pasadena
The fanciest sibling in the trio of Pasadena Marriott hotels is The Westin Pasadena. It's a 10-15 minute walk to shuttle along Walnut Street.
The Westin boasts modern, renovated rooms (including some suite options). It has a swanky rooftop pool with amazing evening views of Pasadena's gorgeous architecture and a massive fitness center including a Peloton bike. There is optional paid on-site parking if you decide to rent a car.
Of the three Marriott hotels in Pasadena, I personally think this one has the least convenient location. That said, it's closer to The Paseo and just around the corner from the lovely campus of Fuller Theological Seminary in case you want a peaceful stroll away from the hustle and bustle.
Hyatt Place Pasadena
Speaking of The Paseo, if you're interested in staying nestled in its shops and dining, opt for a room at Hyatt Place Pasadena. It's a 15 minute walk to the Rose Bowl shuttle and you'll be right on Colorado Boulevard. The Hyatt Place is also immediately adjacent to the Pasadena Convention Center, which houses an ice skating rink and frequently hosts fun events (we attended The Art of the Brick there a few years ago).
Hyatt Place offers a generous free breakfast, a heated outdoor swimming pool, and paid on-site parking. Feel free to bring your pets too! There's a nice mix of rooms, including larger specialty rooms with divided space and apartment-sized suites with full kitchens (pictured above). This is a nice Pasadena hotel for families who like to spread out.
Pasadena Hotel & Pool
If you're looking for an unforgettable stay and love the idea of being right on the Rose Parade route, take a look at the Pasadena Hotel & Pool. It's a 25 minute walk to the Rose Bowl shuttle lot, but if that's a stretch for you can take the ARTS Bus #10 from the corner of Colorado Blvd and South Lake Avenue (it's just 50 cents for adults, 25 cents for youth and kids 5 and under ride free).
This unique historic property was formerly called Hotel Constance after the businesswoman who built it in 1926. During my time living in Pasadena it was an assisted living facility, but its has operated as a hotel more or less consistently over the last 15 years (apart from the shutdown in 2020-2021 along with everything else). Massively restored, renovated, and renamed, this beautiful property reopened in November 2022.
The rooms are stylish with kind of a funky vibe. You'll have access to the lovely outdoor pool and the fitness center, and they do offer breakfast at the on-site restaurant for an additional fee. Paid on-site parking includes EV parking as well.
I give a personal nod to this location, as I used to live just two blocks further south and it's a lovely neighborhood. You can enjoy strolling along Lake Avenue, which has some wonderful shopping and dining without the same crowds as Old Pas. Don't miss brunch and Green Street – be sure to take home a loaf or two of their amazing zucchini bread!
Pasadena Rose & Crown Hotel
Thankfully the Pasadena Rose & Crown Hotel has shed its prior identity as Vagabond Inn (which my mom can attest was pretty terrible) and has been fully renovated away from its 1960s motor lodge glory. It's a full 30 minute walk to the Rose Bowl shuttle but since it has free parking this might be a good Colorado Blvd hotel for those who plan to rent a car and drive. Alternatively, you can take Metro Bus (orange) #180 all the way to Fair Oaks Ave. Unfortunately the correct direction of the ARTS Bus doesn't run this far east.
This budget-friendly Pasadena hotel offers an outdoor pool and a small fitness center in addition to the simple, clean rooms. You even get free continental breakfast! Those who want a little more space can opt for the Deluxe Suite, which offers a king bed and a twin sofa bed in the separate sitting area. The reviews since its reincarnation are almost universally positive.
Pasadena Rose & Crown is relatively close to Lake Ave shopping and also the beautiful campus of the California Institute of Technology (Caltech, not "Cal Tech" or "CalTech"… or Cal Poly). You can even pick up this self-guided walking tour brochure to lead you through the campus's lovely gardens and architecture!
Langham Huntington Hotel
If you want to do it up right and you're not committed to only Rose Bowl stadium hotels based on convenience, you'll want to look at the Langham Huntington Hotel. The Langham is an amazing property for a Los Angeles staycation or a luxury trip to Pasadena, but I definitely recommend renting a car. While technically located in Pasadena, The Langham Huntington is well south of the city's commercial areas and basically surrounded by San Marino, not far (by car) from the Huntington Library & Botanical Gardens.
I performed several times here back when it was the Ritz-Carlton Huntington Hotel & Spa and I can tell you that the main building of the Langham Huntington is absolutely gorgeous. The rooms, suites and cottages are all spacious and luxurious. You'll love the beautiful grounds, fun kids' activity zone (you can pay for an optional kids amenity kit), and there's even doggie amenity kits available.
Options for vacation rental/Airbnb in Pasadena, CA
If none of these hotels near the Rose Bowl stadium sound right for you, fortunately there are plenty of options for vacation rentals or Airbnb in Pasadena, CA. Here are a few that are most conveniently located and receive great reviews:
Luxury home near Rose bowl stadium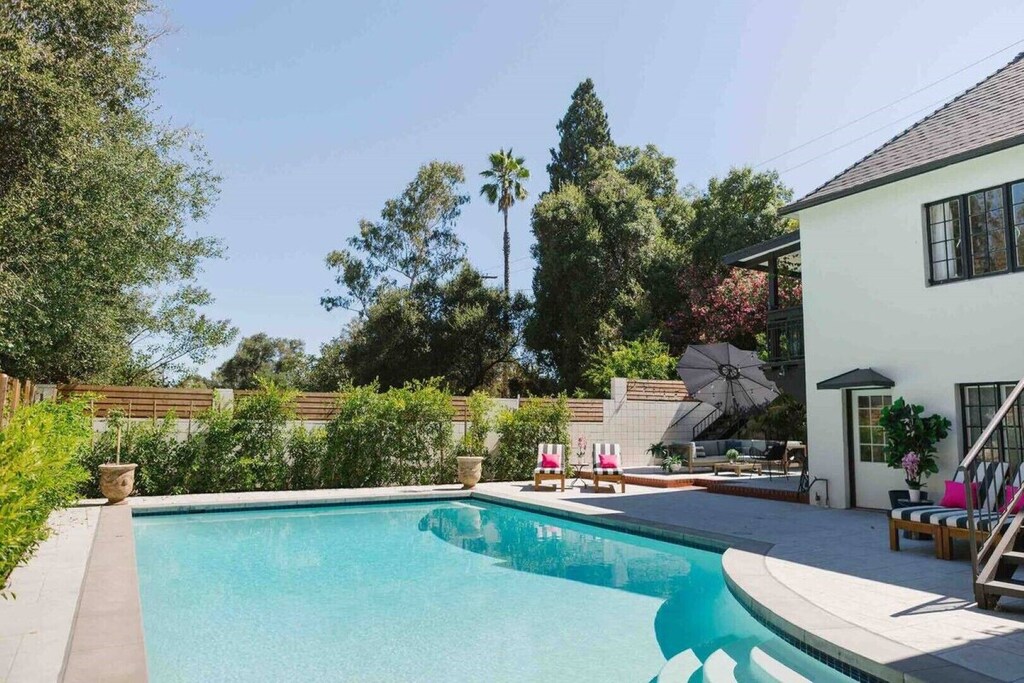 If you want to roll out of bed right before kickoff and stumble to the Pasadena Rose Bowl stadium, this beautiful luxury home is hard to beat. It sleeps up to 7 people in its four bedrooms and has a beautiful pool for you to relax in.
Rose Bowl guest house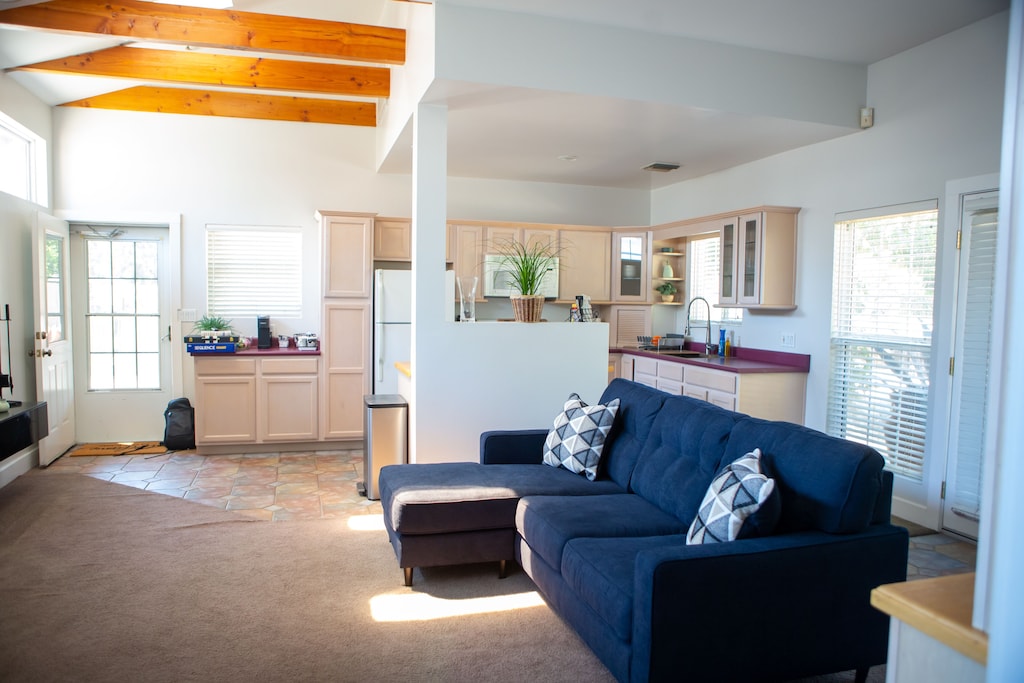 For smaller families or groups who want an amazing location without an insane price tag, check out this Rose Bowl guest house. It's just a few minutes walk in the neighborhood to get to the stadium.
Casita de Sanchez has thoughtful touches like snacks and coffee service. It sleeps up to 4 people in the bedroom (queen) and living room (sleep sofa).
Rose Bowl casa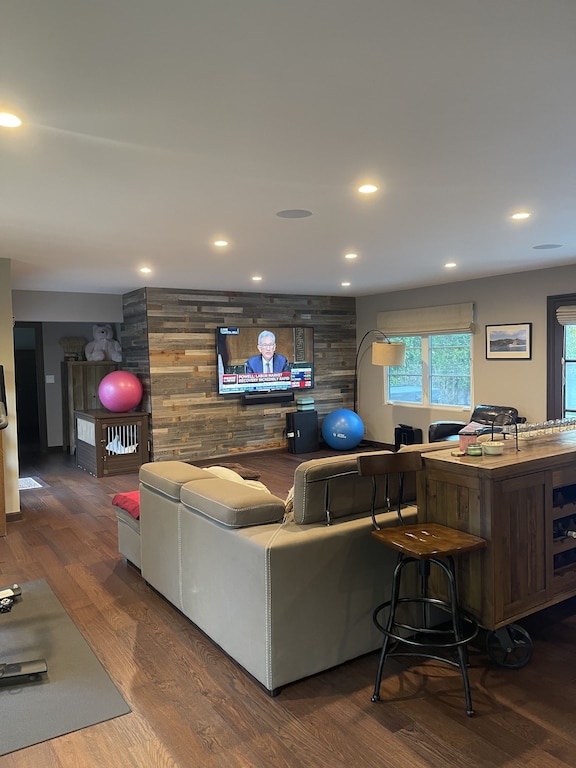 This vacation rental/Airbnb walking distance to the Rose Bowl sleeps 10 people in its four comfortable bedrooms. There's also tons of communal space to hang out in, from the spacious family room to the living room with its piano to the grassy back yard featuring both a pool and hot tub! Fitness lovers will rejoice, because this is one of the best places to stay in Pasadena with a Peloton bike.
Planning the rest of your visit to Pasadena, California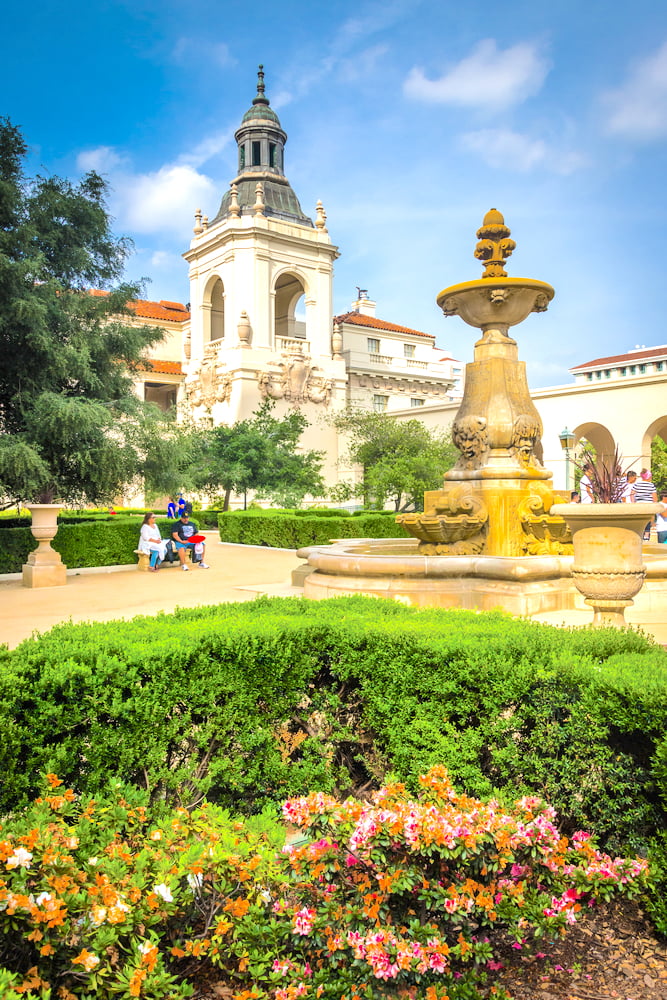 Rose Bowl stadium FAQs
Where is the Rose Bowl stadium located?
The Rose Bowl stadium is located on the western edge of Pasadena, California.
Can you walk to the Rose Bowl?
If you're in good shape and the weather cooperates, you may be able to walk the almost-2 miles from the closest Old Pasadena hotels to the Rose Bowl. If not, consider driving, taking the shuttle or using a ride share service.