Venice is a great place to spend time when you visit Los Angeles and there are countless great ways to spend your time during your visit. This list is some things that you can't leave Venice without experiencing and I hope you are able to find some exciting ways to spend your time. This list has some great options for experiencing the beach and taking it all in.
If you are interested in staying in Venice Beach when you visit Los Angeles, check out my accommodation guide and if you want some great places to eat, take a look at my restaurant guide!
You can also use this handy map to help you narrow down where to stay in Venice Beach by location:
Visit the Venice Boardwalk
The Venice Beach Boardwalk is one of the wildest places in Los Angeles and one of the best activities in Venice. The boardwalk is essentially a mile-long outdoor market that serves as a hub for some of the most unique members of the Los Angeles community. Just by walking around the area on a warm weekend day you are bound to see incredible street performers, public art, and lots of fun, busy restaurants. The boardwalk is also an important area for many iconic Los Angeles subcultures as it houses the legendary muscle beach outdoor gym, iconic Venice beach basketball courts, and skate park. If you are only going to do one thing in Venice, I would recommend the boardwalk as there is truly no way to explain it without being there, seeing the people, and taking in the energy of this bustling walkway.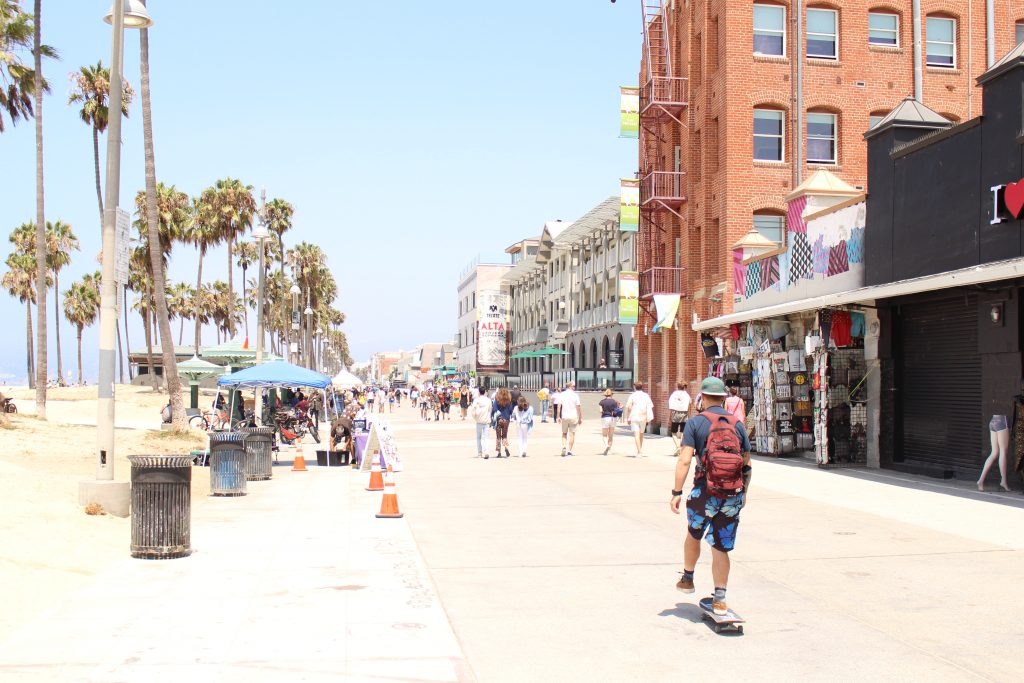 Check Out the Venice Canals
Venice was originally designed as a resort attraction that took heavy inspiration from Venice Italy and while that is no longer the neighborhoods intention, the canals remain a beautiful and interesting part of Venice's culture and history. While not as extensive as the Italian version, there are 4 quarter mile long canals remaining that are lined with houses today. Visitors can walk on paths and bridges that intertwine the beautiful canals. The area is very serene and a fun place to take a little time out of the craziness that is Venice. Homes in this area are lavish and fun to see on your stroll through this beautiful area. The bridges are all unique and make it a fun activity for kids as they can run around while the adult members of your group can take in the scenery.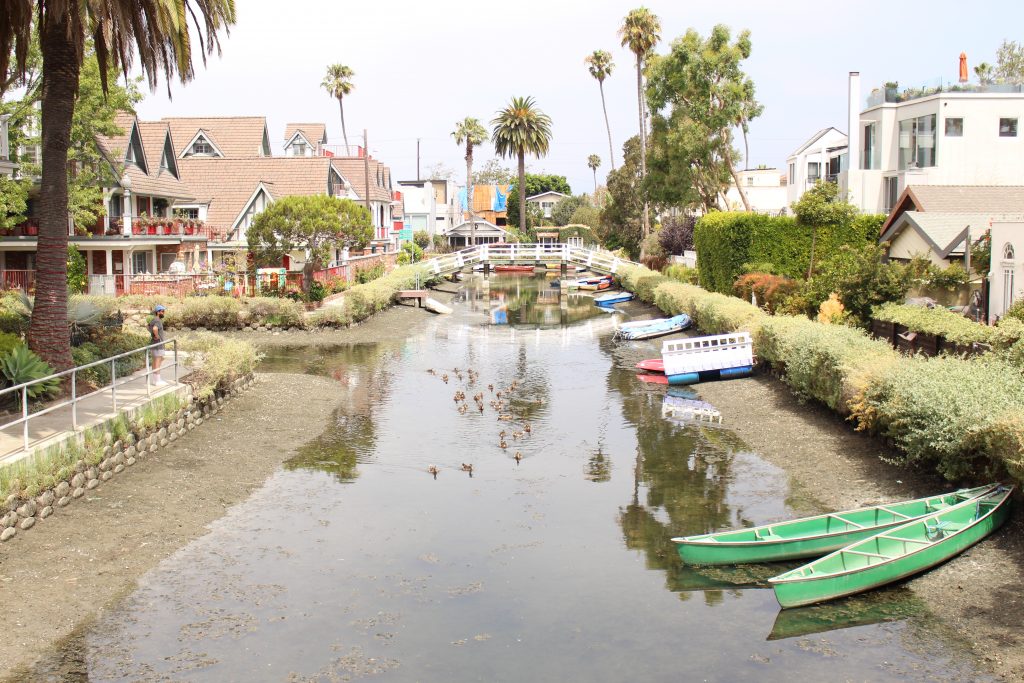 Catch a Show at Winston House
Winston house is one of the more unique experiences you can have when you visit Venice. Originally started by Corey Maguire hosting a couple shows in his living room, Winston House has grown into so much more and continues to operate with the same principles it began with. Now no longer just a living room, Winston House has a bar, restaurant, and live music every single night. The food is great and the drinks are strong but the live music experience is what keeps people coming back. A night at the Winston house is one of the best times you can have in Los Angeles and a super fun evening in Venice. Note that they are only open Thursday, Friday, and Saturday nights and typically you will need a reservation.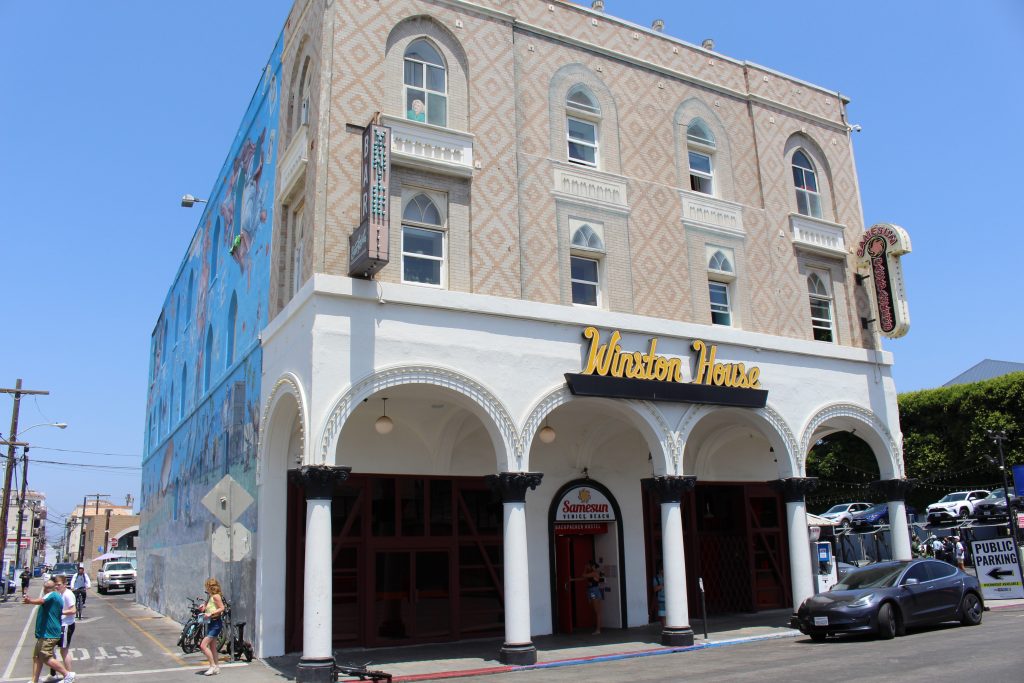 Spend a Day on Abbott Kinney
Abbott Kinney is one of the most lively and cute streets in the whole city which makes it a great place to visit if your travels take you to Venice. Abbott Kinney is named after the initial developer of Venice and today houses tons of great boutiques and restaurants. The shopping is all very good and there are a lot of delicious food and coffee options. If your trip is around the beginning of a month come to Abbott Kinney on the first Friday of the month and attend a massive food truck event. This event, aptly titled First Friday is super fun and most of Los Angeles' best food trucks make it out. There will be delicious options for every member of your group and a very friendly, fun vibe. If you can't it to First Friday, no worries, Abbott Kinney has a ton of delicious restaurants that are great all different groups.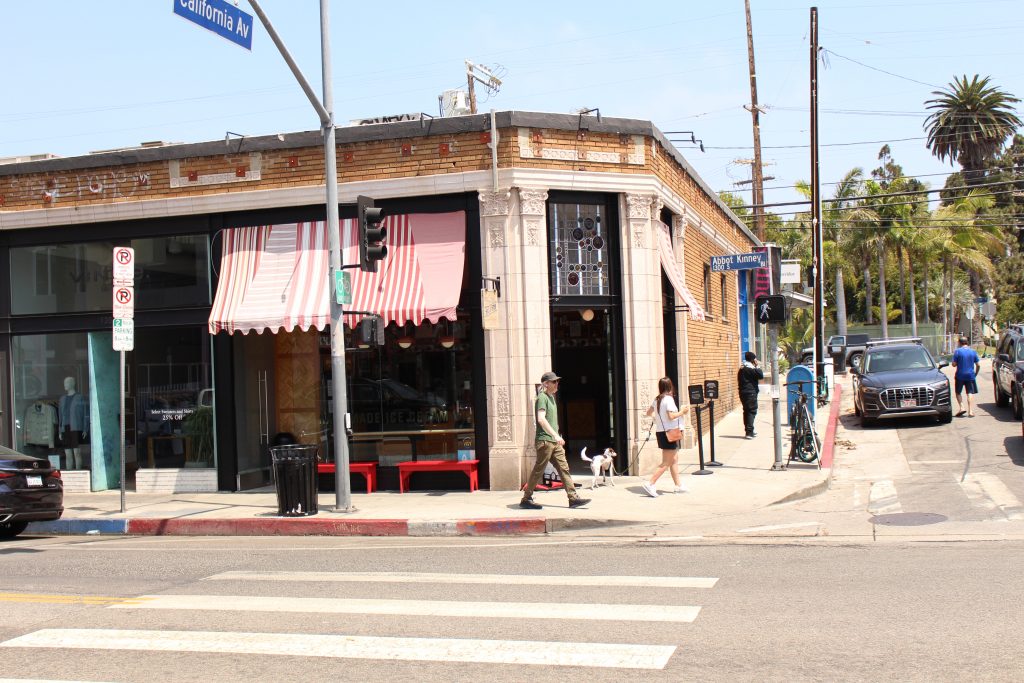 Rent Bikes and Ride on the Beach
Another fun way to spend some time in Venice is to rent bikes and take a ride down the iconic Marvin Braude bike trail. The trail starts all the way up by the Pacific Palisades but if you take off from Venice there are tons of great options. You can elect for a shorter ride and take it to the north end where the trail starts which should be about 4 miles each way or you can make your way south to the gorgeous beaches of Playa del Rey and if you make it far enough, legendary Manhattan beach. There are lots of places to rent bikes by the Boardwalk and they typically have tons of options for bikes so regardless of whether you have kids in your group or not, this is a fun way to take in Southern California's iconic beaches. Riding bikes is a great activity in Venice and especially a fun family activity.